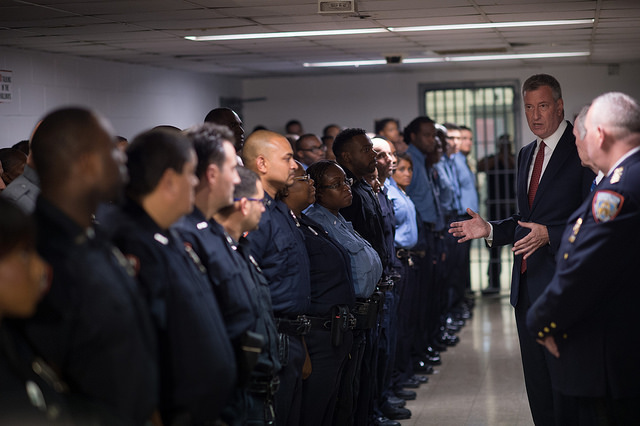 (Michael Appleton/Mayoral Photography Office)
---
The City of New York, like many cities and states across the country, profits from people experiencing poverty who come into contact with the criminal justice system. New York imposes a plethora of fees on persons charged with and/or convicted of a crime or minor infraction, ranging from a fee to support the DNA Bank, to an incarceration fee, to a fee for parole or probation.
Among the most egregious of these fees involve phone calls in New York City jails. New York City reaps millions of dollars in profits from people who are in city jails and simply want to make a phone call.
Many of these people have not been convicted of a crime. Nearly 75% of people in New York City jails are held pretrial, many because they were arrested and cannot afford to make bail. Some are in jail serving short sentences for minor misdemeanor offenses. All just want to talk with family, friends, or their attorney.
On Monday, the City Council will take the next step in exploring the opportunity to end this predatory practice when it debates a bill, Intro. 0741, introduced by Speaker Corey Johnson. The bill would put a stop to the City's practice of using the jail phone as a revenue center. Passing it would be a first and important step toward ending what is truly a tax on justice.
Over the last 30 years, as rates of arrest and incarceration skyrocketed across the country, jurisdictions struggled to pay for the bloated justice system. Cities, counties, and states increasingly tried to generate revenue by imposing fees on people, including children, arrested for and convicted of crimes. In California, the state adds $390 in fees to the $100 fine imposed for running a red light. In Washington State, courts impose an average of $1,347 on every criminal conviction. In New York, people convicted of felonies face mandatory fees of $300; for misdemeanor convictions, the fee is $175.
Although the criminal justice system is a vital government service meant to protect everyone's public safety, more and more jurisdictions turned toward a "user-funded" system, unfairly demanding that some of the poorest Americans shoulder the burden.
Justice system fees disproportionately harm low-income people and their families who cannot afford to pay them. Communities of color are particularly devastated because they experience higher rates of poverty and over-policing in their communities. It is a burden that is often too heavy to bear. For the millions of people who cannot afford to pay them, outstanding fees trap them in the justice system for prolonged periods, entrenching poverty, exacerbating racial and ethnic disparities, and diminishing trust in government. And, because so many people cannot afford to pay them, criminal justice fees often generate less revenue than expected.
Some local and state governments have gone beyond simply trying to recoup costs through justice system fees and are trying to generate profits by imposing fees on people who are incarcerated, regardless of whether they have been convicted of any crime. In jurisdictions across the country, fees for "services" in jails and prisons (including exorbitant mark-ups on items for sale in the commissary) as well as fees for mail and "video" visitation are routinely imposed. New York City's phone fee is a prime example of this unjust, discriminatory, and misguided policy.
Like all justice system fees, the phone fee particularly harms the city's most vulnerable communities. It may also diminish public safety. When people in jail can't afford to pay for phone calls, they can be cut off from contact with their families. Research shows that regular communication between incarcerated people and their loved ones correlates with lower recidivism and higher opportunity for successful re-entry to society.
We know the phone fee disproportionately harms people experiencing poverty and communities of color and may lead to higher recidivism rates. Yet, New York City government plans to extract millions of dollars next year from families who wish to stay in contact with their loved ones in City jails. Indeed, the mayor's proposed budget anticipates that the Department of Corrections will collect nearly $6 million in profits from phone calls made by people incarcerated in city jails. But, budget negotiations between the de Blasio administration and the City Council have until the end of June to get it right.
The Council Speaker's bill would stop the City from profiting from people who have already been targeted and trapped by a system that takes away freedom, dignity, and hope. It would help ensure that people who are incarcerated maintain critical community ties while they are in jail, increasing their opportunity for successful re-entry when they are released. It should be adopted by the Council and signed by the mayor.
***
Joanna Weiss is the Co-Director of the Fines and Fees Justice Center. Brandon J. Holmes is the #CLOSErikers Campaign Coordinator for JustLeadershipUSA. On Twitter @joannagweiss and @BJHolmes_NYC.
***
Have an op-ed idea or submission for Gotham Gazette? Email This email address is being protected from spambots. You need JavaScript enabled to view it.