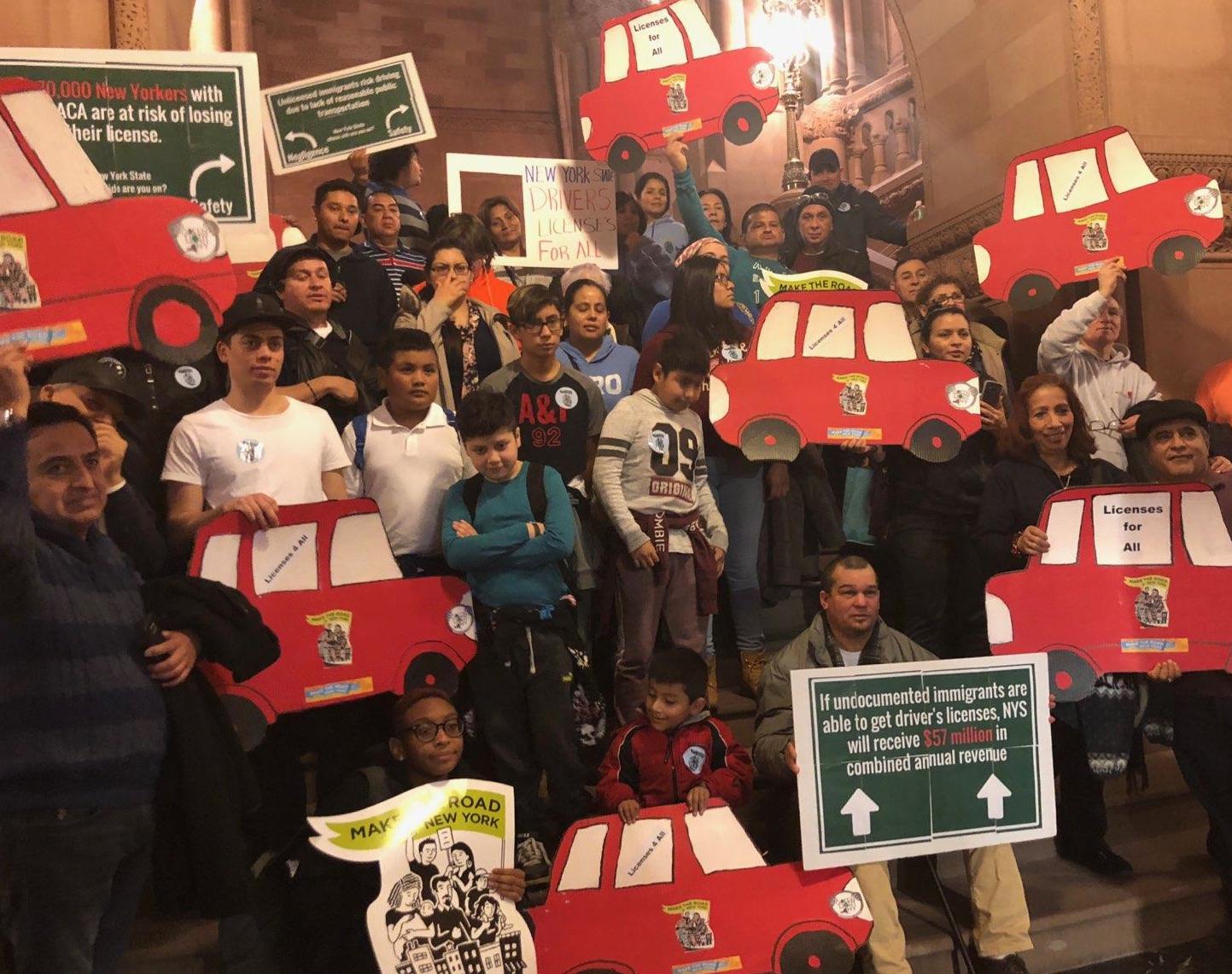 Make the Road New York members rally in Albany for driver's licenses for all
---
Every morning, I drive with my wife to work. My commute is the scariest part of my day - and not because of the traffic. It's because I know that a routine traffic stop could lead to me being separated from my family forever.
I'm an undocumented immigrant, and New York will not currently allow me to get a driver's license. For New Yorkers like me, it's way past time for our state to step up and do what other states have done: ensure that all qualified drivers, regardless of immigration status, can have access to a license.
The attacks by the Trump Administration continue to get worse. Trump's Immigration and Customs Enforcement (ICE) officers are using every excuse to detain and deport immigrants alike and tear us from our families, as they did in detaining 225 immigrant New Yorkers one recent week. They're especially using minor traffic violations.
That's why I recently joined fellow immigrants and advocates from across New York State to call on the State Legislature -- starting with the Assembly -- to restore access to driver's licenses to all New Yorkers.
This bill would change my life, and my family's too. I have lived in the United States for nearly 20 years and I wish I could be eligible to adjust my immigration status, but at the moment due to our current broken immigration system, that is not possible. There is no clear path for me to be able to adjust my immigration status, but other measures can be helpful to me and others like me.
I live in Long Island with my wife and two children. Every day, I leave my house to drive to work, with uncertainty and fear. Where I live, there is a lack of public transportation. It can take hours to get anywhere by bus or train, and taking a taxi is too expensive. I have to drive because I cannot afford to be late to my job and I need to be able to go to the store, take my children to their doctor appointments, and pick them up from school.
I was once stopped at a traffic stop by police. I was given a ticket for driving without a license and needed to go to court. I couldn't sleep due to the fear I felt of going to court and possibly being separated from my family. I went to court and, with the legal fees of my attorney, I ended up paying almost $700. Thankfully it wasn't worse than that -- and it now easily could be.
In my home country in Latin America, I had my driver's license, but right now, due to my immigration status, I am not able to get a driver's license in New York State.
Expanding access to driver's licenses to all New Yorkers makes sense. If it passes, immigrants will be able to register, and insure their vehicles in New York, creating an economic boost. A 2017 analysis by the Fiscal Policy Institute determined that New York would receive an estimated $57 million in combined annual revenue​.
Allowing driver's licenses for all will improve public safety by making sure that all drivers on the road are licensed. States like California have already been experiencing the positive effects of granting undocumented immigrants access to driver's licenses since 2015. A Stanford report released last year found there had been a significant decrease in hit-and-run accidents.
At a time when the Trump Administration's attacks on our communities continue, passing this legislation would demonstrate that New York stands up for everyone, regardless of their immigration status. New York has delayed too long; we need to do more to stand against the White House anti-immigrant rhetoric now.
Obtaining a driver's license will change my life, my family's life, and that of thousands of New Yorkers. It would mean being able to pick up my children from school or take them to the doctor without fear. And it would help me to potentially get a promotion at my current job, or be able to look for better one.
There are 12 states, including Connecticut and Maryland, that currently allow undocumented immigrants access to driver's licenses. The new governor of our neighboring state, New Jersey, has committed to follow those states and expand access to driver's licenses. But we haven't heard a commitment from Governor Cuomo yet. New York should be next.
***
Jorge Cotraro is a Long Island resident and a member of Make the Road New York, the largest grassroots community organization in New York offering services and organizing the immigrant community. On Twitter: @MakeTheRoadNY.
***
Have an op-ed idea or submission for Gotham Gazette? Email This email address is being protected from spambots. You need JavaScript enabled to view it.