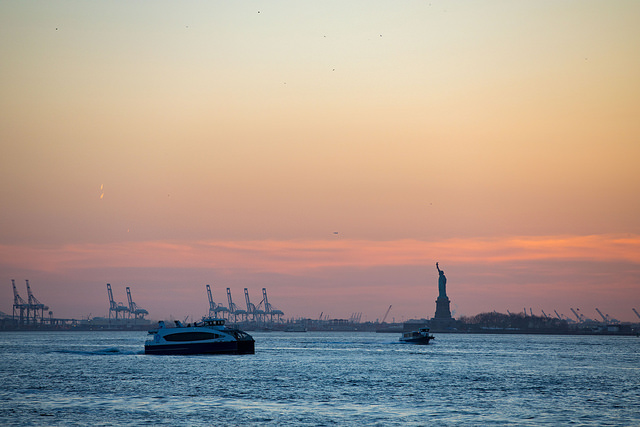 (photo: Benjamin Kanter/Mayoral Photo Office)
---
Over the past two decades, tourism to New York City has swelled from 33 million to nearly 63 million annual visitors, with powerful ripples throughout the city's economy. Once just one sector among many, tourism has risen to become one of the top four employment drivers in the city, according to a new report published by the Center for an Urban Future, the Association for a Better New York, and the Times Square Alliance
This spike in tourists has sparked hundreds of thousands of new jobs in hotels, restaurants, retail shops, museums, airports, tour bus companies, and even travel-tech startups. More than 291,000 New Yorkers count on tourism for their jobs—putting it on par with the tech ecosystem, the creative economy, and the finance industry. Better yet, the tourism industry provides real, middle-class jobs with an average annual income of $62,000, outpacing comparable sectors like manufacturing.
Given this new data, the city should make concrete efforts that recognize tourism's role in the region's economy. Investments in infrastructure, marketing and promotion, and other commonsense initiatives that make this region more convenient to visit will fuel growth across many job sectors.
The city will need to upgrade its tourism infrastructure. New York has never adequately planned for 60 million tourists a year, and it has not made enough of the infrastructure investments that are needed to sustain this many annual visitors. The city needs to create new solutions for tour bus parking and elected officials should push to modernize the air traffic control system. The city should also create its first long-term tourism plan, with involvement from economic development, planning, and transportation agencies.
Despite the stunning influx of tourists, New York's tourism sector faces several new and evolving challenges, from the strong dollar to a tourism promotion budget that has not stayed competitive with that of marketing agencies in other global destinations. New York boasts one of the best tourism promotion agencies in the world, NYC & Company, but the city should increase its budget to support its important mission and bolster the tourism industry citywide.
With tourists accounting for roughly 70 percent of passengers at JFK Airport and 50 percent at LaGuardia, the Port Authority should continue its work to improve the airport experience. The agency has made important investments in recent years, but should consider new initiatives like free WiFi in all airports, and more multilingual staff and wayfinding signage in terminals to support and encourage tourism.
New investments in infrastructure and a more welcoming environment for tourists would have resounding effects across the economy. Tourists are responsible for 24 percent of all Visa credit card transactions at the city's restaurants and bars, and make nearly one-fifth of all purchases at the city's retail stores, a crucial boost as many retailers face increasing pressure from online competition.
Out-of-towners are also fueling the growth in attendance at cultural institutions—and the job gains that have come with it. Tourists now comprise 73 percent of visitors to the Museum of Modern Art, 70 percent of visitors to the Whitney Museum of American Art, and 60 percent of the Metropolitan Museum's visitors. The city's museums and historical sites have added 4,500 jobs in the past 15 years—an 86 percent increase.
With a billion people poised to join the ascendant global middle class, opportunity lies ahead for New York City's tourism economy—along with thousands of new jobs. But channeling sustainable growth in the future will require increased planning and a new way of thinking about the 60-plus million annual tourists that the city has today.
***
Jonathan Bowles is executive director of the Center for an Urban Future. Angela Pinsky is executive director of the Association for a Better New York. Tim Tompkins is president of the Times Square Alliance.
***
Have an op-ed idea or submission for Gotham Gazette? Email This email address is being protected from spambots. You need JavaScript enabled to view it.