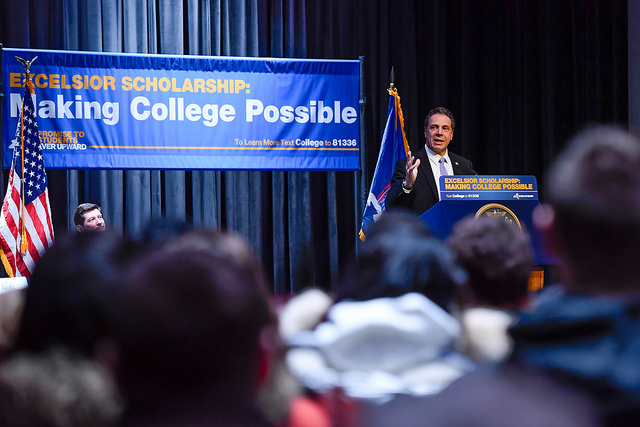 (Photo via the Governor's office)
---
Governor Andrew Cuomo has talked a big game about supporting immigrants in New York. Yet well over a year after Donald Trump's inauguration - and more than seven years into Cuomo's administration - the governor has little actual legislation to show for all of his boasting.
One key bill, the New York Dream Act, which would open up state financial aid to undocumented immigrant youth, known as Dreamers, has passed the state Assembly five years in a row. But, without the governor's political muscle behind it, the Dream Act has languished each session, stagnant in the Senate.
Meanwhile, though the governor likes to say New York is a progressive leader, its neighbors are bolting ahead of us in offering equal access to higher education. Last week, New Jersey Governor Phil Murphy signed his state's version of the Dream Act into law. Connecticut passed a similar bill in April.
Dreamers across New York are looking at the inspiring victories of their peers across state lines and wondering: when will it be our turn?
The New York Dream Act is a commonsense bill that would help ease the cost of higher education for undocumented students by expanding access to state financial aid and letting immigrant families participate in college saving programs.
For most undocumented students in New York, the only way to afford higher education is by working while in school or taking on significant debt. As a result, only five to ten percent of the roughly 4,500 undocumented students who graduate from New York high schools every year can attend college.
Take the story of Ricardo Aca, an immigrant New Yorker whose family came from Mexico whne he was 14 years old to give him the opportunity to pursue a better life, including a college education.
When Ricardo finished high school, he found out that, because he was undocumented, he could not access the state financial aid he needed to afford a quality higher education. He began taking photography classes at LaGuardia Community College, realizing that he could earn money shooting events. To pay for his education, he also worked in restaurants and hotels for years. Even so, he could barely afford tuition and ultimately had to stop attending classes.
He only re-enrolled years later, this time at Baruch College, when Make the Road New York, a community organization based in Queens, helped him get a scholarship that covered most of his tuition. Next year, he'll graduate at age 28, meaning it will have taken him 10 years to obtain a bachelor's degree.
While Ricardo's story has a happy ending despite the lost time, there are many other immigrant youth in New York that don't have the blessing of a scholarship.
As the Trump administration pursues an ever-clearer anti-immigration agenda, states have a greater responsibility to step in and do what they can to protect immigrant communities.
Ten states have now passed legislation to offer undocumented students tuition support, including California, Minnesota, and Texas. Every day, New York's failure stands out more and more. It's particularly shameful given our state has the second-highest share of immigrants in the country -- higher than both New Jersey and Connecticut. And the Dream Act would be a clear boon to our state -- the bill would only cost New York around $25 million per year, a tiny fraction of its $168 billion budget, and more than make up for its cost through increased tax revenue and economic contributions to the state.
Immigrant youth across the state have for years called on Governor Cuomo to use his considerable power to pass the bill. But, while Cuomo has publicly supported it, he has never made it a top priority. Just this year, when Ricardo and other Dreamers went to his office in Albany to deliver petitions for the Dream Act, his staff locked the door and refused to let them in.
Thousands of undocumented students in New York every year lose the opportunity to improve their lives and the lives of their families because New York fails to provide the basic support to continue their education.
Governor Cuomo, the time for words has passed. Dreamers like Ricardo across New York are counting on you to make the New York Dream Act a reality. Let's finally unlock the doors of opportunity for all in our state.
***
Ana Maria Archila is Co-Executive Director of the Center for Popular Democracy.
***
Have an op-ed idea or submission for Gotham Gazette? Email This email address is being protected from spambots. You need JavaScript enabled to view it.