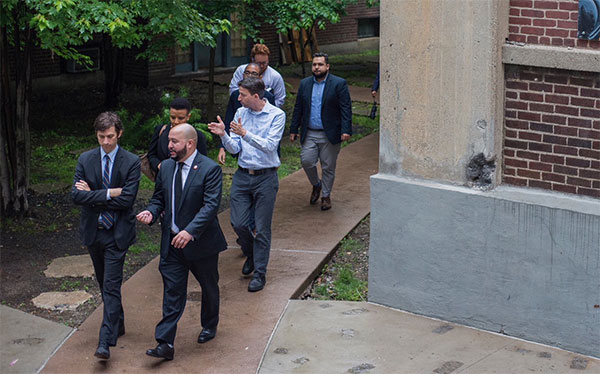 Council Members Levin & Salamanca, the authors, foreground (photo: Jeff Reed)
---
New York City is facing a crisis. There are more than 60,000 homeless individuals living in the city shelter system daily, and thousands more in shelters for survivors of domestic violence, youth, and those living with HIV/AIDS. An additional estimated 4,000 New Yorkers sleep on the streets each night. And according to the Coalition for the Homeless, the number of homeless New Yorkers sleeping each night in municipal shelters is 83 percent higher than it was a decade ago.
These numbers are staggering. We, as elected leaders have a responsibility to do better and fully invest in solutions that work.
That is why, as moderators at this year's New York State Supportive Housing Conference, we are proud to champion the city's efforts to build more supportive housing -- a critical component of the City's efforts to combat the homelessness crisis. We're proud that the new city budget recently agreed upon by the Mayor and City Council, which we are members of, increased from 500 to 700 the supportive housing units that will become available in the next fiscal year. There is still much more to do.
Supportive housing is permanent affordable housing paired with wrap-around services designed to help people maintain their homes for the long-term. All tenants have a lease, and are provided with individualized on-site care, including case management, job training, and mental health and substance abuse counseling. Supportive housing developments are run by non-profit organizations that typically provide both support services and management.
Last year, the City Council General Welfare Committee held a hearing in The Schermerhorn, a supportive housing building that also contains affordable housing units for community members and artists, along with a theater for the public. It is a good example of how these developments create jobs and contribute to the growth and well-being of a neighborhood.
Supportive housing's track record has shown its effectiveness in ending homelessness, and improving neighborhoods, creating much-needed affordable housing and saving taxpayer dollars. Simply put, it is housing for those most in need. Residents have a place to call home in an environment that provides direct case management and access to mental health providers. We know all too well how vital mental health care is to a person's wellbeing, and is that much more critical for individuals who are unstably housed and have often faced significant trauma. The integrated service model enables people to connect to the programs that are right for them, helping them to lead their best lives.
Organizations like the Supportive Housing Network of New York, comprised of more than 200 nonprofit organizations, link the 50,000 units of supportive housing they've created with critical services and programs that give New Yorkers a jumpstart on advancing the lives they want to lead through a more holistic approach.
Supportive housing has made a world of difference to New Yorkers:
Like Robert, who struggled with mental illness and addiction most of his life, living in Madison Square Park for ten years. After a health emergency, Urban Pathways' outreach team helped him move into a beautiful new apartment in his native Bronx. He's an active participant in his building and in client advocacy groups, regularly visits with his mother and grandchildren, and is beloved by residents and staff alike.
And like Shannon, who has dealt with undiagnosed bipolar disorder and PTSD from a lifetime of sexual assault and domestic abuse. When she became a tenant at Community Access' Gouverneur Court, things started to change: she fell in love with her current life partner, fellow resident Kenny, and overcame addiction with the support of the staff at Community Access. She now has full time work at the Social Security Administration and recently graduated with a master's degree.
These stories show firsthand that supportive housing works. It's why the Mayor proposed a plan in 2015 to build an additional 15,000 supportive housing apartments over 15 years through the city's new NYC 15/15 program. We applaud the administration for this plan, yet we also know the need is immediate. We need to do more to bring units online today.
As Chairs of the City Council's Land Use and General Welfare Committees, we're working collaboratively with our fellow Council Members to help speed the creation of the Mayor's promised 15,000 supportive apartments over the next several years so that all New Yorkers will have a place to call home.
We need a bold vision to end homelessness. Supportive housing is the key.
***
Stephen Levin represents the 33rd City Council District, including parts of Brooklyn, and Rafael Salamanca, Jr. represents the 17th District, including parts of the South Bronx. On Twitter @StephenLevin33 and @Salamancajr80.
***
Have an op-ed idea or submission for Gotham Gazette? Email This email address is being protected from spambots. You need JavaScript enabled to view it.