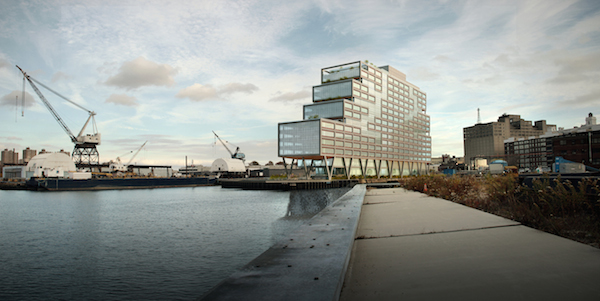 Dock 72 rendering
---
As New York's economy continues to thrive, the city's construction and real estate industries are enjoying a sustained building boom that is creating more than 2.5 million square feet of new office space each year. Even with this unprecedented growth, there is still an insatiable demand for new commercial space from companies new and old. To stand out in such a market, developers must create innovative offices filled with cutting-edge amenities – and this trend is reshaping commercial real estate in the five boroughs and beyond.
Amenities like roof decks and fitness centers have long been staples of luxury residential buildings. But more recently, developers and property owners have begun incorporating these perks into commercial office space as a way to attract new and younger tenants. This movement has only intensified in recent months as more and more young professionals and creative companies are drawn to New York City.
Ironically, the apex of this new trend in commercial real estate can be found at one of the City's oldest facilities: the Brooklyn Navy Yard. Thanks to almost $1 billion of public and private investment, the Navy Yard is in the midst of its largest expansion since the Second World War. The Navy Yard is poised to add 10,000 jobs across two million square feet of new space, in part because that space is optimized to attract the types of companies and talent driven by innovation.
A centerpiece of the Navy Yard's expansion is the new high performance office building, Dock 72, on which our firms, Boston Properties and Rudin Development, and our anchor tenant, WeWork, have partnered to provide commercial tenants with world-class amenities, sustainable design, and state-of-the-art technology.
Our vision for Dock 72 has been to create a next generation waterfront workplace, where tenants and their employees can collaborate and connect with their coworkers and neighbors. That is why our team is collaborating with WeWork to create a truly unforgettable workplace environment, generated with the well-being of tenants in mind.
When completed later this year, Dock 72 will offer tenants multiple organic food, beverage, and coffee options; an outdoor basketball court and a full-service fitness complex; and a rooftop conference center, event space, an open lawn, and terraces with breathtaking views of the surrounding Navy Yard, the East River, and Manhattan. These amenities were curated by WeWork, based on the best practices they've developed while attracting innovative companies in cities around the world. They're just a few of the reasons why tenants of Dock 72 will enjoy one of the best work experiences in New York City.
Landlords and developers know that it isn't enough to just offer modern office space – the recent boom in commercial construction means that potential tenants have a wide-variety of options to choose from. That's why companies like ours will continue pushing the boundaries and coming up with new, state-of-the-art amenities.
This is good for New York City. Businesses that locate in innovative new spaces like Dock 72 will have happier and healthier employees, which will in-turn make them more productive. This creates a virtuous cycle that will keep our city a vibrant and prosperous economic hub for decades to come.
***
Michael Rudin is a Senior Vice President at Rudin Management Company and Andrew Levin is Senior Vice President of Leasing-New York of Boston Properties.
***
Have an op-ed idea or submission for Gotham Gazette? Email This email address is being protected from spambots. You need JavaScript enabled to view it.