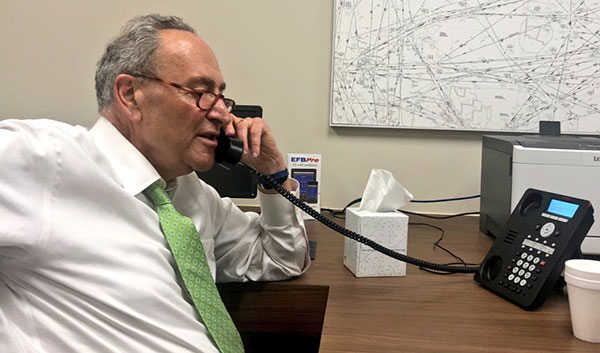 Senator Schumer on a tele-town hall (photo: @SenSchumer)
---
Pay heed Chuck Schumer. The base is coming for you.
And for good reason. The Democratic establishment is historically unpopular. And there is no exception even in deep blue New York.
Alexandria Ocasio-Cortez's resounding defeat of Rep. Joe Crowley, the so-called King of the Queens machine, makes clear that establishment Democrats need to wake up. The election of an overnight socialist sensation was a clear demonstration that the groundswell of grassroots progressive activism in New York has moved from street protests to the voting booth.
Ever since Democrats lost to the least qualified presidential candidate in the history of the republic in 2016, there has been a growing repulsion with the status quo on the left across the country generally and in New York City specifically.
Soon after Donald Trump took office, progressive activists took to protesting Senator Schumer outside his Park Slope home. Disgusted by his admitted willingness to work with the demagogue-in-chief, progressive activist groups like Indivisible Nation BK, of which I am a board member, braved the cold winter months to deliver a message: Donald Trump is a racist, xenophobic, treasonous existential threat to the nation and the world. And we want our senators, particularly the Senate minority leader, to say that loud and clear.
Senator Schumer would be wise not to take the base for granted. Just this month, members of Indivisible Nation BK gathered to hear him address his first town hall since Trump's election. The event was the culmination of over a year of protests, pushing, and prodding by our group and others. However, the senator abruptly altered the event a mere 90 minutes before it was supposed to start. Apparently dealing with plane trouble, Senator Schumer told us he was stuck at an airport in Utica and would conduct a tele-town hall instead.
We were not impressed. As we anxiously waited for the opportunity to ask him how he would save our country, we listened in disbelief as the senator launched into a monologue about how he played basketball in high school and then got into Harvard.
We do not need a regurgitation of the senator's well-known biography. What we need is leadership. As one tele-town hall participant put it, it's like we are playing a basketball game, and while Democrats are practicing their bounce passes, Republicans are cutting players' throats on the court.
Meanwhile, Trump is about to shape the Supreme Court for a generation. Incredibly, if you listened only to Sen. Schumer talk about the matter, you would never know that Trump is poised to do so while under federal investigation for obstruction of justice after his campaign blatantly and wantonly courted a hostile foreign adversary to swing his election. Just last week, Trump stood, quite literally, shoulder-to-shoulder with Vladimir Putin in rejecting his own intelligence community's conclusion that Russia interfered in the 2016 presidential campaign. Why is Chuck Schumer not taking every opportunity to call Trump an illegitimate traitor when talking about the Supreme Court fight? What weakness.
If Senator Schumer cannot whip his entire caucus to vote against any nominee not named Merrick Garland, then he should step aside as minority leader. Such a failure would further demonstrate what is becoming readily apparent: that Senator Schumer is not the leader for this dire hour. What we need is a progressive firebrand to lead the charge and throw as many wrenches into the machinery of corruption as possible.
We cannot compromise with the Republican Party. That is because there no longer is a Republican Party. It has been replaced by a reactionary white nationalist party masquerading as the Republican Party, beholden to only Trump. And there can be no compromise with what is dead and rotting. We expect our leaders to adopt a war footing, because, have no doubt, we are at war for the soul of our nation.
A war footing also means supporting bold and clear progressive policies such as Medicare-for-all, federal jobs and affordable housing guarantees, paid parental leave, and tuition-free public universities. When so-called "pragmatic" Democrats inevitably and facetiously ask us how we plan to pay for it, let us be equally resolute in our reply: by taxing corporations, millionaires, and billionaires. No more 12-point plans and carefully crafted, round table-produced cookie cutter messaging.
These progressive policies are overwhelmingly popular both nationally and in New York. This is why, for example, bold progressive policies have been the cornerstones of Cynthia Nixon's campaign for governor against the comically establishment Andrew Cuomo. And it is also why Cuomo has been moving to the left as quickly as possible ever since Nixon announced her running.
Half-measures are no longer sufficient. New York's Democratic voters expect our Democratic officials to bleed blue like us. They must be both moral authorities and fearless leaders.
So pay attention and take action, Senator Schumer. We are.
***
Steve Wagner is a Brooklyn-based activist and personal injury trial lawyer. He is an executive board member of Indivisible Nation BK. He blogs at brooklynresists.nyc. On Twitter @stevedwagner.
***
Have an op-ed idea or submission for Gotham Gazette? Email This email address is being protected from spambots. You need JavaScript enabled to view it.