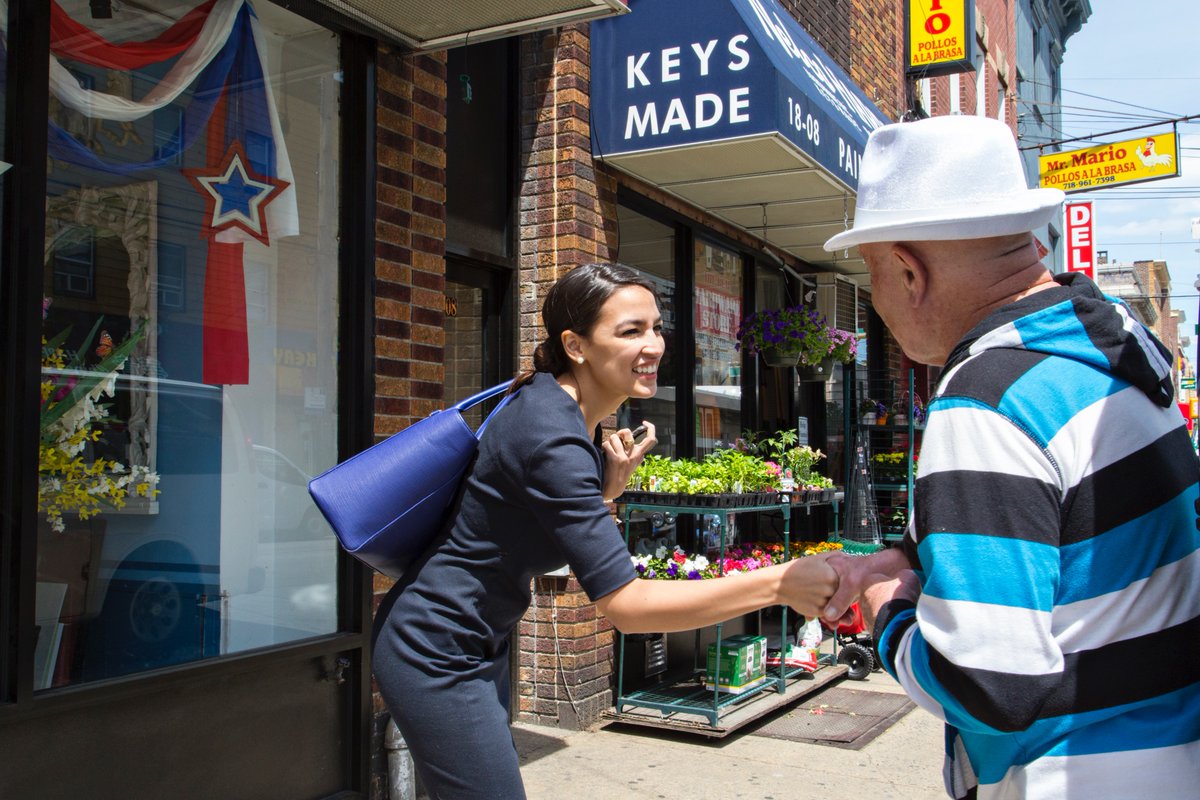 Alexandria Ocasio-Cortez campaigning (photo: @Ocasio2018)
---
Alexandria Ocasio-Cortez's victory seems to be misunderstood in a number of ways. First, it is hard to say that it was representative of Democratic Party supporters in the district. Suppose we measure the Democratic Party voters by Crowley's vote total in the 2016 Congressional election, when he faced no primary opponent and a nominal general election foe (Crowley won 83 percent). The 2018 Democratic primary total -- 28,000 votes -- was only 19.0 percent of this amount.
Indeed, Ocasio-Cortez's victory reflected the typical outcome of a restrictive voting system favored by the Democratic Party establishment because of its ability to turn out its patronage base. The decline of the patronage base has reduced the turnout of establishment-oriented Democrats while Bernie Sanders has shown the way for a progressive challenger to harness the internet and social media to turn out a base of followers. Thus, Ocasio-Cortez was able to turn the tables on the Democratic Party organization in a low turnout election.
Second, her margin over Crowley was 3,584 in the Queens precincts but only 542 in Bronx precincts. This suggests that her appeal was not primarily to the Latino working-class community but instead the Queens professional class. This thesis is further strengthened by looking at the voter turnout in each borough. In 2016, 66.0% of Crowley's votes were from Queens whereas in the 2018 primary, 72.4% of the votes were from Queens. Again this is consistent with the Sanders movement.
Despite his principled commitment to working-class politics, Sanders' message overwhelming resonated with the professional class and little with communities of color. Having a Latina candidate, however, was ideal given the district's ethnic composition and the desire of Sanders' supporters to demonstrate their commitment to both far-left politics and multiculturalism.
What happened in the 14th Congressional district certainly reflects the decline of the ability of centrist Democrats to appeal to the anti-Trump movement.
There is also a deeper dynamic at work. In the 1950s, fully one-third of all non-supervisory private-sector personnel were members of unions, giving the Democratic Party a pragmatic working-class base that led to centrist policies.
Similarly, the working class support enabled left-of-center parties in Western Europe and Israel to contest for power with pragmatic centrist policies. In and around 2000, Clinton (U.S.), Blair (U.K.), Schroeder (Germany), Jospin (France), and Barak (Israel) represented victories for this agenda. However, as traditional working-class jobs have declined, as union membership in the private sector has plummeted, this base has shrunk and so too has the support for centrist policies. In the U.K., this has caused a shift in the Labor Party to a much more leftist orientation and this is the direction the Democratic Party has moved in the U.S.; no longer centered around private sector workers but increasingly a party of the professional class and less affluent people of color.
Ocasio-Cortez's victory crystallizes another important cleavage: the schism between an increasingly active anti-Israel stance among leftist Democrats and the pro-Israel stance of more centrist Democrats. The animus to Israel shown by Democratic Party leader Keith Ellison and candidate Bernie Sanders is amplified by her victory.
She is a member of the Democratic Socialists of America, which has as one of its platforms, support for the Boycott, Divest, and Sanction (BDS) movement. Not only has Ocasio-Cortez not rejected this part of the platform, she has enunciated extreme anti-Israel positions and not shown support for a two-state solution.
How will centrist pro-Israel Democrats deal with this increasingly aggressive anti-Israel stance? Senator Gillibrand, in her courting of the left flank, has embraced Ocasio-Cortez as she did Women's March leaders who embrace the anti-Semite Louis Farrakhan. However, given his unequivocal support for Israel and rejection of BDS, what will Senator Schumer do? If centrists don't stand firm on the issue of Israel, it further exposes the demise of the traditional Democratic Party.
***
Robert Cherry is Stern Professor at Brooklyn College and CUNY Graduate Center.
***
Have an op-ed idea or submission for Gotham Gazette? Email This email address is being protected from spambots. You need JavaScript enabled to view it.
Note: this article has been corrected with the intended French leader, Jospin.