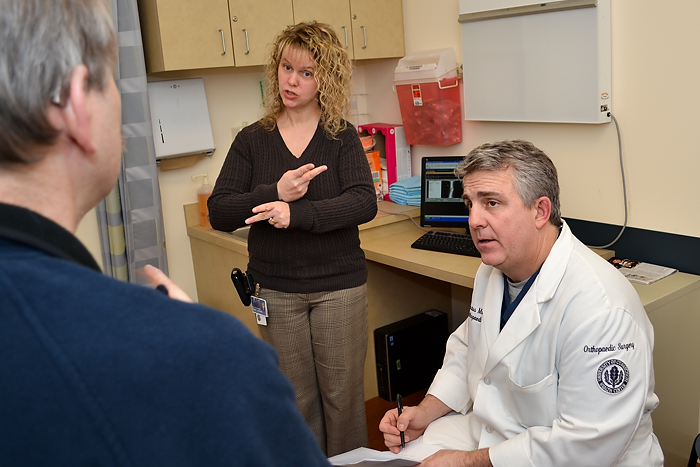 (photo via UCONN)
---
Imagine being in so much pain that you call 911. Imagine being transported a great distance by an ambulance, all the while in excruciating pain and scared about what might be going on inside your body. Imagine that when you arrive in the hospital, multiple people poke and prod you without telling you what they are doing and without your being able to tell them what you need.
All too frequently, this is the experience of people who are deaf within the United States medical system, because of a complete disregard for the regulations and guidelines set forth in the Americans with Disabilities Act (ADA), which mandate sign language interpreter services.
When former President George H. W. Bush signed the ADA 28 years ago last week, he said, "Let the shameful wall of exclusion finally come tumbling down." The ADA requires systemic change in how America accommodates people with disabilities, yet more than a quarter of a century after the law's enactment, pervasive "walls of exclusion" still exist.
New York Lawyers for the Public Interest (NYLPI) recently settled a complaint on behalf of a deaf person in New York City who was denied access to interpreter services at a hospital. It took over six years to resolve the matter, and the client continued to encounter countless similar experiences virtually every time she attempted to schedule an appointment with and visit a medical professional.
This individual is not alone – primary care doctors, specialists, dentists, mental health providers, nursing homes, rehabilitation facilities, and labs routinely deny interpreter services to people who are deaf. This systemic discrimination in the health care setting is illegal under the ADA and has been illegal for even longer in places like New York City, where there are strong state and city non-discrimination laws at play.
The lack of effective communication access is not unique to New York City. The Syracuse University College of Law Disability Rights Clinic also regularly litigates cases of healthcare providers refusing to offer sign language interpreters in upstate New York.
Although there are resources available in New York to hold medical professionals and other agencies accountable if they do not provide effective communication, these problems remain. The New York City Commission on Human Rights and the New York State Division of Human Rights have the ability to investigate and redress such discrimination, even where the individual wants to proceed anonymously. However, these mechanisms are not enough to prevent countless instances of discrimination against members of the deaf community who seek health care.
So if it is illegal, and there are mechanisms for redress, why does the problem persist?
It's all about money and attitude. There's a pervasive disregard in the health care profession for the importance of effective communication access for both provider and patient. As an anti-discrimination law, the ADA was intended to enact societal change. However, laws are often not enough – we need a shift in culture.
When deaf individuals speak out about not receiving interpreter services at medical offices, they are often told it is too expensive and providers are reluctant to pay for communication access. The problem is even more acute for solo practitioners than it is for large hospitals and medical practices with deep pockets. The medical community's failure to budget and plan for this easily anticipated and legally required expense is unacceptable.
Those who speak out are also told they do not really need an interpreter as they can communicate through other means. This is unacceptable.
To require a person who is deaf and deprived effective communication access to seek change, continue to advocate until the change is made, file a lawsuit if the change is not made, and continue to prosecute the lawsuit until it is resolved, is not a realistic solution for creating a more accessible world. It unfairly places the onus on the deaf individual.
There are already models for how to pay for these services. A few years ago, the Monroe County Bar Association established a fund to help defray up to 50 percent of a member's interpreter bill. Likewise, Title IV of the ADA, which mandates the establishment of a national telephone relay system enabling deaf people to communicate, is funded through a tiny fee collected from everyone's telephone bill. For health care providers not affiliated with a large institution, a similar fund should be created.
Access delayed is access denied for members of the deaf community when they seek health care. We need creative funding, changes in attitude, and adherence to the law immediately to address this abhorrent situation.
***
Michael Schwartz, Associate Professor of Law at the Syracuse University College of Law, Director of its Disability Rights Clinic, board member at Tangata Group, and a long-time deaf rights advocate; and Maureen Belluscio, Senior Staff Attorney, Disability Justice Program of New York Lawyers for the Public Interest. On Twitter @NYLPI.
***
Have an op-ed idea or submission for Gotham Gazette? Email This email address is being protected from spambots. You need JavaScript enabled to view it.