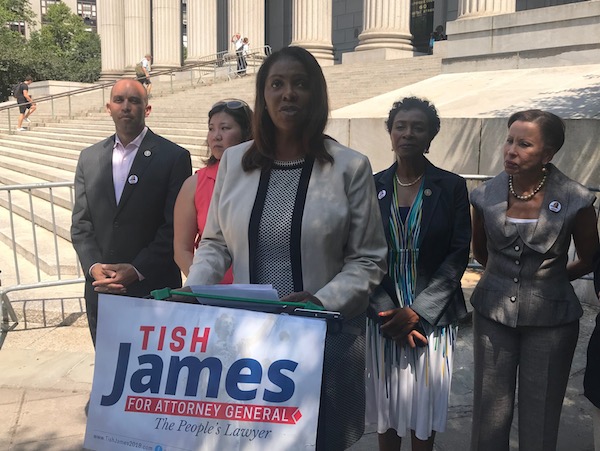 Letitia James, the author (photo: Gotham Gazette)
---
Wall Street malfeasance has had devastating consequences in New York State. It precipitated the foreclosure crisis, in which tens of thousands of families lost their homes, others faced an unrecovered loss in property values, and many jobs were lost. Ten years later, the Trump Administration and the Republican Congress are weakening oversight by federal agencies by watering down the Dodd-Frank Act and undermining the Consumer Finance Protection Bureau (CFPB).
Today, Wall Street securities valuations are, by all accounts, exceedingly high, corporate borrowing is excessive, and monetary policy still encourages risk. Fueled by predatory companies, student debt, and institutional greed, United States household debt has now grown to $13.39 trillion. Corporations are issuing debt again with fervor, and dark pools for trading securities still proliferate. We once again see flawed stock research, mortgage backed securities and other collateralized debt with sophisticated and troubling capital tranches. High-speed trading is prominent, and illegal front-running practices are still threats to our markets and society.
In this current booming economy, the Trump Administration has shown unsurprising short-sightedness and a remarkable short-term memory. The economy will inevitably ebb and flow, yet instead of bolstering safeguards, the federal government is rolling back the very protections and regulations established after the Great Recession. In taking aim at the protections--like the Volcker rule--contained in the Dodd-Frank Wall Street and Consumer Protection Act, the Republican Party is once again proving that it cares more about appeasing corporations than it does about protecting Americans from another financial crisis.
Fortunately, in New York, we have the most important prosecutorial power in the nation to stem malfeasance, protect our markets, and hold those who violate the law accountable: the Martin Act. The Martin Act grants investigatory and enforcement powers to the New York Attorney General, who is entrusted to enforce our state's banking laws. Everyday, many millions of Americans rely on our state's Attorney General to fully and judiciously use laws like the Martin Act to hold bad actors accountable and to prevent firms from defrauding the public.
As the next New York Attorney General, I will aggressively pursue these cases, and will use the Martin Act to the fullest extent possible.
Using the tools of the office, including subpoena power, I will investigate and watch over Wall Street. I will conduct data-driven investigations. I will bring cases, and seek injunctive relief to protect consumers, seek restitution for New Yorkers who have lost hard-earned money, and fight for wholesale policy changes.
I will stand up to the Trump Administration that seeks to pre-empt the Martin Act, protecting a critical power that fights Wall Street malfeasance. I will work collaboratively with the state Legislature to re-establish a six-year statute of limitations that recently was limited by the New York State Court of Appeals, ensuring that bad actors don't go unpunished simply because the clock runs out. I will also work to increase criminal penalties for violations of the Martin Act, to mandate sentencing of perpetrators as larcenies of up to 25 years in prison. I will ensure that the Investor Protection Bureau has the necessary resources and support to expand.
Not since the time of Attorney General Jacob Javits in 1955, when criminal penalties were added by the Legislature, will there be a more committed champion of change. I will be the Attorney General conceived of in law, not just rhetoric.
For everyone on Wall Street to Main Street, let me be clear: as New York State Attorney General, I will use the considerable power of New York state laws to scrutinize those practices and industries that have benefited from deregulation under Trump, and those that are currently posing a significant threat to our economy. Unfettered greed that results in foreseeable losses that devastate the lives of ordinary and sometimes unwitting investors is actionable, and New Yorkers can count on me to take legal action.
***
Letitia "Tish" James is the New York City Public Advocate and a Democratic candidate for New York Attorney General. On Twitter @TishJames.
***
Have an op-ed idea or submission for Gotham Gazette? Email This email address is being protected from spambots. You need JavaScript enabled to view it.