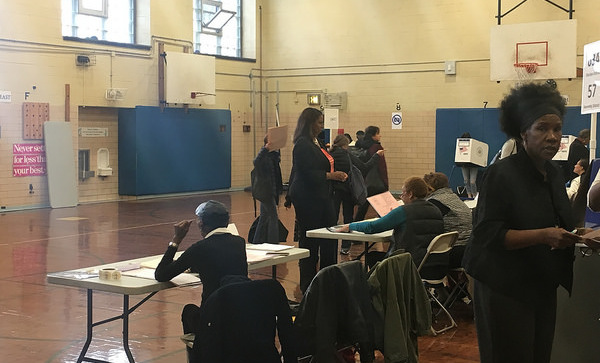 (photo: Gotham Gazette)
---
The New York Times recently published a story about the Queens Democratic Party and how it stacked its Democratic County Committee with at least 21 people who had no idea that they were running for the position. One of the "candidates" actually lived in Florida. The Times article said, in part: "it is not entirely clear why the party would want to populate the committee with people who did not know they were on it." In Brooklyn, it is totally clear.
For background, the Kings County Democratic Committee has a general membership of approximately 3,000 people. Every two years, in the September primary, each Assembly District elects both a male and female District Leader (officially called a "Member of the State Democratic Committee"). Collectively, the District Leaders make up the executive committee of the Brooklyn Democratic Party.
Like Queens, the general membership of the Brooklyn Democratic Party is filled with people who are unaware they are party officials or who have no interest in serving the Party. The leadership of the Brooklyn Democratic Party exploits this ambivalence by holding County Committee meetings in hard to reach locations, inaccessible by public transportation, and then telling members that they can skip the meeting if they give the County Chair their proxy votes.
By collecting proxies from uninterested or unaware members, the Party leadership gets the votes they need to maintain full control over the direction and agenda of the Party. It gives the Party leadership the numbers it needs to beat back any reform efforts and to deny grassroots Democrats a voice in the selection of the Democratic nominees for State Supreme Court or to fill a legislative vacancy.
The specific problems that exist in Queens have somewhat receded in Brooklyn. To his credit, when Frank Seddio took over as Chair of the Kings County Democratic Party, he agreed to adopt incremental reforms being pushed by the Brooklyn Reform Coalition. Many of these reforms are the ones that Queens reformers are still fighting for today. While there has been some improvement, Brooklyn still has a long way to go.
In the short term, the Brooklyn Democratic Party must end proxy abuse. No person, whether the County Chair, a District Leader, or a general member, should be allowed to hold more proxies than the number of County Committee members serving in their Assembly district.
Likewise, the Party currently will only pay for the County Chair to send a proxy solicitation to all members of the County Committee. District Leaders have no budget and lack the financial resources to individually send a similar solicitation. This imbalance can be cured by allowing proxies to be submitted electronically or by the Party funding a mailing for each and every District Leader who wants to solicit proxies.
The long-term goal, however, is to end governance by proxy.
There are over 1 million Democrats in Brooklyn. Certainly we can find a few thousand who are committed to building a vibrant, transparent, and inclusive Brooklyn Democratic Party. Every board or committee I have ever sat on had a rule against missing too many meetings. The same needs to be true with the Brooklyn Democratic Party. At the same time, to ensure a diverse and inclusive party, meetings need to be held at a variety of times and locations so that no one is excluded due to a serious obligation, such as working at night or childcare responsibilities.
All over the country, local Democratic Parties are vibrant, active, and impactful. They meet regularly, have subcommittees with important party-building responsibilities, and develop and promote a political platform. Brooklyn is the largest local Democratic Party in the country and does none of these things. Instead of being national leaders, we are lagging far behind. Implementing the reforms I've outlined here will allow us to grow into a national model of what a fighting Democratic Party can accomplish.
These are not revolutionary ideas. This is what local Democratic Parties do all over the country. Once Brooklyn's rank-and-file Democrats demand these changes, these ideas will be impossible to stop and we will finally have the Democratic Party that Brooklyn wants and deserves.
***
Doug Schneider is a candidate for Member of the Democratic State Committee/District Leader in the 44th Assembly District in Brooklyn. On Twitter @DougSchneiderBK.
***
Have an op-ed idea or submission for Gotham Gazette? Email This email address is being protected from spambots. You need JavaScript enabled to view it.