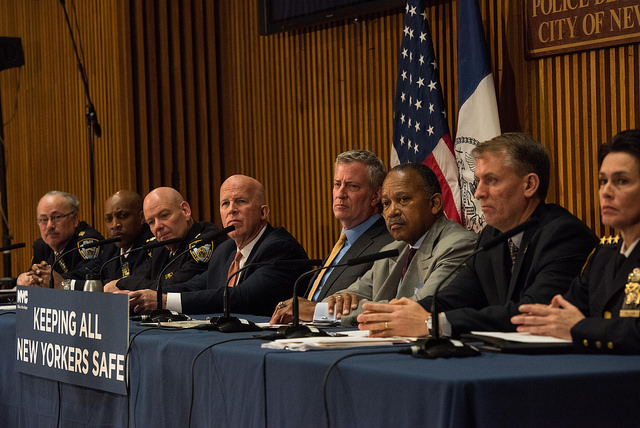 (photo: Michael Appleton/Mayoral Photography Office)
---
How should police respond when someone is drinking a beer in the street, dropping litter, or engaging in other minor offenses? Up until a year ago, a criminal summons was the only answer, and if the person didn't show up in court, he or she could be arrested on a warrant.

As a result, New Yorkers had as much contact with the system for low-level offenses as for serious crimes.

Consider that in the first half of 2017, there were 112,000 criminal summonses compared to 98,000 misdemeanor arrests and 50,000 felony arrests. The summonses practice had a snowballing effect on the justice system: over its history of this practice, many people failed to take a day off of work or find the time to settle the criminal summons.

More than a million warrants accumulated.

Last year, that all changed.

In city legislation called the Criminal Justice Reform Act (CJRA)—passed by the City Council under then-Speaker Melissa Mark-Viverito and signed by Mayor Bill de Blasio—police now have the option to issue a civil summons instead of a criminal summons, which can be handled like a ticket in the city's administrative law court, the Office of Administrative Trials and Hearings, known as OATH.

Under the CJRA, if the summons is filed at OATH for the hearing, the punishment is a fine. If a court date is missed, it does not result in a warrant and arrest like it could in criminal court.

And if found in violation after a hearing, the option is available to pay the fine or do community service. Community service at OATH is instructive and aimed at preventing future offenses instead of solely requiring the performance of menial tasks.

The effect of the law has been dramatic.

Since June 2017, criminal summonses and warrants for CJRA-eligible offenses are down 89 and 94 percent, respectively. Over the same period, serious crime fell 13 percent.

Warrants issued for failure to appear in court for a small set of low-level offenses—for example, drinking in public, entering a park after dark, unreasonable noise, and public urination—could reach as high as 5,000 in a single month. Now they are around a few hundred.

During this time, the Mayor's Office and the City Council also worked with the NYPD, district attorneys, the courts and other partners to clear more than 644,000 warrants for minor, non-violent offenses that were 10 years old or older.

There are, of course, exceptions to the new enforcement option for low-level offenses. Someone may still be directed to criminal court if he or she has two or more felony arrests in the past two years, has three or more unanswered OATH summonses in the past eight years, is on probation or parole, or if there is another legitimate law enforcement reason.

The success of CJRA is not just that police now have more options. Nor is it just that there is more proportionality in how we enforce the laws, though that is important. It is also that more people are attending to their summonses.

In May of 2017 appearance rates on criminal summonses were at 64 percent. In April of 2018 that number had risen to 71 percent—which is also a credit to the multiple partners, courts, police, district attorneys, and others who helped develop a redesigned summons form, to make directions more clear, and sending text message reminders that alert people of their upcoming court dates.

Enhanced appearance rates are not happenstance. One thing we know well, both from research and from everyday experience, is that people are more likely to obey the law when they believe that they are treated fairly and that the system is responding appropriately. When the punishment for low-level offenses is out of step with the seriousness of the offense, New Yorkers lose confidence in the fairness of the system as a whole and are less likely to comply.

It is one reason why the NYPD had already been issuing fewer criminal summonses even before the CJRA, considering new approaches to low-level offenses, and has expanded neighborhood policing, which emphasizes building partnerships with the community.

We do not know for sure whether this is the dynamic that is changing behavior but we have asked the Misdemeanor Justice Project at John Jay College of Criminal Justice to do an evaluation of the effects of the CJRA and hope to learn more in the year ahead.

We know this will not fix everything. Racial disparity still persists and we have work to do. However, this dramatically lightens the volume and weight of the system's touches on New Yorkers who commit low-level offenses.

We are hopeful that this approach that relies on residents to live cooperatively with their neighbors while ensuring compliance through proportionate measures will create a virtuous cycle in which rules are followed because they are fair and just.
***
Elizabeth Glazer is the Director of the New York City Mayor's Office of Criminal Justice. On Twitter @CrimJusticeNYC.
***
Have an op-ed idea or submission for Gotham Gazette? Email This email address is being protected from spambots. You need JavaScript enabled to view it.