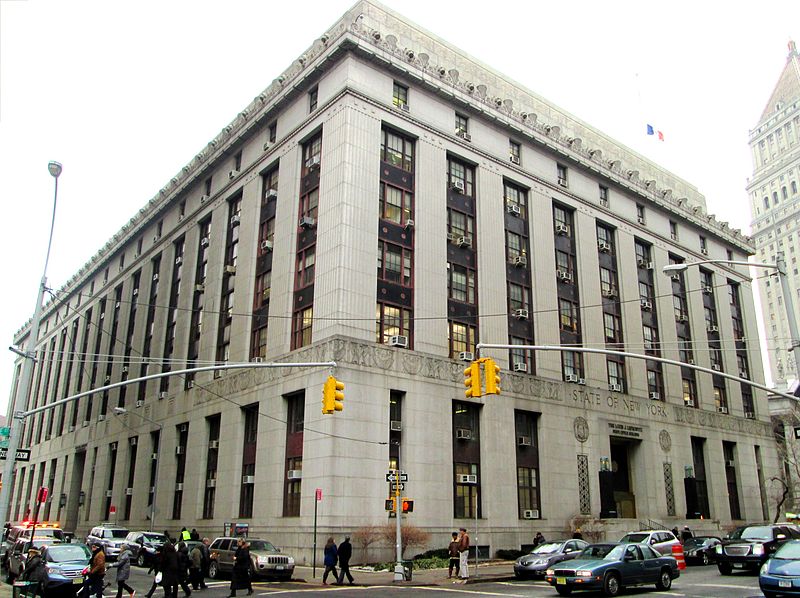 The Lefkowitz Building (photo: Beyond My Ken via Wikimedia Commons)
---
For nearly a decade, lovers have flocked to Lower Manhattan's magnificent Louis Lefkowitz Building.
Why, you ask?
The handsome Lefkowitz is home to the Manhattan Marriage Bureau. Each year, thousands of couples climb its distinctive stone stairs, pass under its carved eagle friezes, and enter its ornate inner lobbies to make their affection official.
The Lefkowitz is especially beloved by LGBT New Yorkers. A whopping 293 newly-eligible pairs wed there on the first day same-sex marriage became legal.
"Getting married in a place with such historical significance made me feel like I was a part of something," explained Sarah Factor, who tied the knot at the Lefkowitz with her wife Julie Mayrin shortly after marriage equality passed in New York.
"When we were finally able to marry, we came to the Lefkowitz," added Mayrin, matter-of-factly. "Going up those stairs was symbolic for me as a native New Yorker."
But the Lefkowitz now needs a little love of its own.
Though marriage is supposed to be forever, Mayor de Blasio wants to give this temple of love an ugly divorce. De Blasio plans to gut – or even demolish – the beloved Lefkowitz to build a more humane jail for those facing trial in Manhattan.
As Mayrin sees it, the mayor's plan would "destroy a monument." And neighbors, elected officials, and concerned New Yorkers are beginning to agree.
Mass incarceration is among our society's greatest sins, and de Blasio is correct to upend an intolerable status quo. With its large floor plates, outdated upper offices, and proximity to the criminal courts, it would be smart and simple to reuse certain parts of the Lefkowitz for pre-trial detention.
The Mayor can do all of this without evicting soon-to-be newlyweds and destroying a deeply admired New York structure. All it takes are a few vows from city officials.
First, the Landmarks Preservation Commission should protect the Lefkowitz's façades, roofline, and first-floor public interiors. The City Council should then step up to the altar and pass legislation ensuring marriages remain in their rightful place for good.
None of this will happen without your help. Call, write, or visit the mayor, Landmarks Commission, and City Council – and demand they protect the Lefkowitz "till death do us part."
***
Adrian Untermyer is an urbanist who advocates for historic preservation and improved transportation in Greater New York and nationwide. On Twitter @Untermyer.
***
Have an op-ed idea or submission for Gotham Gazette? Email This email address is being protected from spambots. You need JavaScript enabled to view it.