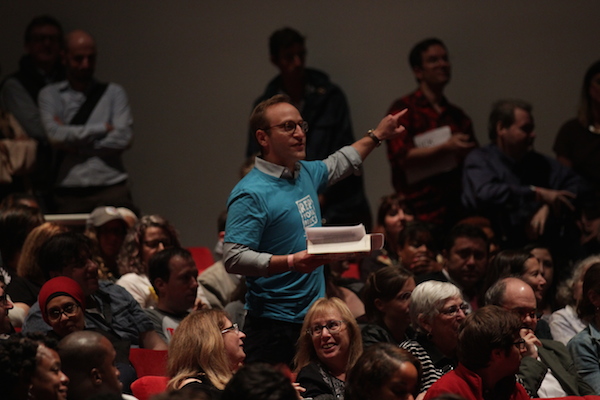 Kings County Democratic Committee meeting (photo: James Boo, New Kings Democrats)
---
This summer I collected signatures from neighbors to represent my election district, an area of a few blocks, as a member of the Kings County Democratic Committee (KCDC), the Brooklyn denomination of the New York State Democratic Party.
I had signed up with the #RepYourBlock campaign, convened by New Kings Democrats (NKD), one-and-a-half years earlier for this purpose. I handed in my petitions in June and a few months later I received a postcard informing me of KCDC's bi-annual rules meeting, on September 27 at Kingsborough Community College. This postcard let me know that if I signed and returned it to Frank Seddio, the Democratic County Chair, there would be no need for me to attend. Despite this "helpful" suggestion that I turn over my vote through this proxy before ever even participating in a meeting, I made plans to be there.
The hundreds of people gathered in the Leon M. Goldstein Performing Arts Center on September 27 ranged from newly-minted members like myself to people who had been attending for decades. From the beginning, it was clear that the party leadership was overwhelmed by the turnout. It was less clear whether that was by design or by incompetence.
We waited two-and-a-half hours past the posted start time for the meeting to begin. It was standing room only, and the people around me were palpably excited to participate in this most local form of government. When the meeting finally began, it got off to a contentious start. KCDC members heckled from the back of the room. The person leading the meeting, former State Senator Martin Connor, never introduced himself and was immediately defensive. Many of us had trouble following what was happening in a poorly-mic'd room with a lot of background noise.
In the weeks leading up to the meeting there had been heightening tension around the efforts of NKD, a reform club trying to increase the participation of everyday Brooklynites through the #RepYourBlock campaign. NKD had reached out to Democratic County Committee members encouraging them to attend the meeting and if they couldn't, asking that they give their proxy to someone they know or one of the #RepYourBlock partners, in an attempt to counter the juggernaut of the party leadership proxy-collection machine. Many committee members received multiple requests for their proxy (a way to allow someone else to vote in your absence), including a misleading one from party leadership that purported to be signed by one's state Assembly member and district leaders (many of whom claimed this happened without their permission). Partially in response to this, there was a proposal to reform the proxy system introduced by my own Assembly member, Robert Carroll, which was overwhelmingly supported.
Then the time came for the vote that is one of the only real roles for members like me – voting for the officers of the executive committee. This year an actual competitive election was possible, because an alternate "reform" slate had been proposed by #RepYourBlock. The voting began, and an already tense meeting unmistakably changed.
Because we didn't even get the chance to vote!
It was over before it started. Party leadership had waited to start the meeting until they were sure that Frank Seddio had enough proxy votes to overrule anything that happened. The voting began with a vote on the complete executive committee slate, and motions for a vote on each individual position were overruled or just flat out disregarded. When the vote was called for the establishment slate, about 50 people stood up. Martin Connor said those 50 votes, plus the more than 500 proxies held by Frank Seddio, meant the establishment slate won.
Even when those numbers were questioned, or when it was pointed out that the numbers didn't seem to add up, or when it was clear that the numbers being reported were actively changing as more proxies appeared with every challenge, we were told "It's done" and the meeting moved on.
In that room there were hundreds of people like me who had petitioned to be on County Committee, some of whom had competed in primaries. Over 500 people had left work early, skipped dinner, planned for childcare, carpooled, rode a subway to a bus, or made countless other arrangements, all to come to Manhattan Beach on a weeknight and attend a five-hour meeting. And the overwhelming majority were not even able to stand up and be counted in favor of a candidate they supported. Their questions and requests for explanation or clarification were dismissed and they were scolded from the lectern for daring to even ask them.
When a motion was made to recount the vote, after a member pointed out that the numbers given did not add up to an establishment victory, the vote in favor of recount was overwhelming. That vote was also unsuccessful, as Seddio's proxies still outnumbered those in attendance. But the room had shifted, and even people who had voted for the establishment slate saw what was happening as counter to a democratic process. NKD and #RepYourBlock had inspired us to show up and be a part of our local political process, and the Kings County Democratic Party saw us as an obstacle.
The Brooklyn Democratic Party leadership did more for reform with its actions in that auditorium than years of organizing could have.
It is a testament to the efforts of #RepYourBlock that so many people were there. And by being so entrenched, and so unwilling to allow for anything that might dilute their stranglehold on Brooklyn politics, party leadership ensured that the proxy abuse they are so reliant on is in its final days.
***
Nicole Hunt is a member of New Kings Democrats, on the Executive Committee of Brooklyn Voters Alliance, and a member of the Kings County Democratic Committee. On Twitter @msnicolemh.
***
Have an op-ed idea or submission for Gotham Gazette? Email This email address is being protected from spambots. You need JavaScript enabled to view it.