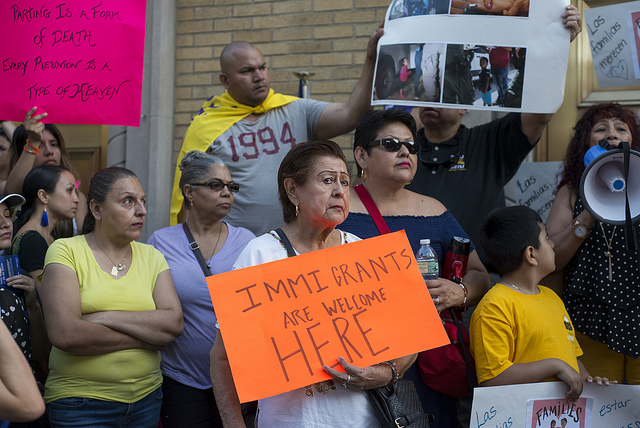 (photo via the New York City Council)
---
When we look from our community in Brooklyn to the New York Harbor, we see the Statue of Liberty, a tangible symbol of America's great tradition of welcoming immigrants seeking to make a better life. Every day in Sunset Park, Red Hook, Bay Ridge, and elsewhere in Brooklyn we see the contributions new Americans are making to the economic and cultural vitality of our neighborhoods, just as generations of immigrants before them contributed.
But America's great tradition of diversity and inclusion is under attack by the Trump Administration. From separating parents and children at the border, to travel bans and demonizing immigrants as "others," this administration is on a campaign to sow division and disunity. The latest salvo in this war against new Americans is a radical proposal to expand the definition of "public charge" and undermine pathways to U.S. citizenship for new Americans.
If the government determines that a person is likely to depend on the government as their main source of support (in other words, to be a "public charge"), it can deny that person admission to the United States or lawful permanent residence. Under the Trump Administration's new "public charge" proposal, immigrants' participation in some of the most fundamental programs essential for families' and children's health and well-being would count against their chances to enter or remain in the United States. These basic public benefit programs include, among others, the Supplemental Nutrition Assistance Program (SNAP), Medicaid, Medicare Part D, and housing assistance.
The Trump Administration's "public charge" policy plan represents an unwarranted cost shift from the federal government to state and local governments, to non-profit charities, and to needy families themselves. Denying federal assistance to people when they are in need in no way eliminates hunger, homelessness or deprivation. Our communities will face new burdens in addressing gaps in services.
It is clear that the Trump Administration's overly broad definition of "public charge" would have far-reaching effects. One in four American children have at least one immigrant parent. In addition to the categories of individuals directly affected by the policy, fear and confusion would cause most immigrants to forgo benefits for all means-tested federal, state, and local programs. The dis-enrollment from public benefits would cause disruption in the lives of millions of needy people, harm individuals' well-being, and undermine local economies here in New York and across the United States.
We all need to raise our voices against this proposal. And we have an opportunity to do just that. The Trump Administration cannot implement this radical change until after it has considered comments submitted by members of the public. In our democracy, this is an important check on unfettered rulemaking by the executive branch. Help make that check a real one by submitting your comments through regulations.gov by December 10.
Get your neighbors, families and friends to comment as well. Our nation is at its best when people join arms and stand together for the values that have built America.
Join the thousands of people in the Protecting Immigrant Families coalition in speaking out to stop this mean-spirited and harmful potential rules change.
***
Assistant Assembly Speaker Felix W. Ortiz represents parts of Brooklyn. On Twitter @Felixwortiz.
***
Have an op-ed idea or submission for Gotham Gazette? Email This email address is being protected from spambots. You need JavaScript enabled to view it.