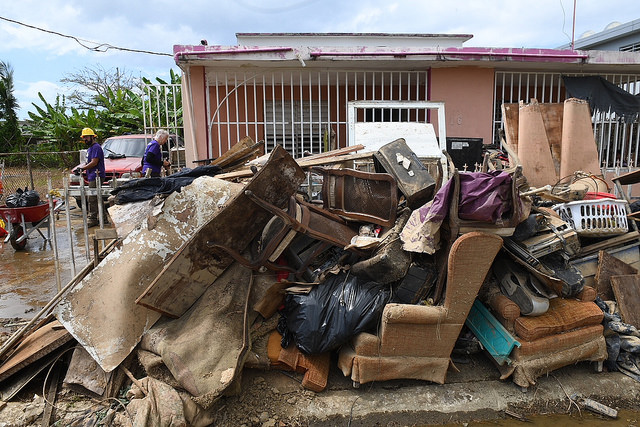 Puerto Rico (photo via the governor's office)
---
The physical damage caused by Hurricane Maria on the island of Puerto Rico was undoubtedly devastating. Fortunately, homes and buildings can, have been, and will be rebuilt, but it's often trauma from these natural disasters that leaves the most lasting and destructive mark on a community.
The psychological impact of months without electricity, access to food and clean water, and unexpectedly losing loved ones – experienced on an island-wide scale – cannot be overstated. This kind of stress and instability is shocking, and that's why so many professionals in the mental health community have prioritized working with victims of Hurricane Katrina in New Orleans, Superstorm Sandy in the northeast, and other natural disasters over the years.
It's not unusual for storm victims to have feelings of fear, anxiety, sadness, or shock in the immediate aftermath of these destructive events. It becomes a problem when these feelings continue for weeks, months, or years after such disasters. Mental health professionals know that if communities are not given the proper help and support to cope with trauma from a horrific storm, they may never truly recover.
Earlier this month, political and community leaders from New York City gathered in Puerto Rico to assist with recovery, and work together to help chart a path forward. At the core of the discussion was mental health and health care – in fact, New York Mayor Bill de Blasio made it the signature announcement of his trip. He and First Lady Chirlane McCray announced a $200,000 commitment to help a nonprofit health care provider hire additional psychiatrists for some of the neediest communities – including one dedicated to children.
This help could not come soon enough. While on the island myself two weeks ago, I helped deliver supplies to a Federally Qualified Health Center, which is trying to do as much as it can with the little it has. Equipment as basic as medical gloves is frequently needed, and doctors are forced to meet with patients – some even struggling with drug and alcohol addiction as well – in rooms the size of large closets. All the while, quality primary and specialty care for these communities is needed more than ever before, with thousands of doctors fleeing the island in the years leading up to Maria and during its aftermath.
For too long, mental health has been an afterthought of medical care, especially in Latino communities. In a recent citywide study we conducted of New York's Latino patients – Invisible: The State of Latino Health – we found that only one-third of Latinos think that behavioral or mental health services are easily accessible. This lack of access to care can have severe consequences, as untreated trauma can push the most vulnerable to substance abuse and addiction. The New York City Department of Health and Mental Hygiene reports that almost two-thirds of New York City Latinos who die from drug overdose are, in fact, Puerto Rican.
We know another Hurricane Maria will hit – it's just a matter of when. Until then, we need governments, public leaders, and community groups to ensure Puerto Rico has the right support systems in place to help families rebuild their spirits and psyches, not just their homes. While the financial costs of these disasters may make the biggest headline splash, it's the often unseen damage that may demand our greatest attention and action.
[Read: State of Latino Health: Dismal, and Invisible]
***
Ricardo is the Chief Business Development Office for SOMOS Community Care, and the former executive director of Medicaid in Puerto Rico.
***
Have an op-ed idea or submission for Gotham Gazette? Email This email address is being protected from spambots. You need JavaScript enabled to view it.