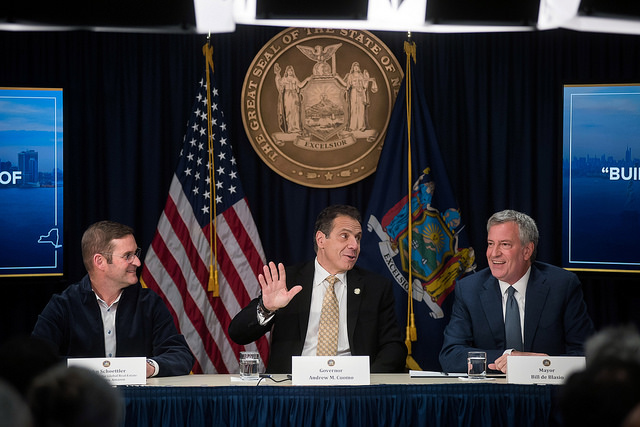 Gov. Cuomo & Mayor de Blasio announcing Amazon deal (photo: Ed Reed/Mayor's Office)
---
As soon as Amazon announced last year that it would be opening a second headquarters to house 50,000 new employees, cities across the country feverishly competed to lure the colossus retailer. With promises of tax breaks, infrastructure upgrades, employee training and just anything they thought would work, local politicians courted billionaire entrepreneur Jeff Bezos hoping he would deem their town worthy of his high tech presence. The bragging rights alone seemed well worth the price.
In New York, Governor Andrew Cuomo and Mayor Bill de Blasio overcame long animosities as they ran victory laps around Long Island City to celebrate winning even half the prize.
To Cuomo and de Blasio's surprise, not everyone is so elated.
Local legislators howled when they heard that the state would circumvent the city's land use process and deny community residents a more full opportunity to review and comment on the development. Queens residents raised concerns that Amazon's arrival would accentuate ongoing problems of displacement and gentrification. A skeptical New York press parsed through whatever information was available to figure out what the state and city were giving away to close the deal. The very smart people who write editorials for the New York Times concluded it wasn't New York bagels that attracted Amazon to Queens.
The entire episode can be instructive for those who care about the future of cities and the people who live in them. There is plenty of blame to go around, and it does not stop in New York. What follows is four major lessons to move the conversation along.
1. Nobody knows
It was bad enough that the entire deal was negotiated in secrecy. But even with more information available, it is difficult to definitively assess the costs and benefits of such complex arrangements with any measure of certainty.
Sometimes, we don't discover the consequences until it is too late. Last week, a study completed by researchers at the New School's Center for Economic and Policy Analysis estimated that Mayor Michael Bloomberg's "self financing" Hudson Yards project will cost taxpayers $2.2 billion. In the Amazon case, most of the exceptional tax breaks are being absorbed by the state. The city has not negotiated away any special financial benefits beyond those contained in existing laws – except, of course, an opportunity for affected communities to have a real say in what happens where they live. The latter is a matter of state law.
New Yorkers, like most Americans, are cynical about the political process. When people don't know all the facts in a complex situation like this one, they assume they are being short-changed. They usually are.
2. Politicians are tone deaf
The United States has the widest disparity in wealth and income of any major country in the free world. New York City is a worst-case example of how concentrated wealth is localized. Much of the growing disparity is a result of federal regulatory and tax policies that have functioned to make the rich richer and the poor poorer. Economists have been tracking this trend for decades.
Most Americans more or less understand what is happening and they are angry. They express their anger in the voting booth, but many politicians don't seem to get the message. A relatively unknown candidate named Bernie Sanders almost derailed Hillary Clinton's taken-for-granted Democratic Party nomination in 2016 when he candidly told voters that the political system is "rigged" against them. Donald Trump, unfortunately, capitalized on voter discontent to defeat Clinton in the general election.
Local politicians contribute to the overall distrust in government when they make sweetheart deals with corporations and real estate magnates. People, especially those struggling to make ends meet, don't like to be had and they know it happens to them all the time.
3. Our political leaders live in a bubble
Didn't decision-makers understand that handing over nearly $3 billion in incentives and grants to the richest man in the world so that he can make more money would stir resentment? Whose brilliant idea was it to allow CEO Jeff Bezos to build a private helipad just down the road from stops on a crumbling subway system and public housing projects where people are living under substandard conditions?
How can public officials defend the Amazon deal after telling us that we do not have the funds to address such problems? Put aside the merits of the case. What about the optics (which do matter)? Don't our elected officials have public relations experts around them to explain that subsidizing a private landing pad for a billionaire entrepreneur is a ridiculous idea that does not sit well with ordinary people? Can't Mr. Bezos figure out another way to get to the office?
4. Big is not beautiful
Where is Teddy Roosevelt when we need him? There was a time when leaders who called themselves progressives broke up large business conglomerates in the public interest. They understood that supersized economic enterprises can hinder healthy competition and that accumulated wealth can give certain individuals outsized influence in the democratic process. They had the gumption to take on the likes of John D. Rockefeller and his Standard Oil cartel. Populism was once a bipartisan progressive project. That was before professional lobbyists armed with campaign cash took over Washington.
Amazon is a prime example of how elected officials in both major parties have let businesses grow across commercial domains with little concern for the public interest. Jeff Bezos can sell you anything from a high-tech computer to a bag of grapes. When he decides to come to your town, he commands the attention of those in charge, and usually gets what he wants. Yes, including his personal landing pad.
***
Joseph P. Viteritti is the Thomas Hunter Professor of Public Policy at Hunter College and author of The Pragmatist: Bill de Blasio's Quest to Save the Soul of New York (Oxford). Note: I need to thank the students in my "Governing the City" class for their stimulating conversation on this topic.
***
Have an op-ed idea or submission for Gotham Gazette? Email This email address is being protected from spambots. You need JavaScript enabled to view it.