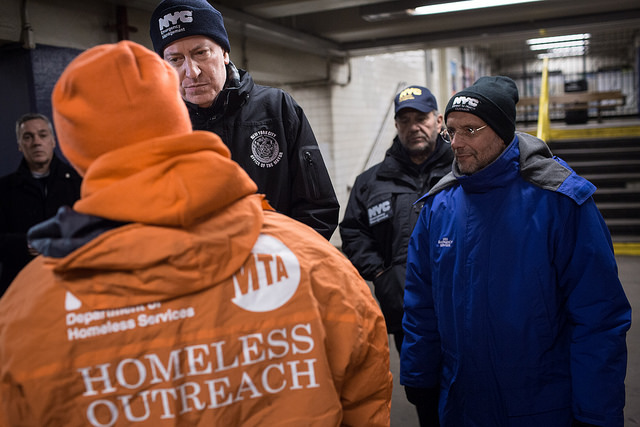 (photo: Michael Appleton/Mayoral Photography Office)
---
The red carpet has been rolled out and Mayor de Blasio and Governor Cuomo are giddily holding open the doors: Jeff Bezos and Amazon are coming to town, for the low price of $3 billion, a helipad, and prime real estate in Queens. For years, homeless activists have pressed the mayor and governor to invest resources and political will to tackle the historic crisis of homelessness plaguing both our city and state. Instead, they partnered in selling out taxpayers and sidelining politicians to make the Amazon deal a reality.
But not everyone will accept this reality without a fight. In fact, the Amazon giveaway has been criticized by everyone from newly-elected democratic socialist Alexandria Ocasio-Cortez to the corporation-friendly editorial board of the Wall Street Journal. They join homeless activists like me, city and state elected officials, and thousands of others who are concerned about responsible government and the rights of immigrants, workers, tenants, students, and many more.
I am one of 89,000 people that live in the shelter system across this state, one of the 60,000-plus that live in New York City. I am from Flatbush, but I live in a homeless shelter in Long Island City, just blocks away from where Amazon is planning to make its home. In recent months, Mayor de Blasio has faced major scrutiny for refusing to set aside 30,000 housing units in his 300,000-unit affordable housing plan to house homeless New Yorkers. I confronted him at his gym and on the radio, and others have faced him at town halls. On every occasion, he denies us the basic thing we need -- housing -- and lectures us on why his housing plan is "for every kind of New Yorker."
"Every kind of New Yorker," including the ones who haven't arrived yet and the ones Amazon claims would earn an average salary of $150,000 per year.
Meanwhile, Governor Cuomo has done no better. He refuses to follow through on his own housing commitments for the homeless. In 2016, he committed $20 billion in the state budget to tackle affordable housing and homelessness -- including 20,000 units of supportive housing -- but only a tiny sliver of those resources were made available after a year of campaigning and protests.
The governor pledged to create 6,000 units of supportive housing over five years, yet two years later, 559 units were reportedly open as of August of this year. He's reduced funding for rental assistance, forced cities to shoulder the cost of shelters, and blocked legislation attempting to solve the problem with new housing assistance, like Assembly Member Andrew Hevesi's Homes Stability Support plan.
The mayor and governor have refused to adequately help the homeless, but they've been quick to negotiate a deal with the richest man in the world. Take a look across the country to predict what happens next.
A Seattle county official said the city was "asleep at the switch" when Amazon arrived. By the time the giant settled in, rents had skyrocketed and homelessness soared from 8,522 people in 2017 to 12,000 during a one-night count in January 2018. In 2017, 169 people experiencing homelessness reportedly died in Seattle, and today record-numbers of people are living in cars and in tent cities. In an attempt to reverse the damage, the Seattle City Council introduced a bill to tax companies like Amazon in order to fund homelessness initiatives. The bill passed, only to then be crushed by Amazon, which refused to be taxed and threatened to stop construction in the city. This it the kind of power we are up against in New York. Our homes, neighborhoods, and our lives are on the line.
Mayor de Blasio and Governor Cuomo have long-ignored the true needs of the homeless across New York. But by bypassing democracy and giving Amazon billions in incentives and grants to move here, they are trying to erase us -- and many others -- from the map.
We won't have it. We must remember, this is not the mayor's city nor the governor's city, and it's certainly not Amazon's city -- it is ours.
Now it is critical that we fight back against this plan and demand the future we all deserve: safe and affordable housing for all New Yorkers, quality education for our kids, a transportation system that works, strong small businesses that remain the lifeblood and culture of our city, a powerful unionized workforce that bolsters fair wages, families that are never divided, and companies that don't profit off the imprisonment and deportation of our loved ones.
***
Nathylin Flowers Adesegun is a community leader at VOCAL-NY. On Twitter @VOCALNewYork.
***
Have an op-ed idea or submission for Gotham Gazette? Email This email address is being protected from spambots. You need JavaScript enabled to view it.