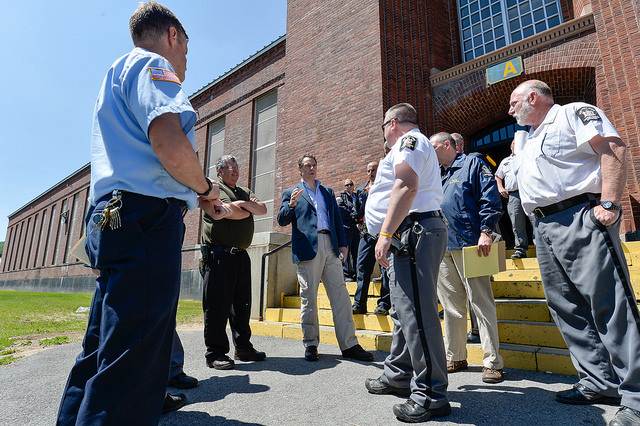 (photo via the Governor's Office)
---
As the year comes to a close, it is undeniably true that criminal justice reform is in the air. The federal First Step Act, even with critics on the left and right, heralds a less punitive approach than the "get tough on crime" policies of the past several decades. Recent elections yielded a number of prosecutors swept into office on platforms focused on confronting racial disparities and rethinking approaches to low-level offenses. Earlier this month, hundreds crammed into a hotel in West Hollywood for a Criminal Justice Summit that brought together activists, journalists, celebrities, and philanthropists to talk about dismantling the punishment paradigm that has inflicted incalculable damage on communities of color.
All of these efforts are righteous and long overdue but we need to think more expansively to redress the past 50 years of hyper-aggressive policing, processing, and punishing, and to make a dent in the physical embodiment of the plague of mass incarceration – the 2.2 million people, disproportionately black and brown, currently behind bars.
To be crystal clear, this is not about innocence or so-called low-level, non-violent drug offenders. To tackle mass incarceration means facing head-on an emotionally charged question about punishment – how long must someone serve in prison for an admittedly violent act?
Last year, the august American Law Institute, a non-governmental organization of judges, lawyers and academics, approved the first-ever revisions to the historic Model Penal Code. One recommendation specifically addresses the epidemic of people behind bars. The Code now calls for state legislatures to enact a "second look" provision; to create a procedure to reexamine a person's sentence after 15 years regardless of the crime of conviction or the length of the original sentence. Such a law would be a legislative recognition that a sentence once imposed is not thereby automatically rendered, just, fair and appropriate for eternity.
There are several paths for newly-elected prosecutors to take to foster decarceration. One requires rethinking their approach to applications for parole, clemency, or resentencing. The common practice in most prosecutors' offices is to oppose those applications when the crime of conviction was violent in nature. In those cases, the prosecutor's focus is on the crime itself to the exclusion of serious consideration of who the person is today, decades after the crime. Instead, prosecutors should carefully examine who the person is at present -- what programs has he completed; has he shown insight into who he was and what he did; has he acknowledged his role in his crime, accepted responsibility, and conveyed genuine remorse for the harm he caused? Ultimately, is the evidence of rehabilitation such that more time in prison serves no purpose beyond inflicting eternal punishment?
Many prosecutors' offices now have Conviction Integrity Units that aim to ensure that innocent people have not been convicted. The best of these units have a significant measure of independence so that they can be as objective as possible and avoid the pitfalls of confirmation bias and tunnel vision. In similar fashion, prosecutors should establish independent Sentencing Review Units. Much like the legislation proposed by the Model Penal Code, these units would review all sentences after 15 years to determine whether a reduction is now appropriate.
Parole boards across the country are regularly roundly criticized. It is common practice for cronyism to mark membership on the board in lieu of a diligent selection process looking for diverse and qualified people with directly relevant backgrounds and experience. It is also common knowledge that parole boards are reluctant or unwilling to release anyone serving time for a violent crime.
The laws, rules and regulations governing parole must be amended to dictate a forward-looking approach centered on what the person has accomplished while incarcerated, as opposed to the prevalent current practice that emphasizes the seriousness of the crime, a fact that can never change. This shift would also acknowledge the countless parole-eligible people who have aged out of crime and present no threat to public safety, as well as the elderly behind bars who are in the midst, or on the cusp, of health related problems.
In Pennsylvania, more than 100 people have been released since the Supreme Court ordered states to take a second look at people who had received mandatory sentences of life without parole as juveniles. Not one of those people has been convicted of a new offense.
All 50 state constitutions allow for some kind of executive clemency. The authority to grant clemency in the form of a sentence commutation is typically described as absolute and virtually incontrovertible. Power of the sort galvanized at the Summit in West Hollywood should be marshaled to compel governors to exercise their virtually unfettered, but seldom used, power to grant clemency.
The timing is right -- besides the current clarion call for criminal justice reform, clemency is traditionally an end-of-year announcement cast as an act of benevolence consistent with the merciful spirit of the holidays. Just last week, California Governor Jerry Brown granted 70 sentence commutations, including for people convicted of murder.
The crisis of mass incarceration has fueled a burgeoning movement for criminal justice reform. Multi-pronged efforts to decarcerate must be at the forefront of that movement.
***
Steven Zeidman is a professor of law at CUNY School of Law. On Twitter @SteveZeidman.
***
Have an op-ed idea or submission for Gotham Gazette? Email This email address is being protected from spambots. You need JavaScript enabled to view it.