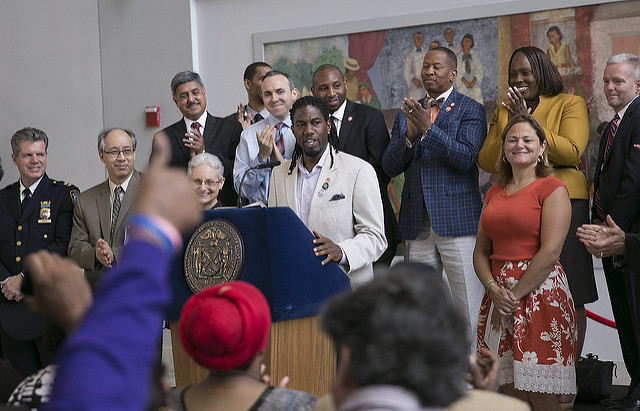 Jumaane Williams & Melissa Mark-Viverito (photo: William Alatriste)
---
New Yorkers who think they are done with elections until 2020 will be in for a rude awakening when Mayor Bill de Blasio calls a special election to fill the vacancy of the Public Advocate position. The position's current occupant, Letitia James, was elected in November to become New York State Attorney General, and will switch posts at the beginning of January. In all likelihood, New York City voters will head to the polls again at the end of February. With so much at stake—the Public Advocate is next in line in the case of a mayoral resignation or death—New Yorkers need to know the lay of the land in this important race.

The Top Candidates
As can be expected for an open seat election, there is a crowded field of candidates vying to replace James. Who are the top candidates? I believe there are four in the top tier:

Michael Blake
The young Bronx Assembly member is undoubtedly a formidable candidate. Blake is smart, charismatic, and ambitious. He has several things to capitalize on in this race. One, he's a vice chair of the Democratic National Committee and former member of the Obama administration. His relationship with national Democratic leaders can surely help him raise money quickly, which he did for his initial Assembly win in a competitive race. Being able to raise money quickly in this type of race, which is citywide and short by law, will give him a distinct advantage. Blake is also, at the time of writing, the only Bronx candidate. Manhattan and Brooklyn each have several candidates vying for this seat, so Blake can potentially overwhelm his opponents in the Boogie Down borough.

Melissa Mark-Viverito
As the former speaker of the City Council, Mark-Viverito will be one of two candidates in this race with higher name recognition. In such a shortened and fast-paced election, name recognition will be especially pivotal. Furthermore, Mark-Viverito has always maintained close relationships with key labor groups, having once been employed by the state's biggest union, 1199 (though Blake also has close ties to 1199). If some of these bigger labor groups decide to back her, she will be a force to be reckoned with. There are some observers that list Mark-Viverito's Latina background as another advantage, but with City Council Member Ydanis Rodriguez in the race (he represents a district with the highest Latino turnout in the city), as well as City Council Member Rafael Espinal, it is not a given that Mark-Viverito will win the lion's share of the Latino vote.

Danny O'Donnell
The Upper West Side Assembly member (and brother of comedian/actress Rosie O'Donnell) has long represented the district with the highest Democratic turnout in the nation. As was evident in Scott Stringer's 2013 race for Comptroller, among others, the Upper West Side vote can be pivotal in a close race. As a long-time progressive champion, and representing this key region of the city, O'Donnell will be one to watch.

Jumaane Williams
The Brooklyn City Council member is coming off an impressive lieutenant governor race against the eventual winner, Kathy Hochul. Without a doubt, Williams will join Mark-Viverito as the other candidate with the highest name recognition. Yet Williams is hardly a shoo-in for this seat. In that most recent race, he benefited from a certain wing of the Democratic electorate that has been dissatisfied with Governor Cuomo. Williams was able to capitalize on that voter dissatisfaction then. But this is a quite different race.

Key Outside Players
In an election such as this one—a shortened election cycle and a citywide race with candidates that are generally unknown to the wider electorate—the impact of outside groups could be great. Here are a few of the most prominent potential players in the special election for Public Advocate who could help swing the race.

Labor
Big labor unions can potentially play an outsized role in this race; unions such as 1199, DC 37, 32BJ. These labor groups come with proven and well-oiled political operations that can be quickly put to use on behalf of their candidates, including their access to foot soldiers readily available to promote candidates. Yet much will hinge on whether labor agrees to back one candidate or splinters into different factions -- or if most unions stay out of the race altogether given the many candidates and unpredictable nature.

PACs
The 2013 citywide elections saw the rise of outside interest groups that spent loads of money on city races for mayor through City Council. Some of the PACs were formed by real estate interest groups and some by charter school advocates, among others. Millions were poured into races across the city. Will these groups see a need to invest in this special election?

Party Organizations
While the influence of party organizations continues to wane, two party committees persist in wielding some influence—the Queens and Bronx Democratic organizations. In a shortened campaign season, a unified party operation could impact the election. It remains to be seen who these respective party organizations will endorse, and eyes should stay focused on what Chairs Joe Crowley and Marcos Crespo will do.

Where will the race be decided?
History suggests that special elections elicit low voter turnout. This election for public advocate will likely be no different, especially since the election will probably take place in February. New York City voters are not accustomed to battling the brisk winter air to get to the polls.

To complicate matters further for political observers and analysts in New York, there is really no precedent when it comes to a citywide special election, since we have not had one in recent memory. But perhaps the public advocate runoff election of 2013 can suggest how voter participation might look in such a context.

Interestingly, 67% of that vote, when James defeated then-State Senator Dan Squadron, came from Manhattan and Brooklyn. Given Brooklyn's size and Manhattan's solid voting participation, expect similar numbers this coming February. What these numbers mean for the respective candidates will remain to be seen. But they would be wise to focus efforts in those two boroughs.

It will be an intense, crowded, short race. Let the campaign for public advocate begin!
***
Eli Valentin teaches political science at Monroe College and is a frequent guest political analyst on Univision NY. On Twitter @elivalentinNY.
***
Have an op-ed idea or submission for Gotham Gazette? Email This email address is being protected from spambots. You need JavaScript enabled to view it.