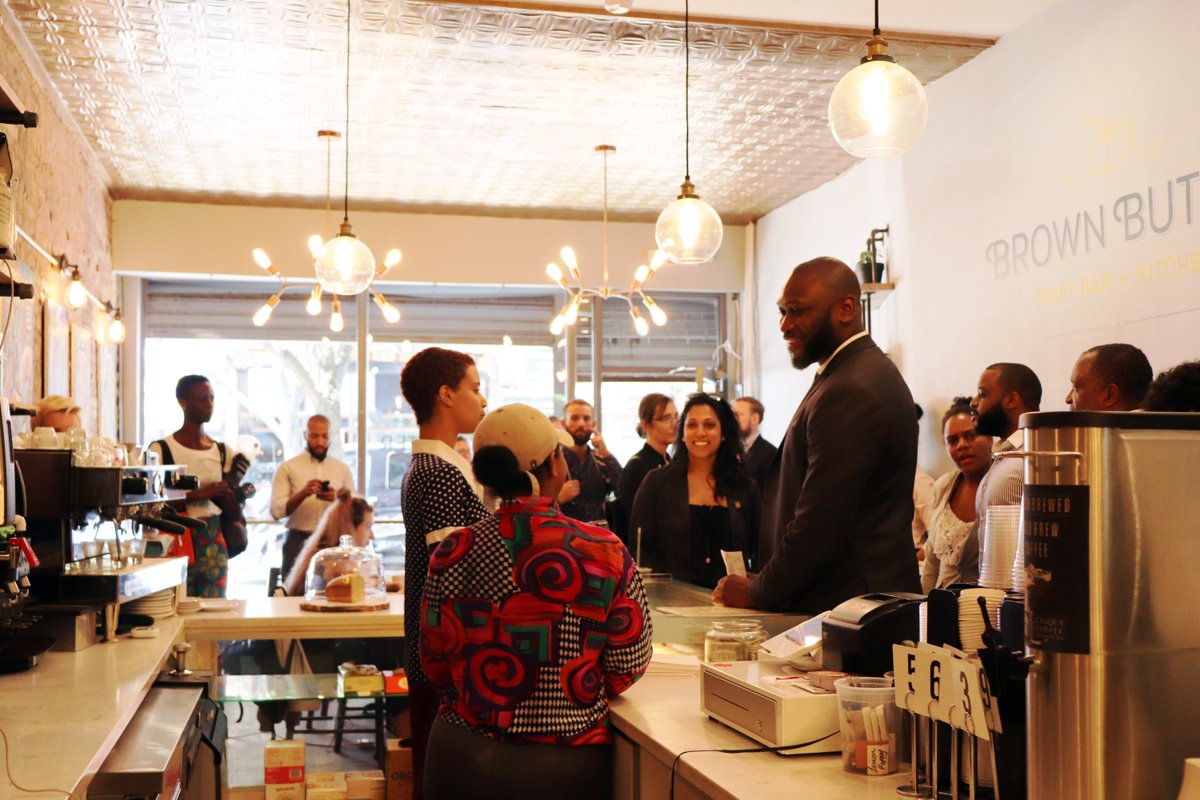 (photo: @NYC_SBS)
---
This holiday shopping season has been marked by the ninth annual Small Business Saturday, an initiative intended to encourage people to buy holiday gifts at small, independent brick-and-mortar shops instead of large chain outlets or online vendors. With the retail madness now in full swing, many small and independent businesses must wonder: can "shopping small" be an everyday experience rather than just an annual promotion?
Small businesses are at the center of an emotional debate about the economic and cultural vibrancy of our neighborhoods. But do their contributions justify the attention?
In new research with colleagues at the NYU Furman Center, we measure the importance of local patronage—the steady stream of customers that small and independently-owned businesses rely on to keep their doors open. Neighborhoods count on these businesses for services, personal goods, food, and keeping the streets dynamic and safe. Our results suggest that these benefits are at risk when external factors reduce support for local businesses.
In October 2012, Hurricane Sandy produced a large and unexpected economic shock that devastated a number of waterfront communities in New York City. There were also neighborhoods in the flood zone that were untouched, and we use this disparate impact to understand how an extreme interruption to local demand affects the viability of commercial businesses that rely on a nearby consumer base, like grocery stores or hardware stores. Data show that the storm had a larger negative effect on these neighborhood-based establishments than it did on businesses that draw on broader markets that are less location-specific, like financial services or building supply companies.
Among all classes of businesses we examined, only neighborhood-based establishments suffered meaningful and persistent losses. Moreover, losses were borne almost entirely by the smallest, independent enterprises. Retail operations were nearly 50 percent more likely to close in areas with more severe flooding. They also lost on average nine jobs per city block and experienced a 14 percent drop in sales revenues for a surprisingly long period following the storm – revenues and employment still had not rebounded as of late 2016. Establishments with broader consumer bases – the bankers and builders – also declined on severely flooded blocks. But unlike their neighborhood-based counterparts, this was largely due to fewer new openings rather than more closures. Businesses with broader customer bases also avoided the economic hit that shuttered so many neighborhood establishments.
These findings put numbers on the visceral losses felt by New Yorkers—fewer services and more empty storefronts, essentially the disappearance of a vibrant streetscape that is the lifeblood of urban neighborhoods. There are also fiscal implications for the city overall. Across the city those blocks with severe flooding experienced a net loss of 540 establishments, 3,700 jobs, and $2 million in sales revenue. Even if some of that is regained in other, less affected parts of the city (an outcome not apparent in our data), these are potentially millions of dollars lost in tax revenues.
While our focus was the response to a natural disaster shock, these results also have implications for the economic forces reshaping cities. E-commerce, for example, has dramatically changed how people shop for goods and services in their neighborhoods. There are growing calls for government policies to protect local businesses from such shocks, such as commercial vacancy taxes and rent protections, or for Internet sales taxes that can rein in online competition.
However, our data imply that much of the solution is in the hands of everyday consumers, in their decisions to walk to a nearby retailer rather than to order something from a far away distribution center. Though the price might be a few dollars higher, the benefits that you and your neighbors receive from having vital local businesses are well worth the cost. And even same-day shipping can't compete with the instant gratification of a quick stroll to the store.
***
Rachel Meltzer chairs the Public and Urban Policy M.S. Program at the New School's Milano School of Policy, Management, and the Environment. On Twitter @ProfRachelM.
***
Have an op-ed idea or submission for Gotham Gazette? Email This email address is being protected from spambots. You need JavaScript enabled to view it.