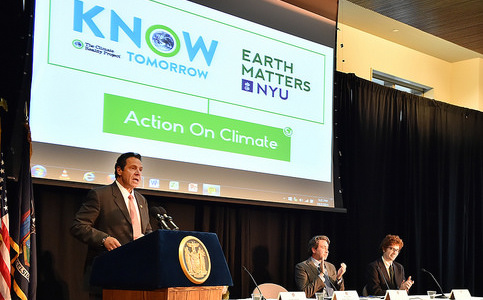 Gov. Cuomo (photo: Kevin P. Coughlin/Governor's Office)
---
Alexandria Ocasio-Cortez's draft resolution for a Green New Deal has sparked new momentum for climate action among progressives and young people across New York and beyond. Not only is her federal proposal spreading like wildfire on social media, but group after group — from the Sunrise Movement to Moveon to Indivisible to 32BJ SEIU — is mobilizing thousands of activists in support of the message. Four members of New York's congressional delegation have already endorsed Representative-elect Ocasio-Cortez's proposal, thanks to constituent pressure: Reps. Carolyn Maloney, Jose Serrano, Adriano Espaillat, and Nydia Velazquez.
And now even Governor Cuomo is on the Green New Deal train. Just Monday, in his speech outlining his 2019 legislative agenda, he declared his own intention to enact a so-called "Green New Deal" in New York.
Cuomo is right that here in New York we don't have to wait on the federal government for our own Green New Deal. We must take immediate action to cut carbon emissions and shift to renewable energy, while creating green jobs. What he failed to mention, however, is that the New York State Assembly has already passed what is essentially a Green New Deal for New York several years in a row. And that version is better than what Cuomo sketched on Monday, which he said would "make New York's electricity 100% carbon neutral by 2040 and ultimately eliminate the state's entire carbon footprint," though he gave no timetable for that.
The Climate and Community Protection Act (CCPA) would compel the state to invest in green jobs, renewable energy, and community development while setting meaningful, enforceable targets for reducing carbon emissions for all energy sectors to zero by 2050. This is the Green New Deal we need for New York.
Like Ocasio-Cortez's proposal, the CCPA is a visionary climate justice bill: it ensures that our transition to renewable energy will protect society's most vulnerable, and treats climate action as an opportunity to create fair-paying union jobs and grow the economy. And unlike the electricity-focused vision outlined in Cuomo's speech, the CCPA would cut emissions to zero for all sectors and prioritize investing in communities that suffer most from climate consequences.
Up until now, the CCPA has failed to come to the floor for a vote in the State Senate, which has been controlled by Republicans. So too it has been mostly ignored by Governor Cuomo while it languished. But in 2019, with an overwhelming Democratic majority in both the Assembly and Senate and early indications from the governor that he wants to capitalize on the Green New Deal's momentum, New York leaders can and should make the Climate and Community Protection Act state law. Not all Green New Deals are created equal.
As with federal level climate action, the CCPA has broad support among voters. The CCPA and its companion bill, the Climate and Community Investment Act — an "upstream" tax on corporate polluters that would fund the CCPA's just transition — are supported by NY Renews, a growing coalition of nearly 150 grassroots organizations and labor unions across New York. These are the same groups that propelled Democrats to victory and a new Senate majority, and who will be able to collectively mobilize hundreds of thousands of people across the state for what comes next.
As this year's federal report on the economic cost of climate inaction illustrates, we cannot afford to wait any longer to pursue transformational climate action. According to the new report from the Intergovernmental Panel on Climate Change (IPCC), we have just ten years to drastically reduce carbon emissions in order to avoid climate catastrophe. With a pro-polluter President and a divided Congress, it is life-or-death essential for blue states, especially states with large economies like New York, to take the lead on eliminating emissions, shifting to renewables, and investing in climate resiliency now, in 2019.
In just a few weeks, Cuomo and legislators will have a chance to immediately pass the Climate and Community Protection Act. It is not just about reducing emissions or reaching "carbon neutrality," it's about justice and the bold comprehensive change needed to successfully protect humanity from climate crisis. It's been ready and waiting in the wings and now it's ready for the spotlight. Legislators and Governor Cuomo should follow through on their promises and pass the Climate and Community Protection Act this year and make a true Green New Deal for New York a reality.
***
Liat Olenick is a public school science teacher, union leader, and co-president of non-profit Indivisible Nation BK. On Twitter @Liat_RO.
***
Have an op-ed idea or submission for Gotham Gazette? Email This email address is being protected from spambots. You need JavaScript enabled to view it.