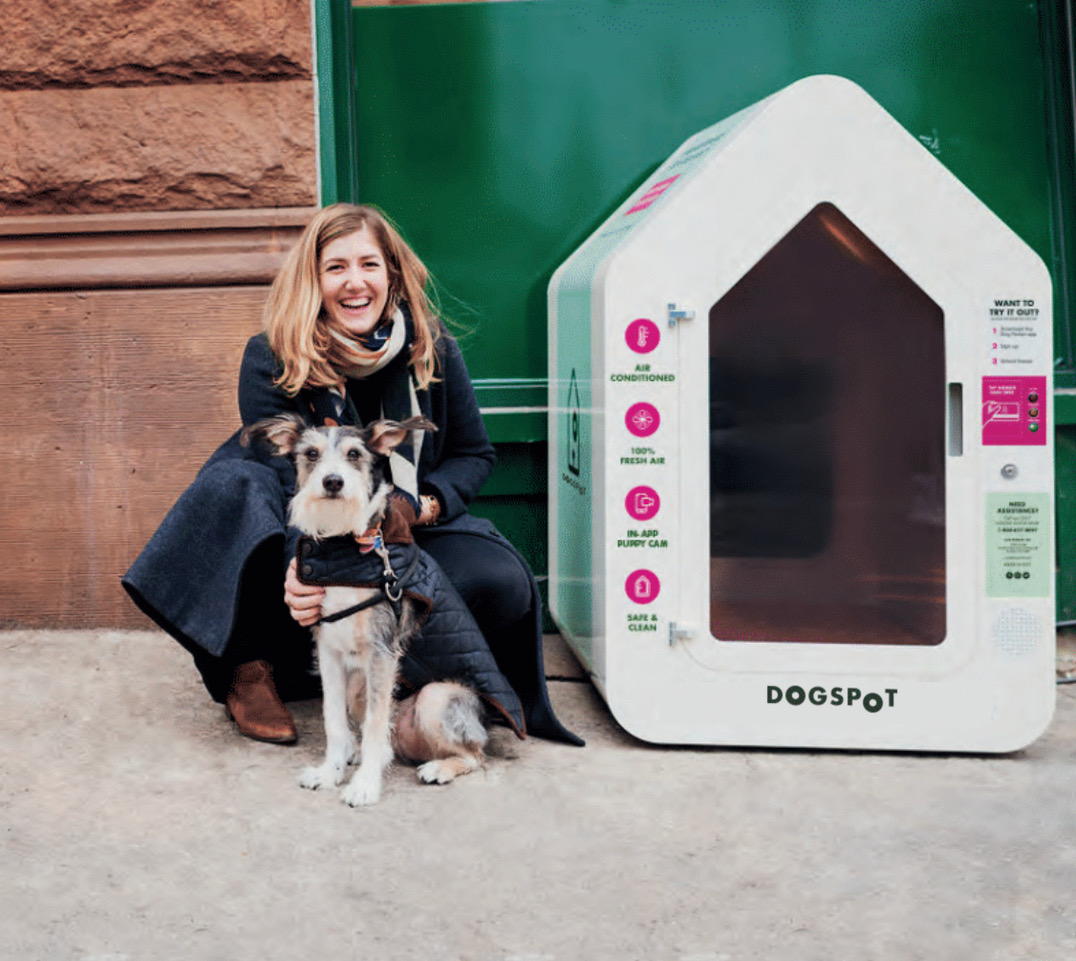 photo via DogSpot
---
There you are, walking your dog in the neighborhood and you pass a new coffee shop that just opened in a long-vacant storefront. You really want to check out their lattes and support a local entrepreneur, but instead you keep walking because there's no way you are leaving your dog tied up and vulnerable on the sidewalk just so you can get a caffeine fix. Sadly, this scenario – in which small business owner and responsible dog owners all get shorted – isn't so hypothetical. It happens every day in New York City, where more than half a million dogs live and where nearly two-thirds of stores do not allow them inside.
That's why we started DogSpot in a garage in Bedford-Stuyvesant in 2014. Our communities needed a solution to this problem that no one was solving, so we designed a secure and comfortable spot for dogs to wait while dog owners briefly run into a store or restaurant. For more than two years, we operated a network of these secure, climate-controlled, smart dog houses on Brooklyn sidewalks, keeping dogs safe and driving business to local retailers. It wasn't until we unexpectedly got a cease-and-desist letter from the Department of Transportation (DOT) – ironically sent while we were exhibiting at a Smart Cities Expo in Spain by invitation from New York City Hall – that we learned the city's regulatory enforcement didn't allow for this type innovative solution to this common problem.
So now, while pet owners and shop owners across the U.S. are enjoying the benefits of DogSpot, our hometown of New York City is out of luck, casualty of an antiquated regulatory approach.
Fortunately, unfortunate headlines like "She Had a Genius Idea, Then the City Showed Up" could soon be replaced by "New York City at Forefront of Urban Innovation" and "Dog-Friendliness Proves a Boon for Small Business Owners" thanks to the New York City Council. Last month, the City Council held a public hearing on a new bill from Council Member Rafael Espinal, Jr. (Intro. 886) that would clear the path for pet harbors like DogSpot to operate outside commercial businesses on city sidewalks.
The bill thoughtfully addresses concerns raised by DOT about obstructions by only allowing pet harbors in locations with very wide sidewalks and within a limited clearance from the building, making pet harbors no different than the sidewalk furniture and children's rides that are currently permitted across the boroughs. Simultaneously, it would update regulations that understandably did not anticipate new technologies or urban design.
At the end of the day, the positive impacts of this common sense regulatory fix will be significant. One in seven households in our city have at least one dog and there are approximately 600,000 dogs across the five boroughs. This bill would give DogSpot members in Brooklyn access to a humane alternative to leaving dogs unattended, and provide dog owners in the other boroughs the same access to a safe option. And what's more, local retail businesses – many of which struggle to make it in New York City – would no longer need to turn away customers with pets.
What the City Council has an opportunity to do with Intro. 886 is to simultaneously support small businesses, keep pets and sidewalks safe, and send the message that as technology evolves, New York City's regulations actually can evolve along with it. Those innovators working to solve today's urban challenges are watching and waiting to see if New York City is welcoming to modern problem solving and passing this bill now would be a clear signal that the answer is yes.
***
Chelsea Brownridge is the CEO & Founder of DogSpot.
***
Have an op-ed idea or submission for Gotham Gazette? Email This email address is being protected from spambots. You need JavaScript enabled to view it.