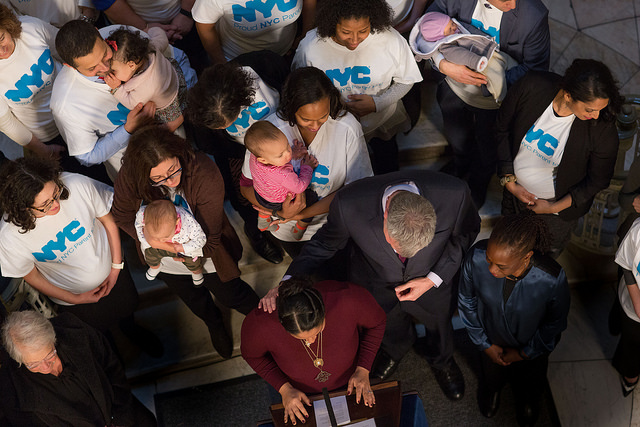 (photo: Michael Appleton/Mayor's Office)
---
New Yorkers know that it is the city government's job to make sure that they're taken care of. We fill potholes, pick up the trash, clean the streets, clear the drains, prune the trees - you name it.
But that's not all we do. And while we faced many challenges as a city and as a nation in 2018, New Yorkers continue to step up and help their neighbors in need.
Through our public health facilities, tens of thousands of dedicated professionals help their fellow New Yorkers put food on the table, help expectant mothers get access to critical health care, help seniors make ends meet, and so much more. We even helped non-English speaking eligible voters participate in our democracy, by expanding our poll-site interpretation program. We work to serve New Yorkers every day because that's our number one job. It's why we're here.
Back in October, the Trump administration announced a proposal concerning "public charge," a complex aspect of immigration law. If implemented, the proposal would make it easier for immigration officials to prevent an otherwise eligible person from getting a green card or certain kinds of visas. They could make that life-changing decision just because one day, the applicant could find herself or himself down on their luck and in need of important public resources.
Over 200,000 public comments were submitted to the federal register – a truly remarkable display of civic participation and responsiveness from residents of all walks of life. We thank you, and every single New Yorker who took the time to make their voice heard on this issue.
We can all agree that in this country – in this city – of immigrants, no one should have to choose between relying on the help for which they're legally eligible and pursuing the American Dream.
In the past few months, we've heard from folks across the five boroughs, some scared or confused, and even more who want to know how to help their fellow New Yorkers.
So let's get some facts straight.
First: the public charge proposal is not in effect, and nothing about eligibility for benefits has changed. New York City's doors remain open to those in need. The Department of Social Services is continuing to accept applications from all New Yorkers for benefits, and is continuing to deliver benefits and services to all who are eligible. The same is true for all of the public hospitals and community clinics operated by NYC Health + Hospitals. If you're in need of health care, you'll be able to find it there.
Second: many immigrants would not be impacted by this proposal. If you are a naturalized citizen, a refugee, an asylee, or a green card holder thinking about renewing or becoming a U.S. citizen, this proposal would not apply to you. This is also true for many other categories of immigrants.
That leads us to the next – and very important – point.
Third: If you are concerned about this proposal's possible impacts on you or your family, don't make any decisions without getting safe and trusted legal advice first.
You can get help in many languages by calling the Office of New Americans hotline, operated by Catholic Charities, at 1-800-566-7636. You can also call the city's 311 and say "ActionNYC" to schedule a free consultation with a trusted immigration legal services provider, funded by the City of New York.
If New Yorkers begin to disenroll from health care, nutrition, or housing programs for which they're eligible, the consequences could be dire. We could face a public health crisis and lose hundreds of millions of dollars in economic activity annually.
As public servants, our job is to serve you. And in the fairest big city in America, no one should struggle alone. We've got your back.
***
Bitta Mostofi is the Commissioner of the Mayor's Office of Immigrant Affairs; Steven Banks is the Commissioner of the Department of Social Services, City Council Member Carlos Menchaca is chair of the Immigration Committee, City Council Member Mark Levine is chair of the Health Committee, City Council Member Stephen Levin is chair of the General Welfare Committee.
***
Have an op-ed idea or submission for Gotham Gazette? Email This email address is being protected from spambots. You need JavaScript enabled to view it.