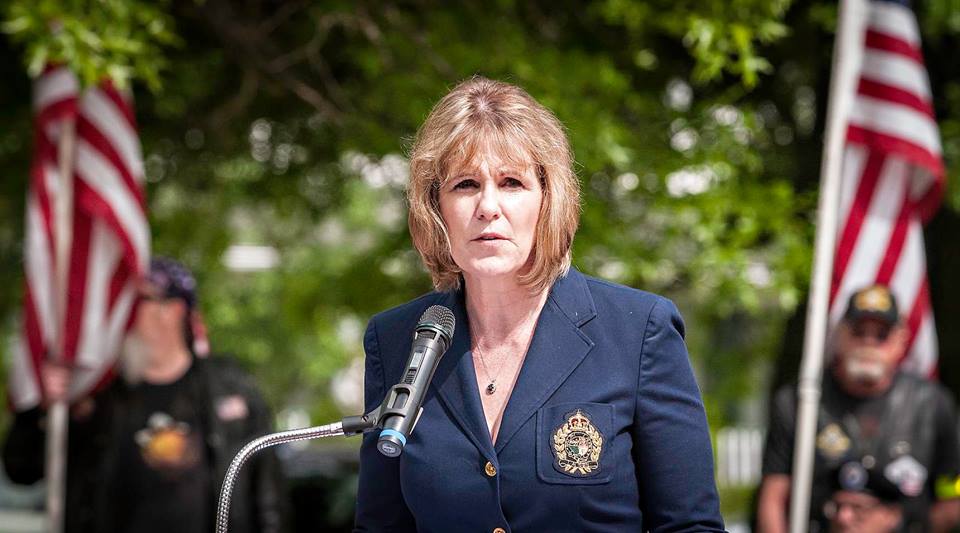 Senator Young, the author (photo: @SenatorCathyYoung)
---
It's a new day in New York. On January 1, the Senate Republican Conference, our state's last line of defense against tax-and-spend, downstate-centric policies, assumed its new role as the minority party in the New York State Senate.
While many in New York are cheering this change, many others are wary. They should be.
A host of progressive, and in some cases, extremist, agenda items are being pushed by Governor Cuomo and the Democratic majorities in each house of the Legislature.
One of the first items on their list is passage of legislation enacting a statewide system of public campaign financing, modeled after New York City's matching-funds program. Democrats claim there is broad support for such a change and that it would increase political competitiveness and reduce corruption.
Facts show that they are wrong.
No one would argue that corruption is not a problem in New York's political system. Senate Republicans took the lead in passing a sweeping package of reforms in 2018 - widely lauded by good government groups - that would have targeted Albany's "pay-to-play" culture and other corruption culprits. It died in the Democrat-led Assembly.
Democrats claim that public financing of campaigns is a cure for the corruption problem. The city's small donor matching funds program, enacted in 1989, provides participating candidates with $6 for every $1 a New York City resident donates, up to $175 (and those numbers are set to increase in future elections). The system was intended to bring integrity to the campaign process by empowering small donors and diminishing the influence of special interests.
However, an honest examination of the system shows it has fallen far short of its laudable goals. In fact, the system has proven to be an additional channel for campaign corruption.
Establishment of the public financing system has allowed ethically challenged candidates and their operatives to cheat the taxpayer-funded program by creating fake donors, called "straw donors," to receive matching funds. Former comptroller and mayoral candidate John Liu, a newly-elected State Senator, was fined more than $26,000 for a straw-donor scandal that resulted in jail time for an aide and a fund-raiser. He has a lot of company: Bill de Blasio, Malcolm Smith, Anthony Weiner, Dan Halloran, Jesse Hamilton, Albert Alvarez, Al Baldeo, Ron Reale are just a few of many city politicians associated with public campaign finance scandals.
It is not a track record that inspires confidence.
Supporters of publicly financed campaigns also promote the feel-good idea that the system encourages political competition by making it easier for political newcomers and less well-funded outsiders to run for office. A December 2017 Georgetown Public Policy Review found this theory to simply be wishful thinking.
Its examination of incumbent re-election rates for state legislators in states offering taxpayer-funded campaign programs and those without such programs found no statistically significant difference. Incumbency rates for the groups were 89 and 91 percent, respectively.
Similarly, the hoped-for impact on civic engagement also has not been realized. In the first two mayoral elections under public financing in New York City, 1989 and 1993, voter turnout was 60 percent and 57 percent. In 2013 turnout was 26 percent and in 2017, it was 23.9 percent. These decreases have occurred even as the size of the taxpayer-funded match has risen significantly, starting as 1:1 in 1989 rising to 6:1 in the most recent election. It is now moving to 8:1.
Given these poor results, it is impossible to justify using taxpayer dollars for such a system. In New York City, the fiscal year 2018 budget for the Campaign Finance Board was $56.7 million, including $10.6 million for staff and $40.2 million for campaign matching funds. The cost to implement a system similar to the city's on a statewide scale has been estimated at between $200 million and $300 million. With New York State projected to have a $3 billion budget deficit in the forthcoming fiscal year, and a slowing stock market that will only make the deficit worse, the notion of creating a vast, new state bureaucracy to dole out taxpayer funds to political candidates is irrational.
Even absent any deficit, diverting taxpayer funds to pay for political campaigns and negative television ads is indefensible.
As Stephen Eide, a scholar with the Manhattan Institute, argues "what governments spend taxpayer dollars on is as significant as how much they spend. Unlike public financing for, say, cleaner streets or better schools, public financing of elections provides a private benefit – serving the needs of officeholders, staffers and consultants engaged in politics as a career."
All this begs the question: where does the public stand on taxpayer-financed campaigns? Studies indicate that the majority of the public is opposed. Recent surveys (Quinnipiac, 2017) found that 54 percent of survey respondents were opposed to public campaign financing; 12 percent had no opinion; and only 34 percent were in favor.
While one-party rule is now a reality in New York state government, those in power need to remember their overriding duty is to act in the best interests of all New Yorkers.
Public campaign financing is a device to benefit politicians, not the public. New York can't afford it fiscally or ethically -- not now, not ever.
***
State Senator Catharine M. Young represents the 57th District, including Allegany, Cattaraugus, Chautauqua, and portions of Livingston County. She is the Ranking Republican member on the Senate committees of Elections and Ethics and Internal Governance. On Twitter @SenatorYoung.
***
Have an op-ed idea or submission for Gotham Gazette? Email This email address is being protected from spambots. You need JavaScript enabled to view it.
Note: this column has been updated with the latest budget deficit forecast provided by Governor Cuomo on January 15.