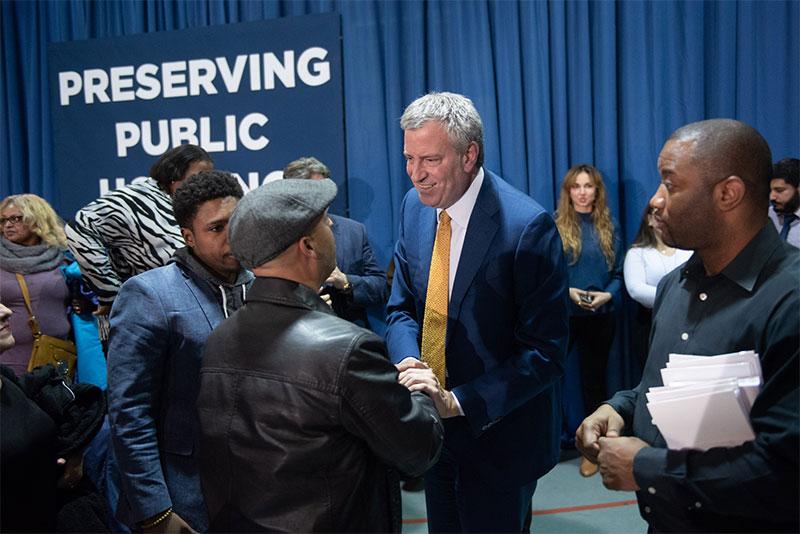 (photo: Mayor's Office)
---
Many New Yorkers likely wonder why Mayor de Blasio wants to spend $24 billion on saving the aging towers of the New York City Housing Authority (NYCHA). Much of this public housing consists of plain brick towers, which the city built rapidly from the 1930s to the 1960s, in a dated "towers in the park" design, now worn down from decades of hard use. In Singapore and much of Europe, government policy has targeted public housing of this age and type for billions in spending to remake projects to match changing urban tastes, family size, and rising densities.
But in the United States and New York there is no equivalent housing program with the funds to replace NYCHA's 175,000 apartments (400,000 registered tenants), which rent on average at just $550 per month. The mayor, in the unprecedented $24 billion NYCHA 2.0 plan he released in December, is forced to rely on a complicated and potentially uncertain financing plan integrating city, state, federal, and private funds; private sector management of fully one-third of NYCHA's portfolio; and hoped for revenues from "infill" ground leases and sales of air rights.
Added together the plan's various elements will still barely provide for basic renovation when spread across a massive system that has a minimum of $31 billion in capital needs; NYCHA 2.0 certainly won't cover redevelopment to a twenty-first century standard. Even if New York had the funds for massive redevelopment, it would still be a risky proposition to take NYCHA projects offline (many of which have 1,000 units or more each). NYCHA is already full to overflowing and the private market lacks sufficient low-cost units to accommodate relocation needs.
The risk is high in losing any of NYCHA's units because the most endangered commodity in New York City is the privately-operated apartment that rents for less than $1,000 -- with rent-regulated units in particularly perilous straits. Public housing is now such a crucial part of that low-cost market that to lose the system, or even part of it, would, according to the respected Regional Plan Association, drive up homelessness, take housing from working-class people, and worsen conditions citywide because the market cannot replace the units.
A Brief History of Massive Failure
(Lewis Hine, Elizabeth Street, 1912. Library of Congress)
Today's private sector housing failure is nothing new; instead, lousy and expensive housing has been a persistent dimension of New York City life for over a century. The city was once dominated by thousands of privately owned tenement buildings that crowded land and people together at density levels the world had never seen before. The creation of the subway in 1904 relieved that pressure for a time, allowing for a mass exodus to newer tenements, apartment buildings, or small homes in the outer boroughs. NYCHA also launched in the 1930s as an all-out attack on these tenements.
Tougher housing regulations and the suburban boom accelerated the tenement exodus from the 1930s onward, but many tenements in areas such as East Harlem and the Lower East Side backfilled with migrants from the south and Puerto Rico in the mid-twentieth century. Owners of many vestigial tenements abandoned or burned many of them from the '60s to the '80s.
Gentrification since the 1970s in New York City generated a new twist on private sector failure. Landlords of surviving apartment buildings good and bad won revisions in rent control and stabilization since the 1970s. They have used these lenient rules ever since to raise rents or drive out long-time tenants. Many private landlords haven't cared if a tenant family must pay 50 percent or more of their income on rent. Dangerous conditions in many of these lower-rent buildings, which are not as widely publicized as those at NYCHA, are a mixed bag with irregular heat, lead exposure, and mold common.
Private Sector Saviors?
Many private real estate companies have, in fairness, played a crucial role in affordable housing management and development since the 1960s. Indeed, the various tax credits and breaks, and zoning bonuses, have created new "affordable" units that are modern and comfortable. Yet the supply of these units is relatively small (as they are often a minority percentage of a building); apartments time out of affordability after a specified period (requiring new public financing); and most apartments are targeted for income levels higher than public housing.
The result is scarcity and insufficient affordable housing production: the odds of landing one of the new privately developed and managed affordable units produced in 2018 was just 1 in 592. At the current rate of new private construction in Mayor de Blasio's broader housing plan, which produced a record 7,857 affordable units in 2018, it would still take two decades or more just to replace NYCHA's 175,000 units.
The real estate industry has also stepped up to play a central role in the conversion of public housing to private sector management and may end up running about 66,000 units of NYCHA housing under what NYCHA calls PACT (nationally it is RAD). Builders also hope to ground-lease NYCHA sites that could provide funding for renovation of surrounding buildings and additional affordable and market-rate units.
Private companies aren't taking on these NYCHA projects or infill projects for entirely altruistic reasons, of course. Infill projects, even with affordable components, can be profitable. Private managers who take over existing NYCHA projects are being handed thousands of well-located, structurally-sound, mostly debt-free, fully-tenanted, property tax-free, federally-subsidized (Section 8) apartments they can borrow money from banks to renovate. Managing and renovating these buildings is a heavy lift, but there is a significant upside if done right.
Time to Step Up!
The private sector, even given these good steps, is still not doing enough for either NYCHA or the average low-income renter. Without a large-scale program of new production, the region will continue to be uncompetitive as business shifts to places where lower and even middle-income people can afford to live decently. The city's private sector is booming today, for sure, but so is the national economy. When times get tight, New York City may seem much less attractive. A desperate population is also likely to be drawn to draconian rent regulations, higher taxes, and more "socialistic" policies to try and level the playing field. It isn't pretty when recessions hit New York.
Both real estate interests and large employers should be putting more of their energy and funds into expanding affordable housing programs at the state and federal levels. Only when the real estate industry starts producing tens of thousands of affordable units per year do they earn a right to speak about NYCHA's future and/or redevelopment. It also wouldn't hurt if a business titan or two stood up for public housing funding and improvements.
Instead of putting so much of its energy into fighting rent stabilization or marketing overpriced apartments to foreign investors, business leaders could take a cue from their wealthy predecessors. Governors Roosevelt, Lehman, and Rockefeller developed and fought hard for creative programs to boost low-cost housing production. Or they can look west. Microsoft's new commitment of $500 million to affordable housing in Seattle reflects, hopefully, a new era of commitment from employers to making more equitable housing market.
Where is New York City's Microsoft of affordable housing?
***
Nicholas Dagen Bloom is a professor at New York Institute of Technology (NYIT) and a NYCHA scholar, and has a new book on state/urban policies: How States Shaped Postwar America.
***
Have an op-ed idea or submission for Gotham Gazette? Email This email address is being protected from spambots. You need JavaScript enabled to view it.