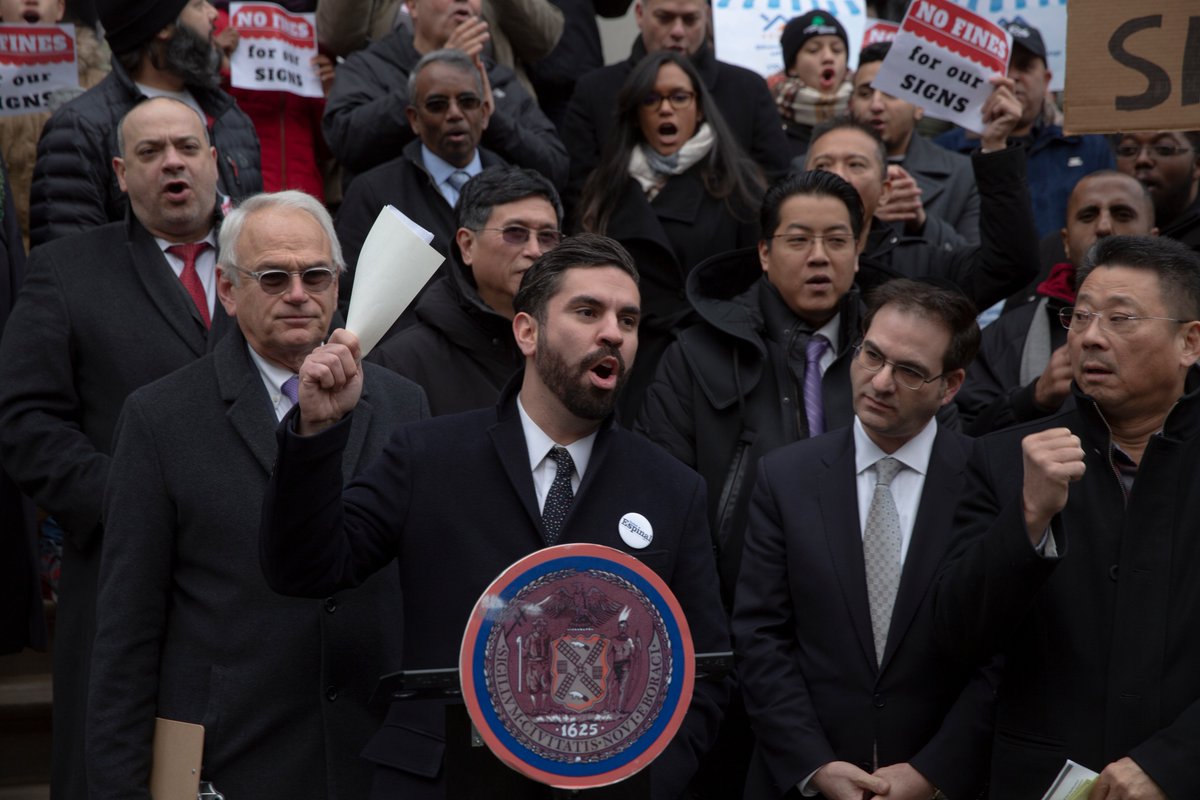 Rafael Espinal, the author (photo: @NYCCouncil)
---
"Children have never been very good at listening to their elders, but they have never failed to imitate them," wrote the great novelist James Baldwin, a true son of New York City. It's the same with many New York politicians who cling to the same old ideas that have not fixed our city in the past and won't work today either. The problems our city faces in 2019 are the same problems we faced in 2009 and 1999, only they've gotten worse.
Unaffordable apartments. Crumbling public housing. A subway system that barely holds together. Our city is becoming less livable every day.
New York City needs bold ideas, but unfortunately too many of our elected officials are missing big opportunities for long-term change. They quarrel over how to pay for things, when we are one of the wealthiest cities in the world. They look for reasons why problems are too hard to fix, instead of seeking out opportunities to fix them. Those politicians have had their chance. It's time to think outside the box and focus on the people. That's why I'm running to be the next New York City Public Advocate.
Some policy decisions move as slowly as Manhattan's gridlocked traffic when what we need is courage and action. For example, for over 100 years New York has had a modest tax on stock trading, but since 1981 stock traders have been able to claim 100% of it back in rebates. If we stopped rebating 100% of New York's Stock Transfer Tax back to Wall Street stock traders, we could raise $11 billion a year, at no cost to everyday New Yorkers. That could be invested in fixing the subway and NYCHA housing, without raising the cost of living for everyday New Yorkers.
Other proposals like congestion pricing would take a lifetime to raise the $40-60 billion that the MTA says is needed to fix the subways, but using stock transfer taxes would achieve it within a decade. Raising MTA fares will just make New York an even more unaffordable place to live. Some people have suggested using the revenue from marijuana legalization to fix the subway, but it won't be enough to make a difference – only $300 million a year, when the MTA needs tens of billions. And, the revenue from marijuana legalization should be invested back into the communities that have been targeted by drug law enforcement, through economic development opportunities and criminal justice reform.
As a City Council member representing the people of Bushwick, Brownsville, Cypress Hills, and East New York, I have delivered a quarter of a billion dollars in investments for unprecedented levels of new affordable housing and community development to neighborhoods in my district that felt ignored and forgotten for decades. But those neighborhoods exist all over New York and I will be the Public Advocate who stands up for all of them.
My record shows that when I commit to advocating for change on behalf of a community, I get the job done.
I have led the fight in City Hall to reduce the waste caused by single-use plastics, a fight we are winning. I've worked alongside dedicated New Yorkers to protect our community gardens from demolition. And my legislation to require solar panels or rooftop gardens on all buildings would be a game-changer. It would empower people to generate their own clean power and break free from the big utilities that burn fossil fuels that cause climate change, as well as to grow their own healthy food.
On public housing, I was one of the only elected officials with the foresight to provide funding for a new heating boiler at a NYCHA development in my district, even before it became clear that our public housing tenants were in crisis. And I was the first to call for the use of electric buses during the L train shutdown, because communities who endure some of the worst air quality in the city shouldn't have to suffer insult to injury.
The Amazon deal has thrown new light on how politics in our city operates. We've seen decisions being made for the good of giant corporations, not the people of New York. As the only City Council member in this race not to sign the now infamous 2017 letter inviting Amazon to come to New York, I am the only Public Advocate candidate who can be trusted to hold Amazon accountable.
My parents moved here from the Dominican Republic and were able to make it in New York thanks to good union jobs that paid enough to raise a family and provided healthcare for me and my brothers. Those are the foundations of a livable city, which strong communities need to grow and thrive. I know that for young families in New York today, things are much harder. I see it in my community and across the city. New York is becoming less livable. But together we can change that. The Public Advocate's job is to be the voice of the people in city government. For me, people will always come first.
***
Rafael Espinal is a City Council member representing parts of Brooklyn and a candidate in the special election for New York City Public Advocate. On Twitter @RLEspinal.
***
Have an op-ed idea or submission for Gotham Gazette? Email This email address is being protected from spambots. You need JavaScript enabled to view it.