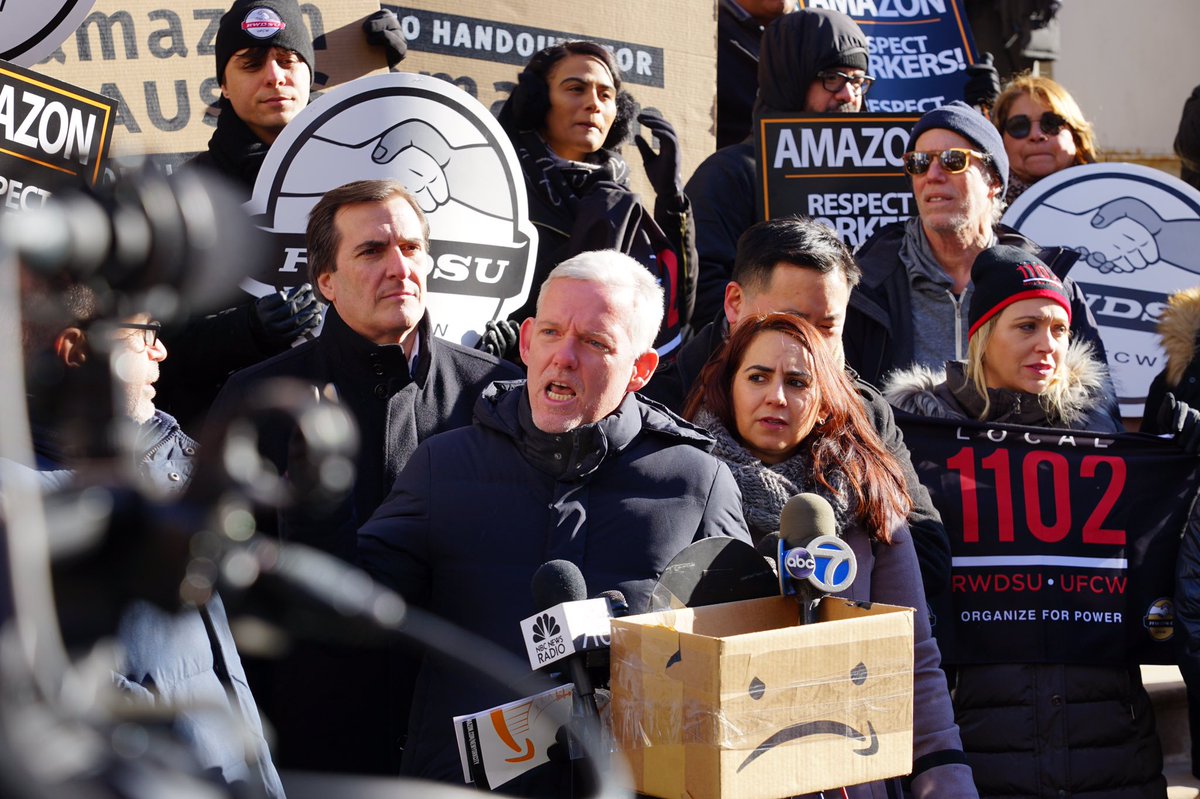 Jimmy Van Bramer, the author, at a rally (photo: @TeamstersJC16)
---
Let me be clear: if Amazon is anti-union, it is not welcome in New York City.
This is a union town. It is wrong to subsidize Amazon's arrival after the company has proudly proclaimed to the world that it is anti-union and will fight any effort on the part of Amazon employees to unionize.
Our city and state would be contributing to economic inequality by allowing Amazon to increase the pool of New York City workers who are not in a union.
Unions have always been the great equalizer, a vital tool for working people to come together and bargain collectively against corporate power and greed.
Amazon's refusal to agree to labor neutrality is shameful. All workers have the right to be in a union, including those who work at Amazon's fulfillment center on Staten Island and those who would work at a new campus in Long Island City.

Growing up in Astoria, my family didn't have much money. My stepfather was a janitor. Mom worked at supermarkets. Dad was a pressman. All were fortunate to join unions. Being in a union allowed them to pay the rent and provide for me and my siblings.
Without unions, I would not have had health care, dental care, or the ability to go to college. As is the case for so many working families, unions were the lifeline that my family needed to succeed. How dare Amazon come to our city, to the sum of $3 billion in tax breaks and subsidies, and declare war on workers' rights to organize?
Last month when I attended Mayor de Blasio's State of the City speech, I braced for the moment that he would laud the "HQ2" Amazon deal. The deal, after all, had been touted as the largest economic development deal in the history of our state and a major victory for the city. Would it lead off the speech? I wondered how the mayor would talk about being the "fairest big city" while also defending the largest act of corporate welfare in New York.
It came and went in the blink of an eye. One sentence! As the mayor moved quickly from his bad deal, those who've critiqued it were vindicated.
By avoiding Amazon in his speech (as the governor did in his State of the State), the mayor tacitly acknowledged that this deal is a loser in progressive, Democratic circles. You cannot align yourself with Amazon — as it remains mum on its cooperation with ICE and steadfastly anti-union — and then appoint yourself as a spokesperson to "spread the gospel" of progressive values all over the country.
The Amazon giveaway is not only bad, it's immoral. And it should force us all to rethink the race to the bottom approach to economic development incentives. We cannot afford to give $3 billion to Amazon in subsidies and grants when so many people who already live here are struggling to pay rent and stay in their neighborhoods.
With the arrival of "HQ2" in Long Island City, we would see gentrification on steroids in Queens. The influx of high-paid Amazon workers would price out long-time residents and drive away family-owned small businesses, proving particularly detrimental to immigrants and communities of color.
The governor and the mayor have bungled this from day one, and despite what they say, we all know the "HQ2" jobs will be largely inaccessible to communities like Queensbridge that are among the most unemployed and underemployed in New York City.
This Amazon debacle must be an inflection point for our society, where we reign in corporate welfare and the billionaire class and give more power to the people who have the least among us.
We should be encouraging workers' efforts to unionize, protecting small businesses, and investing in our local community, not trillion-dollar corporations owned by the richest man on Earth.
Those of us who care about ending economic inequality must reject so-called "progressives" who in practice recite Republican talking points that espouse the lies of trickle-down economics and right-to-work, anti-union nonsense.
The mayor can cancel this deal right now. If he is actually concerned about Amazon abetting ICE and busting unions, he should do so immediately.
***
Jimmy Van Bramer is a New York City Council member representing Long Island City and other parts of Queens. On Twitter @JimmyVanBramer.
***
Have an op-ed idea or submission for Gotham Gazette? Email This email address is being protected from spambots. You need JavaScript enabled to view it.