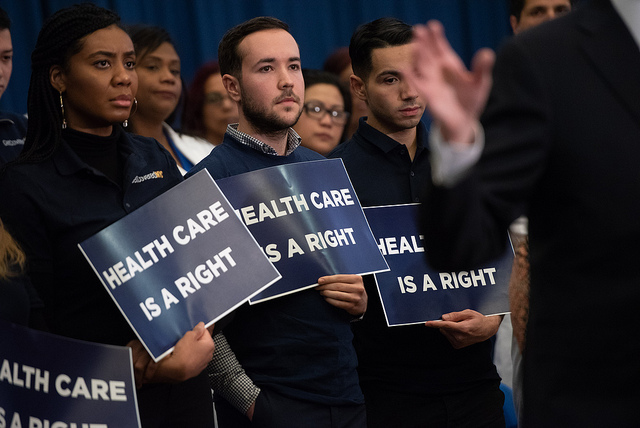 (photo: Michael Appleton/Mayor's Office)
---
In November, New Yorkers voted for a united government in Albany with a resounding directive: fix our broken healthcare system. Those election results are directly linked to the financial strain New Yorkers are facing as they struggle to choose between paying for their medication, premiums, long-term care, and basic needs, such as food or housing.
The high costs of healthcare in our state have devastated hundreds of thousands of New York families by bankrupting those who are underinsured or forcing them to forgo treatment due to the financial burden it usually causes. According to the Campaign for New York Health, approximately 1 million New Yorkers still do not have health insurance; 20,000 New Yorkers have died due to their lack of coverage in the last ten years; and millions more would be bankrupt if faced with a medical emergency under their current health care plan.
The New York Health Act (NYHA) is the only option on the table that would provide comprehensive healthcare coverage to all New Yorkers. It would extend coverage to those that currently have no access while providing quality and comprehensive care to New Yorkers who have been traditionally underinsured.
This year, we are going one step further. We are introducing a version of the NYHA that aims to close an additional gap in our healthcare system by integrating long-term care coverage into the legislation. This shift in policy will address our state's long-term care crisis and meet the healthcare needs of seniors, people with disabilities, as well as countless family caregivers, who are primarily women, for generations to come.
The benefits of including long-term care in the NYHA will not only be felt by those who will now be able to afford assisted living, nursing home care, or home health care, but it will also have a rippling effect on our economy. In the Northwest Bronx, where we both live and work, thousands of home health aides, care workers, and unpaid caregivers have to withstand low wages, few benefits, and not enough investment in training and retention services. The current system is financially debilitating to families, those who require care, and the workforce that is tasked with administering care, all of whom are predominantly women struggling to provide for their loved ones. For instance, nationally, Latinx family caregivers spend 44% of their annual income providing caregiving services, while African-American family caregivers spend 34% of their income.
A healthcare system that guarantees long-term care coverage would help ease the financial burden of thousands of families across our state while dramatically improving the system for those who receive and provide care. According to a study recently released by the RAND Corporation, even with the addition of long-term care, the NYHA would cost less than what is being spent under the current healthcare system. It is simply the most fiscally responsible step to take.
The majority of New Yorkers have spoken loud and clear. They are demanding a healthcare system that works for them and not for the most powerful corporations. This new version of the NYHA and our new leadership in Albany bring us one-step closer to making healthcare a right and not a privilege for all New Yorkers.
***
State Senator Gustavo Rivera is the Senate sponsor of the New York Health Act. Karla Lawrence is a direct care worker specializing in gerontology and long-term care; she is a member of 1199 SEIU and the National Domestic Workers Alliance, and a leader in the New York Caring Majority.
***
Have an op-ed idea or submission for Gotham Gazette? Email This email address is being protected from spambots. You need JavaScript enabled to view it.