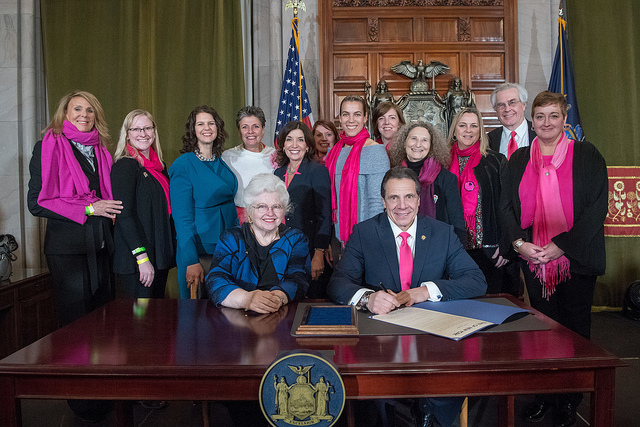 (photo: Governor's office)
---
Last week, new Supreme Court Justice Brett Kavanaugh showed his true colors when it comes to access to safe, legal abortion. His dissent in the Louisiana case completely disregarded legal precedent and revealed his hostility to Roe v. Wade and subsequent Supreme Court cases upholding the law.
Earlier in the week, President Trump used the highest office in the country to continue his misinformed, divisive brand of extremist politics, including by fear-mongering about abortion law in New York. This is not a drill: our constitutional right to abortion is under attack like never before.
There has been a coordinated campaign by anti-abortion extremists to misinform and in fact outright lie about New York's Reproductive Health Act and what it does. They are falsely citing this bill to promote reckless nationwide restrictions that would leave millions across the country without access to safe, legal abortion.
The anti-abortion minority's claims about abortion care in New York specifically and the United States more generally are patently false and are solely designed to lie to Americans in order to prevent more progressive legislation protecting abortion rights from being passed in other states. This is a calculated and orchestrated movement built on false facts and fear mongering.
At Planned Parenthood of New York City (PPNYC), we worked with partners and supporters for more than a decade to ensure that, regardless of what happens in Congress or the Supreme Court, New Yorkers — and those from outside New York who we may need to serve in the future — will have access to the abortion care they have today and will need in the future.
The attacks on the Reproductive Health Act aren't actually about later abortions — they are about slowing progress on protecting abortion rights at the state level and ultimately outlawing abortion in the United States entirely.
Poll after poll shows that the majority of Americans believe that abortion must remain legal and accessible in the United States. Yet, extreme politicians in the overwhelming minority continue to try to control the conversation with lies about abortion care and those who need access to that care every day. States across the country continue to pass hundreds of laws that restrict people's ability to receive abortion care.
Yet, here in New York, we were able to pass legislation that would protect, not erode, abortion care, and that is what is at the heart of the most recent attacks — fear that voters and elected officials are fully understanding this extreme anti-abortion strategy and working to reverse it.
New York State legalized abortion back in 1970, three years before the U.S. Supreme Court did so nationally through Roe v. Wade, and New Yorkers consistently supported abortion access in the succeeding years. However, the state failed to update its abortion law, leaving providers and patients without full protection. New York advocates lobbied for over a decade to mirror Roe in state law only to hit a conservative roadblock in the state Senate. On January 22, 2019, this long-overdue legislation was finally enacted into law.
The RHA accomplishes three important things. It makes sure that the federal abortion rights we currently have are protected in New York law in the event that they are lost at the national level — and it's clear this law came just in the nick of time. The RHA brings the protections of Roe into state law by ensuring that New Yorkers can access needed care throughout pregnancy when their health or life is endangered, or their pregnancy is not viable.
It also recognizes that abortion is health care, not a crime, by moving the regulation of abortion care into the public health law where it belongs. And it clarifies that trained health care providers acting within their scope of practice can provide abortion care. This ensures that more New Yorkers have access to early and safe abortion care.
Across New York City and the country, we at Planned Parenthood will continue to provide high-quality abortion care and fight to ensure that abortion remains safe and legal. We believe deeply in the right of all people — no matter who they are, where they live, or what they earn — to make their own personal decisions about their health, their families, and their paths in life, without political interference.
***
Laura McQuade is President and CEO of Planned Parenthood of New York City. On Twitter @PPNYCAction.
***
Have an op-ed idea or submission for Gotham Gazette? Email This email address is being protected from spambots. You need JavaScript enabled to view it.