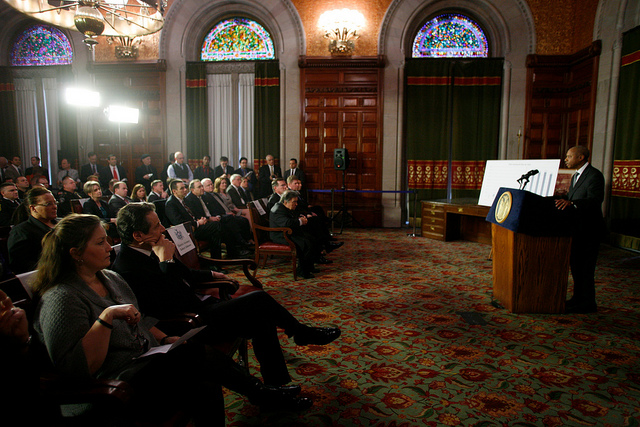 (photo: Governor's Office)
---
For decades, the phrase "three men in a room" has been used to capture how the leadership of New York state government (the governor, the state Assembly speaker and the state Senate majority leader) in Albany decides in back-room negotiations what legislation lives or dies. Finally, this year, state government can remake itself much closer to the image of true democracy. Leaders in the Assembly and Senate, Carl Heastie and Andrea Stewart-Cousins, are for the first time both African-American, and one is a woman.
This is an undeniably exciting moment, but it is also a moment fraught with uncertainty and real questions about what it means to have a truly inclusive democracy, one that reflects a multiracial society and advances solutions to benefit all, not just a select few.
While it is Democrats who are leading the charge on voting and campaign finance reforms – issues at the very heart of democracy – both parties have participated in, and benefited from, a system run on corporate money and machine politics. That system consists of a very small, very wealthy, and very white donor class that occupies the place that democracy should.
Recently passed reforms such as early voting and changes to the "LLC loophole," which limits the amount of money powerful individuals and companies can contribute to candidates, are game-changers for New York. Still, much of the hard work of disentangling the deep, white roots of money from politics remains, work that must be done in order to have a true democracy in New York. In particular, automatic voter registration and public financing of elections are essential to achieving this goal. But there's more.
In the public discourse on many issues, the flag of economic equality flies high. What has been less talked about is the systematic exclusion and oppression of communities of color as a direct result of our current system. Democracy reforms are not just about good governance, they are about giving people of color access to the political power from which they are all too often excluded. Race has become a footnote in a discussion when it should be the headline, for the simple reason that we cannot achieve a truly inclusive democracy if we do not start by acknowledging who has been excluded and why.
A recent column on the housing crisis by State Senator Zellnor Myrie and Jonathan Westin, executive director of New York Communities for Change, centers the impact of money on the most basic and essential of goods – shelter.
"For the real estate industry, these donations [to candidates] are a calculated investment to protect and expand their soaring profits," they wrote in The Daily News. "Albany returns the favor by granting favorable tax breaks for developers and blocking meaningful action on the rent laws, which protect millions of tenants and families."
At Community Voices Heard, a member-led, multiracial organization working to secure racial, social, and economic justice for all New Yorkers, we know the consequences of this relationship are far too real. In 2018, we organized tenants in Ossining, New York, to enact the Emergency Tenant Protection Act (ETPA). ETPA provided tenant protections for more than 2,000 residents. Just a year later, the mayor and village council have proposed repealing ETPA without offering an alternative proposal, a troubling development for the residents fighting against a profit-driven industry to stay in their homes. Without strong leadership in Albany to protect tenants, battles like these will become an endless war.
Legislation to mitigate climate change tells a similar story. As is well known, the fossil fuel industry ranks among the top political campaign contributors and spends enormously on lobbying as well. The impact of a toxic environment is not being borne equally. According to The Nation, studies show that the majority of people living near hazardous waste sites are people of color. According to the same article, in cases where communities filed complaints with the Environmental Protection Agency alleging a violation of their civil rights, 95 percent of the claims were denied. In New York, one can see similar trends in the decades of negligence and mismanagement of public housing under the New York City Housing Authority (NYCHA) or the city's response to Hurricane Sandy.
In recognition of this, the Climate and Community Protection Act, re-introduced this session by Assemblymember Steven Englebright and Senator Todd Kaminsky, contains provisions aimed specifically at ensuring an equitable transition to renewable energy, including allocating 40 percent of funding to frontline and historically disadvantaged communities. This approach, which both acknowledges racial inequity and ensures that it informs policy-making, is an important step in the fight for an inclusive democracy and should serve as an example for advocates and lawmakers alike.
Business as usual in Albany has often meant that lawmakers, lobbyists, experts, and advocates are quick to embrace a "race-neutral" dialogue when talking about the momentous issues at stake: voting, climate, housing, healthcare, jobs, and more. But it is worth remembering that these issues were core tenets of the Civil Rights Movement. The weeks ahead present both a challenge and an opportunity: to disrupt the normal discourse, to be explicit about racial inequities, and to fight for policies that can build a truly inclusive democracy.
***
Afua Atta-Mensah is Executive Director of Community Voices Heard. On Twitter @AfuaAttaMensah & @CVHaction.
***
Have an op-ed idea or submission for Gotham Gazette? Email This email address is being protected from spambots. You need JavaScript enabled to view it.