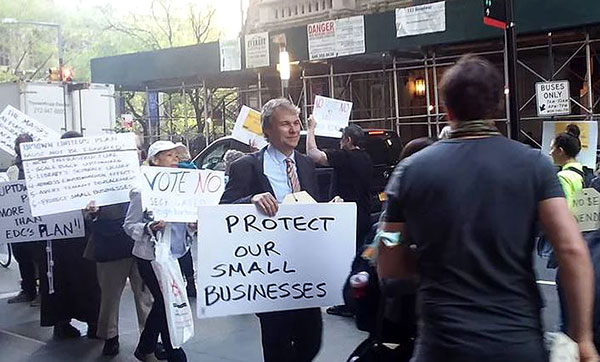 (photo: Eisenbach for Public Advocate Campaign)
---
Right now, as communities across the city are organizing against displacement, we need a New York City Public Advocate who unifies and advocates for them in the struggle to save their homes and small businesses. I am not a politician who serves real estate developers and makes deals with corporations like Amazon that displace hard-working New Yorkers. I teach American history at Columbia University and running for Public Advocate on the platform to Fight Big Real Estate and Save Our Small Businesses.
I will be a real Public Advocate, and I hope to have your vote on February 26.
I have a long record of fighting for communities against Mayor-of-the-1% Bill de Blasio and the big developers he represents, like the Real Estate Board of New York (REBNY). In Chinatown and the Lower East Side, I joined the fight to keep the residents of 83-85 Bowery in their homes. I pledged to stop the mega-towers in the Lower East Side waterfront. I have joined the battle to save Elizabeth Street Garden from being turned into a tower.
In Inwood and East Harlem, I fought against de Blasio's pro-developer rezoning plans. In Queens, I support organizations opposing the Amazon deal in Long Island City and bike lanes on Skillman Avenue in Sunnyside. In Brooklyn, I am working with Crown Heights community groups to stop the rezoning to build towers that could cast shadows over the Brooklyn Botanical Garden. On Martin Luther King Jr. Day, I marched with working people, tenants, small business owners and grassroots organizations from the Lower East Side to City Hall, demanding de Blasio:
1. Stop city agencies from evicting tenants on behalf of landlords to deny the tenants' rights of due process.
2. Stop selling public land (including NYCHA) and end the 421-a tax exemption.
3. End the city's pro-developer rezonings, and instead pass community-led rezoning plans that put people first and protect workers, tenants, small businesses, and schools -- like the Chinatown Working Group (CWG) plan.
I am the founder and president of Friends of Small Business Job Survival Act (SBJSA) a citywide coalition of small business activists dedicated to passing the historic bill. I have worked with business leaders and chambers of commerce who serve communities across the city to fight to pass this act. If passed, this act will give small business owners the right to 10-year leases and an arbitration process to negotiate lease renewal. SBJSA will stop the extortion of small business owners by landlords.
The fight for our small businesses is a fight for our communities, and real affordability and diversity of New York. For 33 years REBNY successfully stopped the SBJSA but this year thanks to my leadership we are about to pass it. Passing SBJSA and defeating REBNY is the greatest David and Goliath story since Jane Jacobs stopped Robert Moses. Seeing communities standing up against big real estate, I believe that we can win this fight.
It's not a coincidence that New York City has record homelessness and displacement under a mayor mired in pay-to-play corruption scandals. De Blasio is a puppet of his real estate donors who have launched a 'displacement-replacement' agenda: displace long-time residents and replace them with high-income individuals employed by big corporations like Amazon.
In this special election on February 26, New Yorkers have an opportunity to elect a Public Advocate who will stand up to the mayor's corruption and big real estate's displacement agenda and fight for our communities. I am the candidate to do just that.
***
David Eisenbach is a history professor at Columbia University and a candidate for New York City Public Advocate. On Twitter @Eisenbach4NY.
***
Have an op-ed idea or submission for Gotham Gazette? Email This email address is being protected from spambots. You need JavaScript enabled to view it.