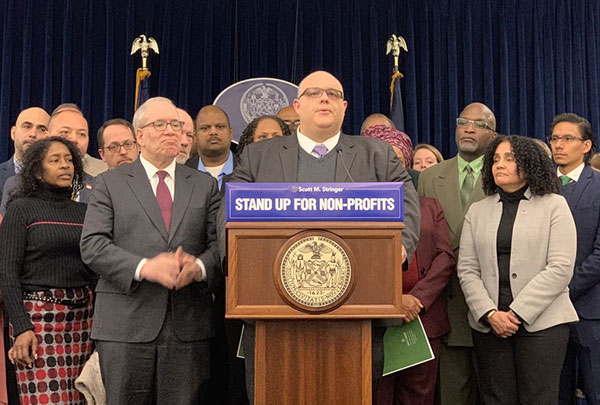 Justin Brannan, the author (photo: @JustinBrannan)
---
Talk is cheap. The city needs to pay up.
We have all been impacted by the important work of hundreds of human services providers across the city, many of which are deeply rooted in our communities. These vital non-profit organizations deliver services to New York City's most vulnerable – the poor, the hungry, the homeless, our children, our grandparents. The clear and powerful impact of this sector makes it easy for politicians to praise the services these non-profits provide — but such talk is cheap if you don't back it up with action.
The uncomfortable truth is that these crucial organizations are very much at risk and in direct harm at the hands of the same government agencies and elected officials who praise them. How so?
Human services contracts are registered late by city agencies 94% of the time, forcing organizations to make impossible decisions to bridge massive gaps in their funding. Ninety-four percent!
In fact, most city contracts with non-profit human services providers are registered months or even years after these non-profits begin providing the services they cover. While this money is being held up by a broken and opaque contracting system, critical support for children, the elderly, those experiencing homelessness, people with disabilities, those living with HIV and AIDS, immigrants, and individuals coping with substance abuse and mental health challenges are put in direct risk.
This is shocking and unacceptable.
A domestic violence shelter cannot close for months while the city gets its act together. Senior centers can't stop serving daily meals because of a funding gap due to a late payment from the city. Instead, non-profits are forced to front money, taking on costly loans and lines of credit with high rates of interest that are never reimbursed by the city agencies that held up their money up in the first place.
I cannot believe this has somehow become the status quo. It must change.
There are real human and financial consequences if a non-profit doesn't start its services on time. Not to mention the corresponding challenges for those who work providing these crucial services.
It is time for those responsible for this crisis to step up. Non-profits have borne the brunt of the city's delays, putting the financial health of their organizations in jeopardy to ensure communities receive critical services. While no contract should ever force a provider to start delivering services before being paid, at the very least non-profits should not bear the cost! Those interest payments must be the responsibility of those at fault and should be paid, in full, by the city, a requirement that would provide a direct incentive to process contracts on time.
It is also important that there is clear public access to data about which city agencies have the longest delays and why contracts are being held up. This information is vital not only to promote accountability but also to seek the needed remedies to this failure.
Contracts and the procurement process may not be the sexiest topic in this city of headlines, but it has an exponentially reverberating effect on the city and how it functions. If we allow this to continue, these compounding late payments to the human services sector will only get worse and soon every neighborhood will suffer the consequences.
As chair of the City Council's Committee on Contracts, I have heard dozens upon dozens of devastating stories about how organizations are impacted by these unnecessary barriers built around them by the city. Talk is cheap. Action is long overdue – we must act now to address this crisis.
***
City Council Member Justin Brannan represents parts of southern Brooklyn. On Twitter @JustinBrannan.
***
Have an op-ed idea or submission for Gotham Gazette? Email This email address is being protected from spambots. You need JavaScript enabled to view it.