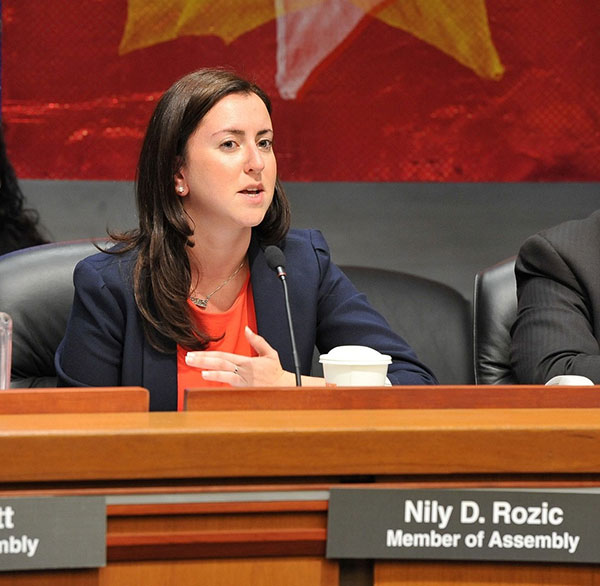 Assemblymember Nily Rozic, the author
---
"An eating disorder? I wish I had one of those — I could stand to lose a few pounds."
Every year, clients, advocates, and professionals visit the New York State Capitol to meet with legislators. When discussing their eating disorder experiences and pushing for legislation to ensure proper insurance coverage, too often they are met with that response and others like it.
These kinds of insensitive quips reveal how little many people know about the danger and severity of eating disorders.
No one intentionally jokes about wanting a life-threatening illness. And the truth that too few people understand is that eating disorders are life-threatening mental illnesses. Not a choice; the disorder is a means of coping and can be attributed to a collection of biological, psychological, social, and genetic factors.
Anorexia and bulimia nervosa are the most common disorders but they are not the only ones. Others recognized by the American Psychiatric Association in the Diagnostic and Statistical Manual include Binge Eating Disorder, Avoidant Restrictive Food Intake Disorder, Other Specified Feeding or Eating Disorder, Pica, and Rumination Disorder. All of these disorders are serious and require medical attention.
People who struggle with an eating disorder are doing precisely that — they are struggling. Part of that pain and stigma comes from their symptoms not being understood as dangerous or serious. Often, symptoms are not taken seriously and they must convince not only their loved ones that they are sick but also insurance providers that approve treatment and coverage.
There remains a troubling gap in insurance coverage. Through Timothy's Law, eating disorders are ensured coverage but only anorexia and bulimia nervosa are named. Insurance providers use this grey area as reasoning to deny coverage of the other eating disorders.
The story is common: Too many people are turned away due to lack of coverage. Too many people lose their chance of a full recovery because they didn't meet strict weight requirements to classify as anorexic or didn't throw up often enough each day to be considered bulimic. Not only is it hard to be approved for coverage, it's even harder to find a comprehensive care center close to home — there are only three across New York.
It is time that law reflects the most current version of known eating disorders. New York can change the story. Earlier this year, I introduced the Eating Disorders Act (A1619/S3101) that would ensure coverage is provided to all people struggling with eating disorders by codifying all the currently recognized disorders.
The time for awareness is now. The time for change is now.
***
New York State Assemblymember Nily Rozic represents parts of Queens. On Twitter @nily.
***
Have an op-ed idea or submission for Gotham Gazette? Email This email address is being protected from spambots. You need JavaScript enabled to view it.