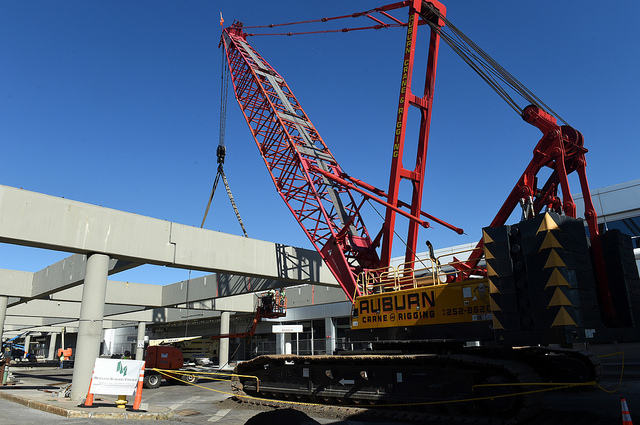 (photo: Kevin P. Coughlin/Governor's Office)
---
With this year's legislative session in full-swing in Albany, special interest groups have resumed their attacks on laws designed to keep workers safe on construction sites. Construction and insurance trade groups, seeking to shed accountability and pad their pockets, have argued that labor protections like the Scaffold Safety Law are somehow undermining worker safety. However, a recent data analysis by the New York Committee for Occupational Safety & Health (NYCOSH) confirms that stronger safety requirements in New York City are helping to reduce on-the-job fatalities while worker deaths continue to rise in other, less-regulated parts of the state.
In 2017, the most recent data year available, the construction fatality rate across New York State was 52% higher than in New York City, according to our analysis of federal and city data. This significant difference in fatalities is not an outlier, but rather the continuation of an ongoing trend. Over the past five years, New York State's construction workers have experienced a 39% increase in fatal injury rates compared to a 23% decrease in New York City. The stark gap in safety outcomes can be explained by the city's more pronounced enforcement of safety regulations, which has helped to deter contractors from cutting corners and putting workers' lives at risk.
Underfunding has constrained the federal Occupational Safety & Health Administration's ability to conduct worksite inspections and enforce penalties for safety violations. In response, New York City officials have allocated more funding to the city's Department of Buildings, boosting the agency's budget from $107 million in 2015 to $183 million in 2019 and increasing its personnel from 1,156 employees in 2015 to 1,880 this year. Armed with larger staff and additional resources, the agency has expanded its ability to identify construction safety hazards and hold negligent contractors accountable.
The Manhattan District Attorney's office has stepped up as well, prosecuting severe offenders through the Construction Fraud Task Force. By prosecuting bad actors for wage theft and dangerous labor violations, the DA's office indicated that contractors are not above the law, especially when they are putting lives at risk. Beyond a more proactive approach to enforcement, the city has also encouraged employers to prioritize proper safety education by mandating that workers complete specific training and certification requirements.
At the state level, officials must uphold existing safety provisions and enact additional protections in order to reduce fatalities outside of New York City.
It's imperative that lawmakers preserve the Scaffold Safety Law, which allows construction workers to hold negligent contractors responsible when serious injuries or fatalities do occur. The law simply calls for contractors to ensure that workers have access to proper safety equipment. If a failure to provide safety equipment leads to injury, workers are able to then hold the contractor responsible for the lost wages and medical bills that result. The Scaffold Safety Law is a crucial mechanism that deters contractors from cutting corners on safety equipment and promotes accountability.
In addition to maintaining the Scaffold Safety Law, policymakers should create a statewide vehicle to enforce labor protections and overcome the limitations of federal regulators. To that same end, the state Department of Labor should implement a registry of workplace fatalities to foster public transparency, as well as implement Carlos' Law to increase the maximum fines that can be levied against negligent contractors.
The state would be wise to borrow a few lessons from New York City, by expanding the number of prosecutions for cases of severe employer misconduct and requiring construction workers to undergo training and certification.
The latest data offers a glaring reminder that construction remains a dangerous profession, particularly in the absence of meaningful regulations. At the same time, the decrease of fatality rates even when coupled with an ongoing construction boom in New York City indicates that stronger safety protections can save lives without stunting the industry's growth.
For those who are committed to protecting the lives of New York's working families, there is a clear path forward to improving construction safety centered on increasing worksite inspections, enforcing stronger penalties, and expanding workers' access to safety equipment and resources.
***
Charlene Obernauer is the Executive Director of the New York Committee for Occupational Safety & Health.
***
Have an op-ed idea or submission for Gotham Gazette? Email This email address is being protected from spambots. You need JavaScript enabled to view it.