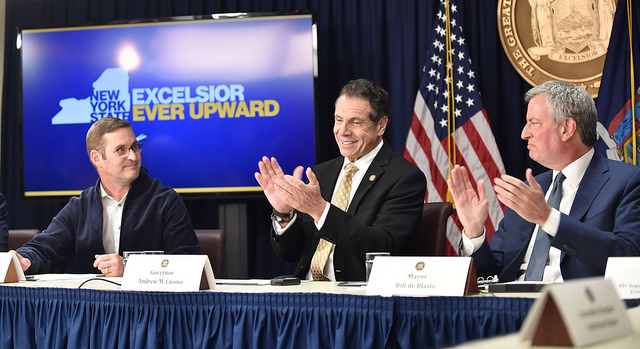 (photo: Kevin P. Coughlin/Office of Governor Andrew M. Cuomo)
---
Now that Governor Amazon Cuomo is grovelling for Amazon to come back to New York, it's important to remember that the original sin of the "HQ2" deal is still true: Amazon was never going to bring 25,000 jobs to Long Island City.
That might surprise people, particularly since that number and its related economic activity have been the central arguments used to defend the deal. But to be clear, Amazon never actually promised to bring 25,000 jobs. Period. Go look for it.
Supporters point out that Amazon would get the full package of tax incentives, which are available to any company, only if it created the 25,000 jobs. That's absolutely true, but it proves the point. It shows that Amazon didn't need or really want the job incentives. Instead, it played off our failed economic development policies to get what it actually wanted.
What Amazon did care about, what it wanted more than anything, and what it would have gotten in the deal was a shiny new East River campus quickly, quietly, and cheaply.
First, Amazon didn't want to engage with the community or be a good neighbor. All of this would have taken a lot of time, but the real issue was that it would have involved making promises to the community that Amazon had no intention of ever making. The minimal promises it did make were entirely on its terms (and changed only slightly after pushback before Amazon finally walked).
Second, Amazon didn't want to pay the full cost of acquiring the choice land that it wanted to build its campus or go through the city's land use review process (ULURP). That would have involved stringing together multiple lots at fair market value and convincing the city to sell public land. That would have meant more engagement with the public (and the City Council) and more commitments.
Third, Amazon knew it had to hire union labor for constructing and servicing the campus, but didn't want to pay for it. More importantly, it didn't want that to be a backdoor to unionizing its own larger workforce, especially in distribution centers. As much as some supporters have pointed to the construction and building-service jobs as evidence that Amazon was willing to work with unions, it was a political necessity to do so and had the added bonus of splitting the labor movement in New York. Amazon was never going to allow unionization in its Staten Island or other distribution centers as part of the deal.
By "promising" 25,000 jobs, Amazon got everything it wanted in the Memorandum of Understanding with the city and the state. It bypassed the City Council and real public review when the governor deemed "HQ2" a General Project Plan. It got its riverside campus when the mayor effectively turned over public land on a sweetheart lease (unquestionably saving Amazon hundreds of millions of dollars that weren't and haven't been included in the cost of incentives) while also killing a private development that included affordable housing and was going through the proper land-use channels. And Amazon got a flat out cash transfer of $325 million (with a possibility of up to $500 million) to cover costs of using union labor on construction.
Still, Amazon never had to deliver the jobs. To be sure, it was going to have a large workforce in Long Island City by consolidating several thousand employees already in New York and transferring more from Seattle. There is also no doubt that it would have hired some new employees locally. But there were no real promises of how many, at what salary, or from what communities. That just means we were going to give a competitive edge to Amazon by subsidizing an abstract total of jobs at a time when job growth is fine in the city.
As we've seen with Foxconn in Wisconsin, General Electric in Massachusetts, and just about every development project Governor Cuomo has produced (and his Economic Development Corporation has justified), the promised jobs and economic activity from these incentives rarely materialize, whether the companies get all of them or not. However, the public is always on the hook and companies almost never are.
Amazon exploits these policies all the time with its distribution centers (see Florida, Texas, California). They promise direct and indirect job creation that never happens. Amazon knew it wasn't going to deliver 25,000 jobs and would never be held accountable for failing to. Amazon wanted its New York campus and simply took the flawed logic of our economic development policies to their extreme to get it.
Let's not forget the bad faith Amazon showed when it originally announced the "contest" in September 2017. Remember, back then it wasn't for 25,000 jobs -- it was for 50,000 jobs. Amazon and the media moved on quickly from that bait and switch, but we shouldn't.
Amazon prides itself on being data-driven and strategic (yet: counterpoint), which means it's safe to assume that the D.C. area and New York City had already been selected - making the whole idea of a "second headquarters" bogus from the beginning.
But why not announce a "contest" saying you're going to create 50,000 jobs and have every city and state fall over themselves to compete for it? Amazon got a year's worth of free advertising. It got reams of data from cities for future expansion and whatever else it may attempt. It forced New York and Virginia to offer billions for something it was already going to do and could easily afford.
Most importantly, Amazon got New York and Virgina to turn over land for campuses quickly and with no public review.
Back in December, I wrote about how I thought the Amazon deal was in trouble. Then, as now, it was clear that the deal was negotiated in bad faith from the beginning, that it would not actually do what the mayor, the governor, and Amazon said it would do, and it would not hold Amazon accountable for when it inevitably failed to live up to its vague end of the bargain. That is all still true.
Amazon is incapable of being a good partner. Everybody knows that now. Everybody knows how it treats its workers, its home city, and who it does business for. If it really needed a home for 25,000 jobs in New York City, it would have negotiated in good faith and worked through the concerns of the community it was moving into.
Instead, it wanted an insulated campus apart from the community paid for by the community, and bailed when it wasn't served on a platter. Activists and a few steadfast local politicians accomplished a great public service by showing the real face of Amazon.
More importantly, the "HQ2" ordeal shows the fatal flaws in our economic development policies that Amazon so cleverly exploited. Taxpayers spend $90 billion a year pitting cities against each other for unsubstantiated job numbers, which only works out for corporations and their shareholders.
This is done instead of solving the cities' actual problems like the lack of affordable housing, overcrowded schools, a crumbling transportation system, and skyrocketing child- and health-care costs. It goes without saying that investing in this public infrastructure would also lead to new, bottom-up job creation -- many more than 25,000 -- for all kinds of New Yorkers, new residents, and new businesses.
As his recent grovelling has proven, Governor Amazon Cuomo has been guilty of this more than anyone. He values the optics of a ribbon-cutting ceremony on the East River with Jeff Bezos over the hard work that it takes to create actual jobs. Let's hope Amazon's bad faith trumps the governor's and they stay gone.
***
Peter Harrison is a member of NYC-DSA and CEO/Co-founder of homeBody, a public benefit startup. On Twitter @PeteHarrisonNYC.
***
Have an op-ed idea or submission for Gotham Gazette? Email This email address is being protected from spambots. You need JavaScript enabled to view it.