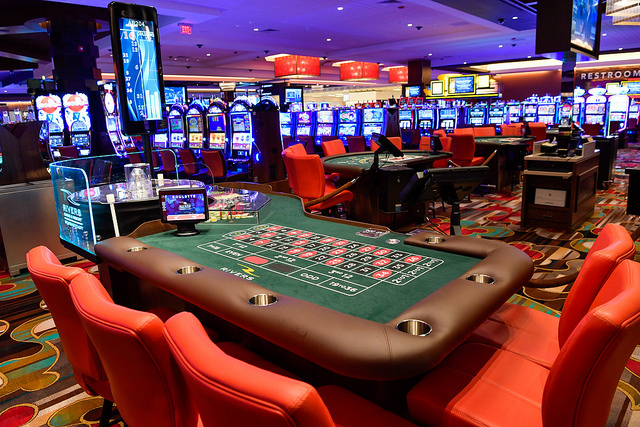 (photo: Governor's Office)
---
New York has a proud history of thinking big and building bold. As New York searches for routes to generate new revenue to fund critical priorities, and drive job growth through significant private investment projects, we have an unparalleled opportunity right in front of us.

Albany leaders should lift the moratorium on the expansion of casino development downstate and begin an open competition for the remaining three gaming licenses as approved by New York voters in 2013. No other opportunity is currently on the horizon to provide the infusion of jobs or revenue New York would experience with a robust, competitive, and transparent process to expand gaming downstate.

Surrounding states have taken advantage of New York's moratorium on downstate gaming by moving quickly to expand gaming and produce new jobs and revenue for themselves.

Boston is putting the finishing touches on a $2 billion resort and gaming complex, with 4,000 permanent jobs and 5,700 construction jobs – good union jobs. Pennsylvania has seen $400 million in new revenue over the past year after enacting a broad gaming expansion. New Jersey is seeing $20 million a month in new revenue from sports betting alone, and Connecticut is considering gaming expansion in Bridgeport and on the New York border. And, ironically, New Yorkers who have limited gaming opportunities in their own state are often the ones funding tax revenues and job growth in neighboring states.

With due respect for our neighbors from Boston to Bridgeport, New York, with 60 million tourists a year to the City, is the single most attractive new market for gaming in the United States. Let's show we can do it big and do it right: instead of a private company pitting cities against each other in a bidding war, let's have private casino companies compete with each other for the right to valuable resort gaming franchises in New York.

A New York gaming development license is an extraordinarily valuable asset if structured correctly with a competitive process for three licenses that:

-Establishes a minimum license fee of $500 million per license -- totaling $1.5 billion in upfront revenue;
-Sets a minimum private investment of $2 billion per license -- bringing in $6 billion in private investment;

-Requires union labor on construction jobs and the right for unions to organize permanent operations jobs; and

-Dedicates new revenue to improve public transit service, fund public education, and other New York priorities.

If done right, releasing the remaining three licenses in a competitive bid process will generate tens of thousands of good union jobs and billions in revenue for the City and the State without any federal, state or local subsidies. And it would provide local and accessible economic opportunities for communities that are too often shut out.

The estimated $1.5 billion in up-front license fees from casinos could be dedicated immediately to fund public education or to help close the revenue gap needed for the MTA. If the State moves quickly, this revenue could be available in the next fiscal year. Additional, ongoing revenue from gaming and real estate taxes could be dedicated to fund crucial programmatic priorities – without any subsidies, and no additional taxes or fees on New Yorkers.

A significant private investment requirement of $2 billion for each gaming resort development (on top of license fees) would create a projected 16,800 permanent career union jobs, and an additional 15,000 union construction jobs. These are good jobs, benefiting a diverse union workforce with quality benefits including healthcare, training, and secure career opportunities.

Think about it: $6 billion in private development to fund critical needs. Built and operated by local union labor. No subsidies. Keeping New York dollars in New York. If you created the wishlist for future development in New York, you couldn't do better. New York has the winning hand when it comes to making the most of the gaming licenses already approved by New York voters: Let's play it.

***
Gary LaBarbera is President of the Building and Construction Trades Council of Greater New York. John Samuelson is International President of the Transport Workers Union (TWU).
***
Have an op-ed idea or submission for Gotham Gazette? Email This email address is being protected from spambots. You need JavaScript enabled to view it.