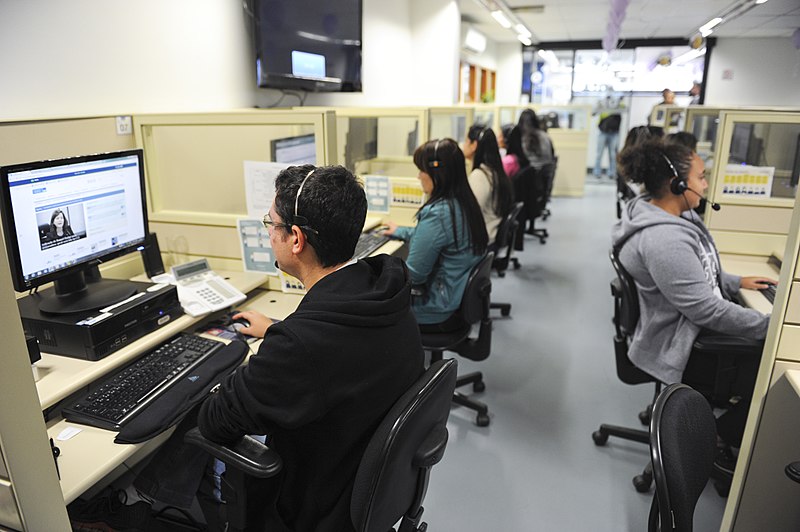 (photo: Wikimedia Commons)
---
Long gone are the days when a family could live comfortably with a minimum wage job. In 1968, a worker making the federal minimum wage could support a partner and a child above the poverty line. Today, you can't even support yourself and a child on it. Even with the recent increase to the minimum wage, hitting $15 an hour in New York City, it's impossible for families in many parts of the state to live on minimum wage.
Economic anxiety has unfortunately become the new norm. Traditionally, most families' golden ticket out of poverty was a solidly middle-class job, like at a call center. Those jobs, however, are increasingly being lost to corporate greed.
Since 2006, over 40,000 call center jobs were lost in New York. Forty thousand.
That means 40,000 families have had to face the emotional and financial stress of losing a job. It's not as though the need for call center jobs has decreased; the Bureau of Labor Statistics projects a 5% growth rate for customer service representative jobs between 2016 and 2026.
Unfortunately, there has been an upward trend of massive corporations looking to ship these jobs elsewhere so they can pay workers less and often find better tax incentives. Outsourcing work to other parts of the country or abroad has become a common corporate tactic to reduce costs. Middle class jobs are replaced with cheaper labor (often with subpar working conditions).
With the Trump administration's tax cuts last year, outsourcing has become even more attractive to corporations, accelerating the process. The law rewards corporations with tax cuts and incentives for profits made overseas, with corporations paying as little as half or less of the corporate tax rate on profits earned abroad as they would here at home.
This is why I support the New York State Call Center Jobs Act, a bill that would finally prevent companies from being rewarded for outsourcing these good jobs elsewhere.
In January, AT&T announced it was closing a call center in Syracuse, eliminating 150 jobs. The workers in the call center had just two weeks to decide whether to accept a severance package or relocate.
Call center jobs are critical lifelines to sustain a robust middle class and it's important we recognize that moving these jobs out of state has devastated families and communities across New York. We can no longer allow corporations to line their own pockets at the expense of hard-working New Yorkers.
This bill would help New York protect call center jobs at employers with 50 or more full-time or full-time equivalent employees. Employers would be required to notify the Public Service Commission if they intend to relocate at least 30% of call volume in a year. Those companies would lose all grants, loans, tax benefits, and state contracts, since our government should not be giving tax dollars to companies that are leaving the state. It would also ensure that all call center work related to state business is performed by New York companies.
This legislation passed last year in the Assembly and had considerable support in the Senate. Now that the Senate leadership has changed, we can and should get this done this year. I urge my fellow legislators to do what is right and protect New York's middle class.
***
Senator Jessica Ramos represents State District 13, which includes the Queens neighborhoods of Corona, East Elmhurst, Elmhurst, Jackson Heights, and parts of Astoria and Woodside. On Twitter @JessicaRamos.
***
Have an op-ed idea or submission for Gotham Gazette? Email This email address is being protected from spambots. You need JavaScript enabled to view it.