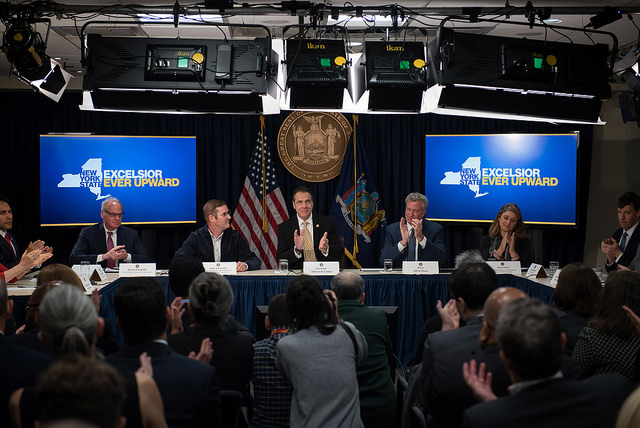 Announcing the Amazon deal (photo: Ed Reed/Mayoral Photography Office)
---
Amazon's decision to abandon its planned construction of a major campus in Long Island City has revealed deep fissures among New Yorkers. Typical of news coverage and commentary in these highly-polarized times, discussion of the issue has been framed in largely win/lose terms, both from the perspective of politics (progressives versus pragmatics) and the impact on the New York economy and lifestyle ("more jobs is always better" versus "union-busting vulture capitalist billionaires don't deserve tax breaks"). As with most stories framed in win/lose terms, the narrative unfolds with heroes, villains, victims, and victors.
Governor Cuomo has said he's trying to revive the deal. In the context of future conversations between New York State and Amazon, as well as other companies, it is worth exploring some of the common and avoidable negotiation errors that were made the first time around.
First, don't overestimate your leverage. Amazon's process for selecting a city for its "second headquarters" seemed to be a picture of its leverage. It used something called a "modified auction," whereby it set up an obnoxious beauty pageant where contestants could come forward with their goods and where the mega-company was at once judge, jury, and rule-maker.
City and state governments were invited to make their best offer to the behemoth, complete with outrageous tax incentives, promises of infrastructure improvements for Amazon's benefit, and even pledges to re-name their city. Amazon then sat back, politely said, "Thanks for your entry" and narrowed the playing field to invite a second round of final "bids." Only then did Amazon actually sit down for a real negotiation with a few finalists urging them to "sweeten the deal" even further before announcing the pageant winners.
On the surface, the process for Amazon sounds great, if you're Amazon. But Amazon miscalculated the ill-will that the process itself would engender. First, pitting cities against each other, and then, once in New York, bypassing the local City Council's approval process, had consequences. This was not a one-off auction for the sale of a Picasso at Sotheby's. Instead, it was a process about who was going to be Amazon's next-door neighbor, essential to its business, for the next ten, twenty, fifty years. Amazon's approach galvanized opposition that might not have existed if it had not used such a power/leverage-based approach to the negotiation.
Second, don't forget to manage your "behind-the-table" constituency. Many New Yorkers viewed it as nothing short of miraculous that Mayor Bill de Blasio and Governor Andrew Cuomo, two deeply competitive leaders, came together, joining forces to win Amazon and crush the competing offers. It was equally surprising how these two New York powerbrokers, finally united, could possibly lose the deal. Confident of their ability to deliver and caught-up in the competition between themselves and other bidders, the governor and mayor failed to deliver the "behind-the-table" constituencies on their own side who might seek to block or tank the deal.
Great negotiators are simultaneously negotiating across the table while artfully working to build and maintain supporting coalitions behind the table. They are always seeking to build deals that meet their own interests very well, the interests of the other side at least reasonably well, and the interests of third parties who may not be at the negotiating table but who may have interests in the outcome and power to tank the deal at least well enough to ensure the deal would be durable.
Despite its flaws, the city's formal and cumbersome land use procedure -- which Amazon sought to avoid -- tends to afford that level of engagement to various groups, and to give them a space to challenge and refine a project rather than to tank it. It's unclear whether the governor and mayor underestimated the organizing power or will of those who might be upset with the deal, or simply forgot this basic negotiation principle. But in failing to work constructively with various stakeholders who might not have had a seat at the negotiation table but who, when organized, had considerable power to stop the deal's implementation, the negotiating parties unwittingly turned skeptics into spoilers.
Finally, define "success" based on your away-from-the-table alternative. On the one hand, Amazon's sudden decision to pull out of the New York deal could be seen as victory for local Queens leaders who opposed it. And certainly, they celebrated its defeat and cheered the power of the people to "take their city back."
At least in the short term, the leaders may have protected themselves among the most reliable Democratic primary electorate. But in negotiation, it's important to measure "success" not based on the ephemeral, emotional feel of a "win" in the heat-of-battle, but rather based on whether what you are getting is better than what you are leaving behind. If a deal on the table advances your interests (broadly construed) better than no deal at all, then walking away from the deal is not a good outcome, even if it makes you feel good in the moment or if you believe it may help you in the next election.
In this case, the deal was far from perfect for New York or its workers. The city and state had offered $3 billion in tax and other incentives, plus a helipad, to a huge company whose owner is one of the richest men in the world and bypassed the City Council's entire land use process while doing so. The company refused to provide guarantees around not opposing union organizing, and would have created a significant burden on local transportation, schooling, and other infrastructure.
Could a better deal have possibly been negotiated? Yes. However, it is also the case that the deal that was negotiated would have likely brought in $27.5 billion in tax revenue to New York over 25 years and approximately 25,000 new jobs in the first ten years alone. Of course, these are estimates, but even if they are remotely accurate, the upsides of this deal seem to outweigh no deal by a wide margin, especially since there is no immediate back-up plan to generate revenue or jobs at anywhere near this scale.
While it is clear that individual elected officials believed there was significant political upside to derailing the deal, it's hard to see how Amazon's abrupt withdrawal is a win for the people of New York, at least vis-à-vis the no-deal alternative. And yet, parties often reject deals that are better than their no-deal alternative because they allow emotions to escalate, and do not measure success in relation to what no deal would get them.
Not all negotiation errors are avoidable. But these were. When leaders focus on leverage, ignore the creation of possible blocking coalitions, and let emotions get the best of them, even seasoned and sophisticated negotiators will end up with less-than-optimal outcomes. Because the entities in play are one of the world's greatest cities and one of the most prosperous and growing companies in the world, all involved will survive, even thrive, over time. But from a negotiation perspective, it's hard for us to look at the outcome as anything but a loss and a missed opportunity for all.
***
Robert C. Bordone is the Thaddeus R. Beal Clinical Professor of Law at Harvard Law School, and Daniel R. Garodnick is a former New York City Council member, where he chaired the Economic Development Committee. On Twitter @bobbordone & @DanGarodnick.
***
Have an op-ed idea or submission for Gotham Gazette? Email This email address is being protected from spambots. You need JavaScript enabled to view it.