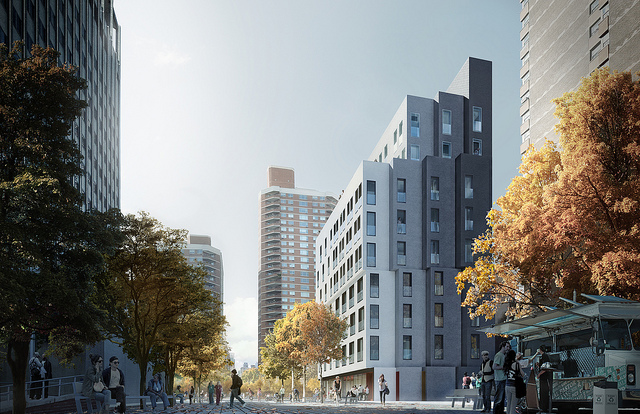 (image: mayor's office)
---
Governor Andrew Cuomo, Senate Leader Andrea Stewart-Cousins, and Assembly Speaker Carl Heastie have all signaled their support for funding the long overdue MTA overhaul with a pied-à-terre tax. Cuomo has said it's the "only agreed-to new money" for the upcoming state budget. But the challenges facing struggling families in New York demand more than just a pied-à-terre tax. We need an entire reimagining of New York's upside-down tax system.
There are over 75,000 apartments in New York City owned by people who don't live there year-round. Some of these are second, third, or fourth homes. Earlier this year billionaire hedge-funder Ken Griffin made headlines for purchasing the most expensive home in the country: a $238 million penthouse overlooking Central Park. Griffin already owns multi-million-dollar properties in Chicago, Miami, and London.
The pied-à-terre tax, sponsored by Senator Brad Hoylman, would institute a surcharge on non-primary residences worth $5 million or more. The surcharge would start at 0.5% and rise to 4% for homes worth more than $25 million. For people like Griffin, it's pocket change. State Budget Director Robert Mujica estimates the new tax would generate $9 billion in new revenue over the next decade.
New York's billionaire class has been let off the hook by a regressive tax structure that puts the burden on working families in the form of higher sales and property taxes. These times call for us to have the courage to demand that the wealthiest New Yorkers pay their fair share. New York is already the most unequal state in the country, with the top 1% taking home 45 times more than the bottom 99%. The Trump tax scam has only made the problem worse, as billionaires are now benefiting from some of the lowest tax rates in decades.
Austerity measures, fueled by the false narrative that there just isn't enough money to go around, have wreaked havoc on our communities. In cities like Rochester and Schenectady, half of all children live in poverty. A state as affluent as ours should not have young children going to sleep hungry or elderly people unable to afford their rent.
The entire tax system in New York is rigged to benefit the super wealthy. Taxing the rich shouldn't be a last resort for our Governor and Legislature. New York needs a pied-à-terre tax, an expanded millionaires' tax, the elimination of the carried interest loophole, and an end to the billion-dollar giveaways to giant corporations.
This restructuring of our tax system would allow for investments in our struggling communities. It would mean we could fully fund our public schools, repair our crumbling infrastructure, and expand access to affordable health care and child care.
Corporate-backed think tanks like the Empire Center will wave their arms and cry "tax flight," but this has proven to be a myth. The people who move the most frequently are young people and low-income families seeking good-paying jobs and a better quality of life. And what will improve quality of life in New York and make young families want to live here? Quality public schools, affordable housing, and reliable transportation.
The self-imposed shortfalls and spending cuts continue to hurt our communities. The Governor needs to stop kowtowing to CEOs and big developers and insist that the people with the most contribute the most.
***
Jessica Wisneski is Co-Executive Director of Citizen Action of New York. Michael Kink is Executive Director of Strong Economy for All. On Twitter @jesswisneski & @citizenactionny.
***
Have an op-ed idea or submission for Gotham Gazette? Email This email address is being protected from spambots. You need JavaScript enabled to view it.