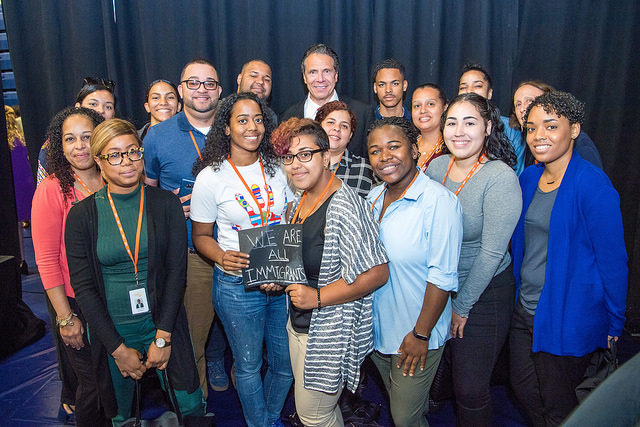 (photo: governor's office)
---
Immigrants in New York are under attack. In New York City for example, despite municipal policies to welcome and protect immigrants, ICE arrests of immigrant individuals with no criminal convictions have rapidly increased. From fiscal year 2016 to fiscal year 2018, ICE non-criminal arrests in the New York City area increased by 414%.
These increases reflect the president's negative rhetoric and policies toward immigrants. Not only is new immigration being discouraged and made nearly impossible, individuals who have long-standing community ties, such as U.S. citizen family members or years-long work histories, are being torn apart from their children, families, and communities.
In this past November's election, Democrats won the majority in both the New York State Assembly and Senate. Now, New York legislators not only have the opportunity but the obligation to stand up for immigrants.
Immigrants are integral parts of local communities, but they also contribute to local and statewide economies. In New York there are 4.49 million foreign-born immigrants.
This year, both houses of the state Legislature voted to pass The José Peralta New York State DREAM Act. This legislation will allow undocumented students to apply for state aid for higher education. This legislation also creates a Dream Fund for college scholarship opportunities and removes barriers that prevent undocumented families from college saving programs. The DREAM Act will allow talented students to access the financial help needed to earn degrees, access highly-skilled employment, and support their local economies across New York.
Nonetheless, the agenda for immigrants can and must go further and is a top priority for state legislators that represent large immigrant communities.
Our next priority, The Driver's License Access and Privacy Act would restore access to driver's licenses for all, regardless of immigration status, in New York. Currently, 13 states, Washington, D.C., and Puerto Rico issue standard driver's licenses to undocumented immigrants. Accessibility to reliable public transportation is many times unavailable to those living and working throughout upstate New York, the downstate suburbs, and the outer boroughs of New York City.
Also, data indicates annual revenue of $57 million to state and local governments, with an additional one-time boost of $26 million. This legislation, supported by law enforcement policy analysts, will safeguard hundreds of thousands of undocumented immigrants from possible deportation if pulled over by law enforcement and also aims to ensure all drivers are insured and informed of traffic laws.
Our community also needs New York to further break the links between the criminal legal system and the deportation pipeline. First, ICE's presence in our courts must end. New Yorkers must not fear that while they are seeking protection and justice, they could be detained and separated from their families.
Second, under federal immigration law, a one year sentence for a non-violent crime can trigger deportation proceedings and removal from the United States. The One Day to Protect New Yorkers Act modifies the maximum imprisonment sentence for a class A misdemeanor from 365 days to 364 days. This bill aims to protect families from personal and financial devastation if a family member is faced with a possible one year sentence.
In addition to refusing to participate in Trump's anti-immigrant game, New York must also expand opportunity for immigrants. New York should take immediate steps to preserve Medicaid access for Temporary Protected Status (TPS) recipients at risk because of the Trump administration's reckless actions to end TPS. New York should also create a state-funded Essential Plan for all New Yorkers up to 200 percent of the federal poverty level.
In the state budget, New York should also fully invest in the civil legal services that are so critical to our community's well-being. The State must also significantly expand resources for adult literacy classes, which are often the best pathway to a better job and an increased ability to participate in the life of the broader community.
Finally, as the 2020 Census approaches, New York must step into the void left by Trump's negligence. As a Fiscal Policy Institute analysis has shown, the state should invest $40 million in outreach by community-based organizations, in addition to the funds it should allocate for state and government agencies' work. These resources will more than pay for themselves, as they will help ensure all New Yorkers are counted and thus that all our communities get their fair share of federal resources.
In the face of anti-immigrant rhetoric and policies raining down from Washington, D.C, New York must lead by standing up for immigrants throughout the state. By passing an ambitious agenda to keep immigrant families together and invest in the success of our communities, we can do just that.
***
Assemblymember Victor M. Pichardo represents New York's 86th Assembly District and is Chair of the Task Force on New Americans. Assemblymember Marcos A. Crespo represents the 85th Assembly District and is Chair of the Committee on Labor. On Twitter @MarcosCrespo85 & @VPichardo86.
***
Have an op-ed idea or submission for Gotham Gazette? Email This email address is being protected from spambots. You need JavaScript enabled to view it.