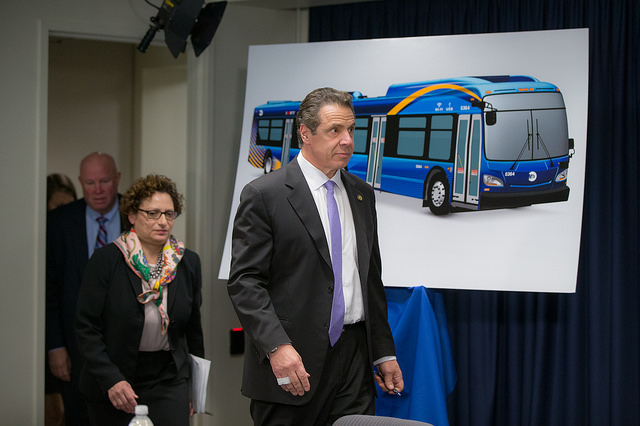 (photo: governor's office)
---
Your zip code and how much money you make can determine your health and quality of life in New York City – including the quality of the air you breathe.
Recent data from The New York City Community Air Survey shows that certain neighborhoods have more particulate matter and black carbon than others. It should come as no surprise that many of these areas – like East Harlem, Washington Heights, or the South Bronx – are largely inhabited by people of color or people with lower incomes, who historically bear a disproportionate burden of the effects of environmental pollution.
Poor air quality leads to increased lung disease and asthma, especially for kids and older people. It can result in higher doctor bills and more missed days of work or school, and cut months or even years off of our lives.
The city and the state should do everything possible to improve air quality in pollution hot-spots. Yet, in the neighborhoods where air quality is poorest, MTA New York City Transit buses are also the oldest – and thus most-polluting. The depots where the buses are stored are disproportionately located in these areas, resulting in more idling and frequent in-and-out trip movements, all adding to poorer air quality.
That's why there is a pressing need to electrify the city's buses, reducing exhaust and cleaning the air. New York City knows bus electrification is important: the city set a goal for an all-electric bus fleet by 2040 "to improve air quality and reduce greenhouse gas emissions." New electric buses should first be deployed in neighborhoods with the worst air quality.
But there's still a question of funding the transition to an electric citywide bus fleet. In his draft budget for next state fiscal year, Governor Cuomo focuses on congestion pricing as a key source of capital.
Congestion pricing asks drivers to pay a surcharge when they enter Manhattan south of 60th Street and north of Battery Park. The revenue generated would then be put toward other transportation infrastructure repairs—e.g., our broken mass transit system.
The city's public transit system is deeply intertwined with New Yorkers' quality of life. People rely on the buses and trains to get to their jobs, schools, and families in a timely and affordable way. They should be able to do so without dirtying the air in local communities and contributing to the environmental burden they already face. New York needs congestion pricing to begin transitioning the city's buses to clean, electric vehicles.
***
Cecil D. Corbin-Mark is deputy director of WE ACT for Environmental Justice. On Twitter @CecilCorbinMark & @weact4ej.
***
Have an op-ed idea or submission for Gotham Gazette? Email This email address is being protected from spambots. You need JavaScript enabled to view it.