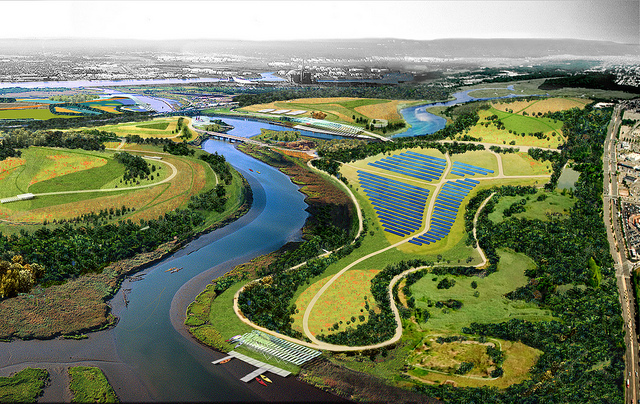 (photo: mayor's office on flickr)
---
On Friday, March 15, over 1 million students from 125 countries walked out of school to demand that we act on climate change. As New Yorkers, we're already seeing the devastating impacts of climate change in our communities. We all remember the damage to homes, lives, and communities caused by Superstorm Sandy, and we know we'll face more intense storms in the future. As summers get longer and hotter, more of our elderly neighbors will be at risk for heat stroke or even death.
We also know that the impacts of climate change do not affect everyone the same way. From heat waves to hurricanes to sea-level rise, low-income communities, communities of color, and communities historically burdened by polluting and extractive industries are often more vulnerable to climate risks.
But discussion of climate change does not have to be all doom and gloom. In New York State, we have an opportunity to move to a fossil-fuel-free economy while also investing in good, high-wage jobs and creating real investment in communities most impacted by the climate change.
If we want a carbon-free future, or some would say, any future, we need to reduce our emissions from all sources and we need to set an enforceable timeline to do it.
This crisis gives us an opportunity to re-imagine our priorities as a state. It will take planning and investments to move to a fossil-free future. We need to direct some of those investments to marginalized communities and people already hurt by the climate crisis. We need to make sure green jobs pay livable wages, and create opportunities among low- and middle-income communities across the state. We need to end our dependence on fossil fuels while building a better economy that does its best not to leave anyone behind.
This is part of the reason why I sponsor the Climate and Community Protection Act (CCPA), which has passed in the State Assembly three years in a row. This year has brought with it more opportunities, and the time is right to create a green and equitable future.
The CCPA has the support of over 160 grassroots community, labor, and environmental organizations. It creates an enforceable timeline to move our entire economy to 100% renewable energy by no later than 2050. It is based on the timeline scientists recommend to avoid catastrophe. It also includes the strongest equity provisions in the nation to invest in communities hit hardest by the climate crisis.
The CCPA is about more than just the environment. Under the bill, 40 percent of state funds directed towards greening our economy would go to environmental justice communities. That includes low-income communities, communities of color, and folks at high risk of being adversely impacted by major storms or sea-level rise, and communities already experiencing polluted air and water from carbon-burning facilities.
The CCPA also sets wage and apprenticeship standards so that new green jobs are well-paying, livable jobs. It is estimated that the CCPA will generate the creation of 150,000 jobs related to the green energy transition, revitalizing communities and providing opportunities for New Yorkers across the state.
We can and should get this done this year.
***
Assemblymember Steven Englebright represents parts of Long Island. On Twitter @SteveEngles.
***
Have an op-ed idea or submission for Gotham Gazette? Email This email address is being protected from spambots. You need JavaScript enabled to view it.