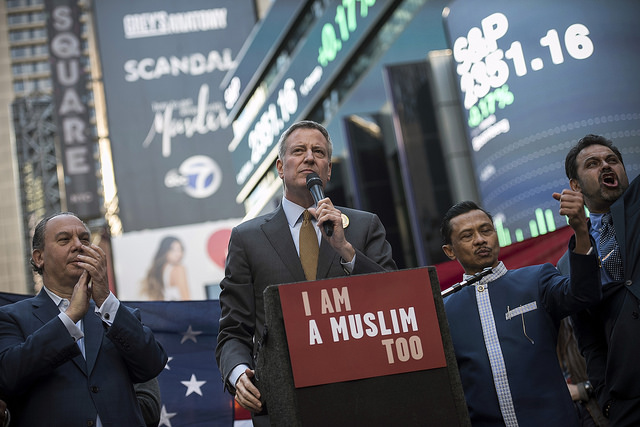 (photo: Ed Reed/Mayoral Photography Office)
---
Last year, New Yorkers learned about the experience of Jamilla Clark, a domestic violence survivor who was forced by NYPD officers to undress herself, removing her religious headscarf against her will. Jamilla and other women's experiences led my co-counsel and me to sue the NYPD, bringing a federal civil rights lawsuit.
We hoped that self-proclaimed "progressive" Mayor Bill de Blasio would be quick to end this traumatizing practice. We were wrong. Last week, nearly a year after we first brought the lawsuit, 30 elected officials and community groups condemned the mayor for defending the NYPD policy. Groups ranging from Make the Road New York to the Legal Aid Society to my own group, The Surveillance Technology Oversight Project said it "is wrong for the NYPD to force New Yorkers to violate their faith, and it's wrong for you, Mayor de Blasio, to defend this policy."
Officers who force Muslim women and other religious New Yorkers to remove their head coverings aren't breaking NYPD rules, and they don't face disciplinary action. To the contrary, they are following official, NYPD guidelines, which require Muslim New Yorkers to take off the hijab for a mugshot.
A hijab is a religious headscarf that covers the hair and ears, but leaves the oval of the face fully visible. New York City's unlawful and unconstitutional policy forces Muslim women to remove their hijab—a garment that symbolizes their faith and that so many view as an indispensable component of their identity.
The signatories to our letter demand that the mayor "immediately end the NYPD policy of forcing arrestees to remove religious head coverings, including turbans, wigs, hats, and the hijab, when arrested." At a time when other municipalities have stopped this horrific practice, allowing women to retain the hijab when arrested, New York is lagging behind. Cities from Dearborn Heights, Michigan and Long Beach, California to Minneapolis, Minnesota and Portland, Maine have recognized that it is unnecessary to remove religious head coverings for a post-arrest police photo.
In the past, New York City settled litigation over this policy, paying women who had been targeted by the NYPD. But though the city was willing to pay victims of the policy, it was unwilling to end the practice. We need to go further and make clear that all arrestees have the right to retain their head coverings.
We can fight this out in the courts for as long as it takes. But if it takes a federal court order to make Mayor de Blasio do the right thing, he'll need to retire the "progressive" label once and for all.
City leaders have promised to make New York a sanctuary for all faiths, but actions have fallen sort of our soaring rhetoric. This is the moment for our city to live up to our promise, this is the moment to respect the rights of religious New Yorkers, this is the moment to end New York City's hijab arrest policy.
***
Albert Fox Cahn is the executive director of The Surveillance Technology Oversight Project at the Urban Justice Center, a New York-based civil rights and privacy organization. He writes the monthly "Surveillance and the City" column for Gotham Gazette. On Twitter @FoxCahn.
***
Have an op-ed idea or submission for Gotham Gazette? Email This email address is being protected from spambots. You need JavaScript enabled to view it.