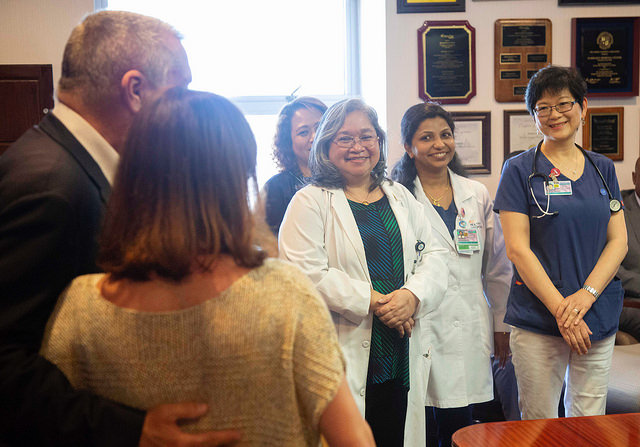 (photo: John McCarten/NY City Council)
---
We live in a state with enormous resources, and a $175 billion annual budget—yet many New Yorkers still lack access to adequate maternal care. New York's maternal mortality rate is higher than the national average, and even worse in communities of color. Black women are over three times more likely to die from complications during childbirth than their white counterparts.
All too often, the outcome of a woman's pregnancy has less to do with her health than with the quality of care she receives over the course of those nine months. For many women across our state, poverty and a lack of resources can be the decisive factor in determining the outcome of a pregnancy. That's unacceptable. We need better services and a standardized level of care to ensure that all women, regardless of their income level, race, or geography, can experience a safe and healthy delivery.
It's time for New York to get serious about these issues, and address these startling trends. That's why I pushed for the New York State Senate to increase funding in our chamber's state budget plan for maternal health care – and why I'm now calling for that funding to remain in the final budget, to be agreed on by the Governor and the Legislature by April 1.
With expanded funding, we can better support the essential work being done through New York's Nurse-Family Partnership programs. These programs, located throughout New York City and the state, connect the most high-risk first-time mothers in poverty with their own personal registered nurse through pregnancy and the baby's first 1,000 days.
These nurses provide more than home visits to assess mom's health and baby's development; they offer social support and guidance on many critical facets of a woman's life. They connect new moms with services to help find stable employment and housing, resources to make ends meet, like local food banks, and healthcare services during pregnancy and beyond. Their visits set the stage for a lifetime of healthy development. In fact, the program has seen significant improvement in pregnancy outcomes, including a reduction in preterm births and healthier pregnancies in New York state.
As the proud parent of two young daughters, I know how important it is that we support families through pregnancy and early childhood. And as a policymaker, I believe that New York has a responsibility to ensure that every family has access to the care they need.
Furthermore, every dollar invested in Nurse-Family Partnership yields $5.70 in return to government. Additional funds will guarantee the program can operate at its current level and potentially reach more vulnerable New Yorkers—something all of my colleagues should support. Investing in future generations isn't just the moral thing to do, it's smart public policy.
***
State Senator Brad Hoylman represents parts of Manhattan. On Twitter @bradhoylman.
***
Have an op-ed idea or submission for Gotham Gazette? Email This email address is being protected from spambots. You need JavaScript enabled to view it.