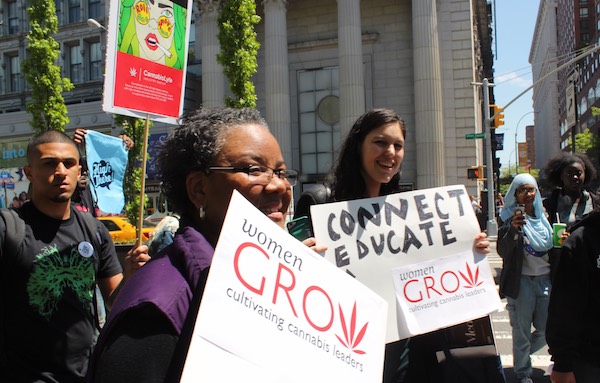 (photo: Jake Plowden)
---
The cannabis industry has expanded dramatically in recent years. The state of California led the way on the legalization of medical marijuana with the first dispensaries opening there more than 20 years ago. Colorado legalized recreational marijuana in 2014, and has since been joined by nearly a dozen other states and the District of Columbia.
Yet in the midst of this cannabis market boom, communities of color have too often been left watching from the sidelines, excluded from the opportunity to create jobs and build wealth in their own neighborhoods. In these same neighborhoods, many black and Latino individuals are paying the price for the misguided War on Drugs, marked by criminal convictions for acts that are now perfectly legal in many states.
As legislators in New York, New Jersey, and other states debate the legalization of marijuana and other cannabis products, we must urge them to adopt policies that rectify the harmful impact of the War on Drugs and allow all aspiring entrepreneurs to participate in this growing and potentially lucrative market.
In the next five years, experts predict the global market in legal marijuana will approach nearly $150 billion in sales. We simply cannot afford to leave that kind of money on the table.
There are several key policies that we believe will bring equity to the cannabis market:
First, we need to start with the immediate and automatic expungement of criminal convictions related to the use, consumption, or sale of marijuana and other cannabis products.
Second, when legislators develop cannabis policies they should prioritize the licensing of individuals with prior criminal convictions related to marijuana to open cannabis businesses.
Third, we need empowerment zones, in neighborhoods that were disproportionately targeted by the War on Drugs, with policies in place on day one to encourage community members to open and expand cannabis businesses.
Fourth, states should mandate that the agencies regulating cannabis continually monitor the demographics of cannabis businesses, and issue regular reports on whether the industry accurately reflects the population as a whole.
We know from experience what happened in Colorado, where fewer than one in five marijuana dispensaries are owned by people of color. Similar figures have been reported in other states that have legalized marijuana.
We understand the structural barriers that now exist. Centuries of federal, state, and local policies continue to undermine wealth formation in our communities. In addition, stereotypes persist in the cannabis industry, privileging the experience of white, male entrepreneurs and too often ignoring the reality that all kinds of people have something to offer as this market expands and enters the mainstream.
We believe that remedial policies that actively and forcefully address existing disparities have the potential to overcome the structural barriers and allow communities of color to assume the position of leadership in this exciting new industry. Those policies will be enacted (or not) in Albany, Trenton, and a dozen other state capitals in the next few years, as well as in Congress. We need to make our voices heard.
***
Steven Phan is a first generation Asian-American and co-founder of the CBD retail store Come Back Daily, with two locations in Manhattan.
***
Have an op-ed idea or submission for Gotham Gazette? Email This email address is being protected from spambots. You need JavaScript enabled to view it.