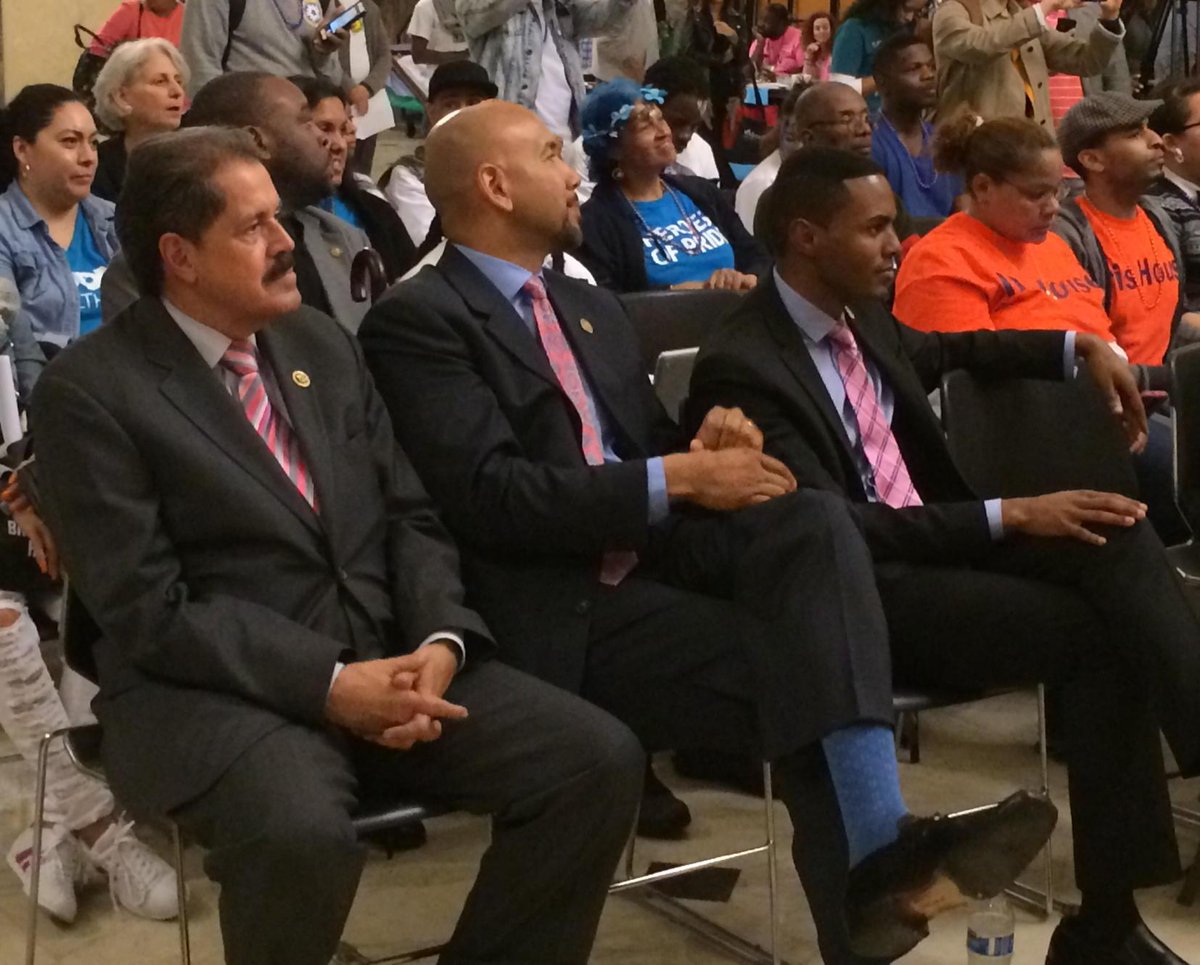 Rep. Serrano, BP Diaz Jr., CM Torres (l-r) (photo: @rubendiazjr)
---
It's time for a rumble in the Bronx. After 29 years in Congress and 44 years in elected office, Congressional Rep. José Serrano has decided to retire from office. Together with the likes of Herman Badillo, José Rivera, Robert Garcia, Gerena Valentin, and Ramon Velez in the Bronx, Serrano has been a pioneering figure within the Latino/Puerto Rican political landscape in New York City.
Serrano fought at the frontlines for Latino political representation at a time when Puerto Ricans were left out of the political equation despite their burgeoning numbers. Serrano, and the rest, fought arduously for this long-sought-after recognition. Their hard work paid off. Serrano won an Assembly seat in 1975.
While Serrano's early work to gain Latino political representation is not debatable, the rest of his legacy is more dubious. Serrano has not been known for any sort of legislative prowess. The South Bronx, which he represents, has long been a poverty stricken area that has seen scant federal resources for decades, despite Serrano's long tenure in Congress.
As a result of this record, observers like long-time political operative Mike Nieves had surmised that a formidable and credible candidate could defeat Serrano. No one ever did.
Serrano's legacy notwithstanding, the eyes of our political world will now turn to the 15th Congressional district in the Bronx to see who will succeed him in Congress.
The timing of Serrano's retirement announcement coincides with City Council Member Ritchie Torres' own recent announcement that he would challenge the incumbent representative for the seat. In a previous column, I mentioned that Torres would be one to watch as we eye the future of Latino politics in the city. His intellectual abilities, grasp of public policy, and ability to articulate his view have deservedly caught people's attention.
Torres is clearly a formidable candidate for the "open" congressional seat. Most of his Council district, which he first won in 2013, lies within Serrano's Congressional district. After six years in the Council, Torres has been able to gain some recognition among voters for his work on behalf of his constituents, particularly in areas affecting NYCHA residents.
Various other names are being floated at this nascent stage. Among them are former City Council Speaker Melissa Mark-Viverito. Mark-Viverito has just come off a dismal showing in her race for the citywide position of public advocate. Yet she still holds some name recognition, particularly among Latinos.
Her home congressional district is currently represented by Adriano Espaillat but since there are no in-district residency requirements for a congressional seat, she could still make a play for the Serrano seat.
Then there is Assemblymember Marcos Crespo, who is also the Bronx Democratic leader. Crespo's Assembly district lies entirely within Serrano's Congressional district and he would therefore potentially go into a race of this sort with a natural base of followers. Some will question his alliance with Council Member Ruben Diaz, Sr., who has been challenged for repeated homophobic statements and positions. But given Crespo's potential to capitalize on some of the resources that would naturally come his way by virtue of his party position, he would quickly be considered a leading candidate for the position.
Yet another recent public advocate candidate might also throw his hat in the ring. Since Michael Blake's election to the Assembly, and then his appointment to be a vice chair of the Democratic National Committee, rumors have swirled that he would one day challenge José Serrano.
That day never came. But this opening can provide an opportunity for Blake. Despite losing the public advocate race, Blake won his home borough of the Bronx and did fairly well in the portion covering Serrano's Congressional district.
And if he's the only African-American in the race, that could also create a path to victory for Blake. With multiple formidable Latino candidates, a strong African-American candidate could win the seat.
Almost a third of the Democratic electorate in this Congressional district is African-American. Over 55 percent is Latino. If the race takes an ethnic path, that could lead to a split Latino vote and a more consolidated African American vote.
Then there's state Senator Gustavo Rivera. Rivera, first elected in 2010, represents a swath of Serrano's district in the state Senate. He has earned admiration from many progressives for standing up to the Bronx political machinery and for policies that progressives have long championed.
Lastly, if he were to step up, one elected official who could clear many if not all in the field would be Bronx Borough President Ruben Diaz, Jr. Diaz, Jr. is known throughout the borough and remains popular among many voters. Furthermore, this district has always been his home district -- he represented parts of it in the Assembly for 13 years.
Diaz Jr.'s capable communications guru, John DeSio, has tweeted that the borough president is not interested in the position. The borough president appears focused on launching a mayoral bid. But politics is practical and a congressional run could be an easier path to victory than a citywide mayoral race.
All this is conjecture, of course. What's certain is that we can expect a free-for-all for the position ahead of the 2020 vote, and thus another rumble in the Bronx.
***
Eli Valentin teaches political science at Monroe College and is a frequent guest political analyst on Univision NY. On Twitter @EliValentinNY.
***
Have an op-ed idea or submission for Gotham Gazette? Email This email address is being protected from spambots. You need JavaScript enabled to view it.