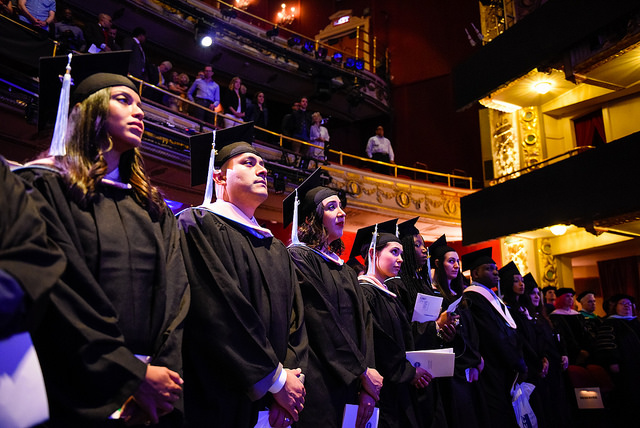 (photo: Edwin J. Torres/Mayoral Photography Office)
---
While the national admissions bribery scandal rocks the country, another, less sensational, legal -- but still incredibly important -- higher education crisis is unfolding before our eyes in New York. The City University of New York (CUNY), where the majority of the student body comes from underserved communities of color, is in the midst of a financial crisis, putting public higher education at risk for thousands of New Yorkers who want and deserve opportunity.
In 2017 the New York Times reported that CUNY propels "almost six times as many low-income students into the middle class and beyond as all eight Ivy League campuses, plus Duke, M.I.T., Stanford and Chicago, combined." Despite its success in doing so, CUNY deals with consistent flat funding and underfunding from state government in Albany, and "predictable" and "rational" tuition hikes have increasingly placed the burden of keeping the University afloat on the backs of students. Tuition hikes are only a band-aid fix to an underlying problem of state divestment in public higher education.
To solve this crisis, the state must prioritize and increase funding towards higher education, starting with the new state budget that is due by Monday, April 1.
CUNY accepts all and recognizes the potential of all, which makes it the right investment. Investing in CUNY means ensuring all New Yorkers, regardless of income or status, can pursue an excellent and affordable education.
My story is the story of many CUNY students. I attended Queensborough Community College with the financial and academic support provided by CUNY's ASAP program. The opportunity program, like SEEK and ACE, recognizes that access to resources like Metrocards, textbook vouchers, and dedicated advisors can make a world of difference to financially-struggling students. As a new immigrant to the United States, these resources helped provide stability for me and my family.
Mid-way through my college career, we lost my father, the family breadwinner, to cancer. My family relocated to Texas; I was able to stay in New York and continue my education at City College thanks to merit-based scholarships I won given my performance in community college as a straight-A student, propelled by the resources ASAP provided. However, these very same resources that helped me succeed in college are the frequent targets of budget cuts, and others are severely underfunded. For example, at City College, I was only allowed six sessions with a mental health counselor because of budgetary limitations, despite needing more help with navigating the sudden changes in my life.
At the Board of Trustees Public Hearing in January on the fiscal year 2020 budget request, student leaders pointed out that the messaging in Albany around CUNY is inconsistent. How can we herald programs to make college more affordable or provide food pantries, but still choose to burden these same students with a tuition hike of $200 each year, which is more than "modest" for CUNY families?
Predictability of a tuition hike doesn't change its unaffordability. Another tuition hike also goes against the vision of Governor Cuomo and the tuition-free promise he made to New Yorkers two years ago with the Excelsior Scholarship, which only helps a little over 2 percent of CUNY students. Furthermore, an increase in tuition -- which could and should be rolled back by state lawmakers -- will further widen "the TAP Gap," the growing difference between the state's tuition assistance program funding for students and actual tuition costs. As of now the maximum amount of TAP that can be awarded to a student each year is $5,165, while the annual cost of attendance at a four-year college is $6,730, leaving a yearly gap of $1,565 that colleges need to fund by slashing existing programs and services.
The looming financial crisis faced by many of CUNY's close to 500,000 students is an equity issue, one that disproportionately affects colleges where students of color and those from low-income families are the majority population. For a university once called the "free academy" and the "poor man's Harvard," this is disheartening.
Many state legislators were beneficiaries of CUNY's opportunity programs and support services -- some even went to CUNY for free -- and should recognize the value of investing in higher education. Shifting the burden of funding from the public to students is a betrayal of New York's commitment to college affordability and we in the CUNY Student Senate call on leadership to take the necessary measures to end disinvestment in public higher education and protect that commitment instead.
The Legislature and Governor Cuomo must provide $32 million to reinstate a tuition freeze across all public colleges like they did in 2016, provide the $74 million needed to fill the TAP Gap, and commit funds to expand opportunity programs and support services, not just simply restoring proposed cuts.
On Sunday, over 100 students marched from City Hall, across Brooklyn Bridge, to Brooklyn Borough Hall, with Borough Presidents Gale Brewer and Eric Adams, Public Advocate Jumaane Williams, and State Senator Robert Jackson joining in solidarity, for a new deal for CUNY. The needs of CUNY students are not mutually exclusive to the needs of New Yorkers, and rather than short-changing higher education, Albany leaders should support the university, whose mission is synonymous with the state's mission of providing all New York families a pathway to a better life.
***
Haris Khan is the chairperson for the CUNY University Student Senate (USS) and the only student member of the CUNY Board of Trustees. He also sits on the NYS Higher Education Services Corporation Board of Trustees and studies Politics, Diplomacy, and Law in the CUNY BA program at The City College of New York. On Twitter @hariskhan97.
***
Have an op-ed idea or submission for Gotham Gazette? Email This email address is being protected from spambots. You need JavaScript enabled to view it.