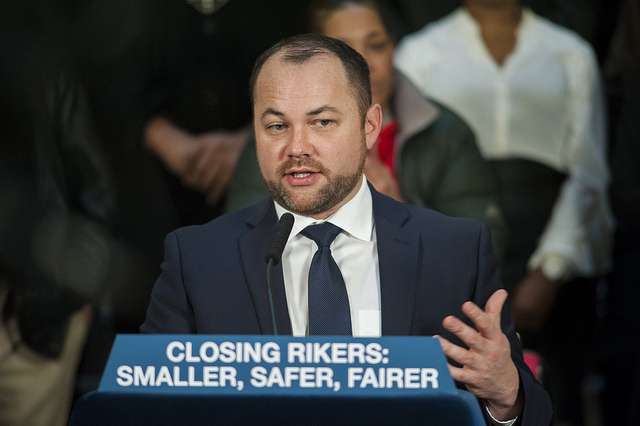 Speaker Johnson, the author (photo: Jeff Reed/City Council)
---
In New York, you can be locked up based on purported evidence that isn't even disclosed to you, until a trial that can be postponed indefinitely, unless you are wealthy enough to pay your way out. That is the reality under our state's antiquated laws governing cash bail, discovery, and speedy trial. With Democrats truly controlling both houses of the state Legislature and the governorship for the first time in decades, we now have a meaningful opportunity to modernize these regressive laws and bring justice to our criminal justice system.
We have made great strides in criminal justice reform in New York City. We have reduced arrests and eliminated prosecutions for low-level offenses that have no impact on public safety. Through bail funds, supervised release programs, and ability-to-pay assessments, we reduced our jail population from over 11,000 in early 2014 to just under 8,000 by the end of 2018. Despite these efforts, every day thousands of New Yorkers charged with a non-violent felony or a misdemeanor await trial on Rikers Island. They have not been found guilty of anything -- they simply cannot afford to pay bail. We need the state to act to end this gross injustice.
Our discovery law compounds the injustice of indefinite detention by forcing people charged with crimes to make crucial decisions about their cases without knowing what evidence the government has or doesn't have. It allows District Attorneys to withhold even basic evidence, such as police reports, until the eve of trial, a form of institutionally-sanctioned sandbagging. Currently, defense investigators must scramble at the last minute to locate favorable witnesses or secure video evidence that could exonerate someone, but which may be long gone by the time of trial. By hamstringing the defense through New York's blindfold law, we have turned "innocent until proven guilty" into "guilty until it is too late to prove otherwise so you just give up."
Lawmakers in Albany have nothing to fear from discovery reform. New York is one of only four states – the others are South Carolina, Wyoming, and Louisiana – that do not allow a defendant to know anything about the witnesses against them before starting a trial. But we don't even need to look outside our city to see how progressive discovery practices can work -- for decades the Brooklyn District Attorney's office has committed to open discovery without compromising the safety of witnesses.
Our state's bail laws are as antiquated as our discovery laws, but our city's programs designed to reduce the jail population have proven that we don't need to derail people's lives by setting cash bail in order to ensure that they return to court. Eighty-eight percent of people released on their own recognizance return to court, as compared to 91% released on bail and 92% placed into supervised release.
We cannot justify spending $250,000 per year to incarcerate someone for a 3% higher chance they come to court, especially with a cheaper alternative that produces better results. Cash bail takes people away from their families, from their jobs, and from their lives, and forces family members to choose between putting food on the table and paying exorbitant fees to a bail bond industry that profits off of their poverty.
Cash bail is nothing more than punishment for the poor. Harvey Weinstein simply paid his way to freedom, while Kalief Browder languished on Rikers for years, because of a system that, as New York Times bestselling author Bryan Stevenson wrote, "treats you better if you're rich and guilty than if you're poor and innocent."
Our speedy trial laws are controlled entirely by the state. Under New York law, there is no right to a speedy trial -- there is only a right to have prosecutors state they are "ready" for trial within 90 days for a misdemeanor and six months for a felony. This framework encourages prosecutors to manipulate the system by using procedural maneuvers to postpone cases when they are not "ready" in order to minimize their speedy trial obligations.
In many instances these three nightmares coalesce: a person can't make bail, can't start their trial, and can't get access to the documents that provide the basis for their prosecution and defense. We continue to do what we can in New York City to right these wrongs. But the truth is that we need the state to act right now to reform its laws and achieve real justice in our criminal justice system.
***
Corey Johnson is the Speaker of the New York City Council. On Twitter @NYCSpeakerCoJo.
***
Have an op-ed idea or submission for Gotham Gazette? Email This email address is being protected from spambots. You need JavaScript enabled to view it.