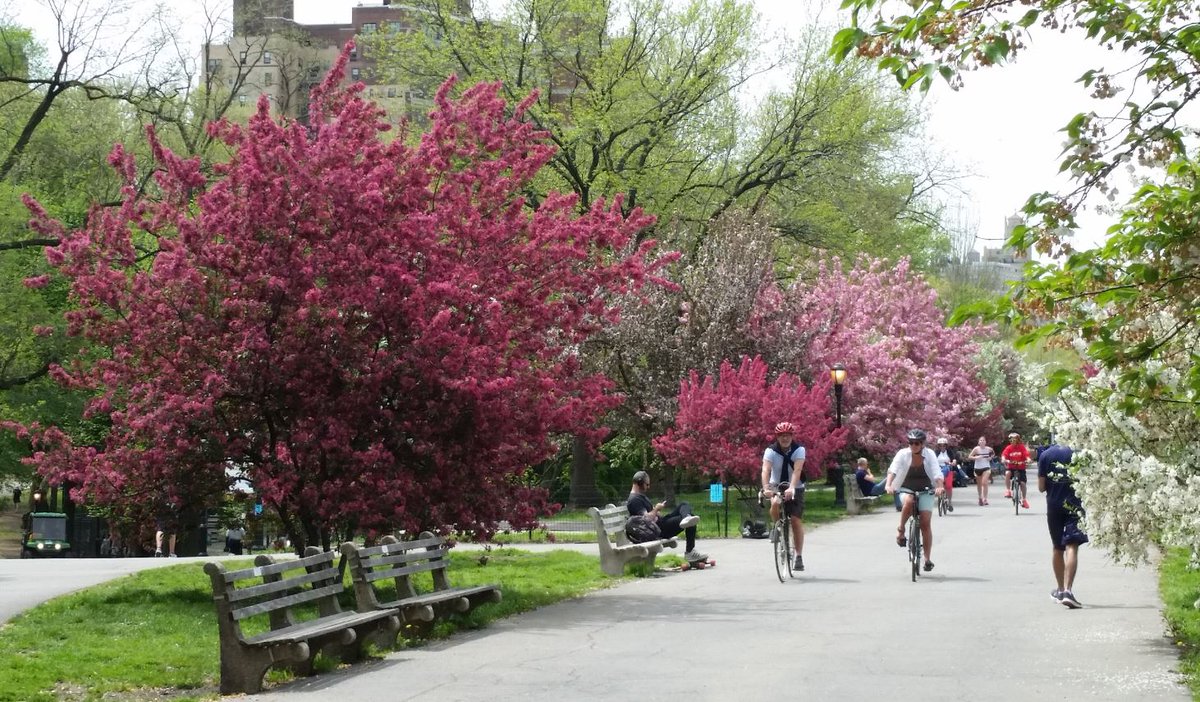 (photo: @RiversideParkNY)
---
Parks are an essential part of any city's infrastructure. Getting into nature at an urban park lowers stress, eases depression, and fosters happiness. Parks help build community - people get out and meet each other, kids play together, mothers talk, residents meet neighbors.
Parks are particularly invaluable in New York City, the nation's most densely populated city. And we are fortunate to have so many parks to enjoy! More than 81% of New Yorkers are within walking distance of public green space. New Yorkers are visiting city parks in unprecedented numbers. The city's parks get more than 100 million visitors a year.
More than just places to commune and recreate, these greenspaces are also one of the city's most valuable environmental assets. They provide clean air, help mitigate climate change, connect residents with nature, and provide habitat for wildlife.
Parks are a major source of the city's urban tree canopy. That canopy removes 1,300 tons of pollutants from the atmosphere and stores 1.2 million tons of carbon per year. Trees are vital for mitigating the urban heat island effect and can lower air temperatures by up to nine degrees, cut air conditioning use by 30%, and reduce heating energy use by a further 20-50% -- all of which help decrease climate-changing emissions.
The city's parks and trees also contribute to our resiliency, capturing almost 2 billion gallons of stormwater runoff each year.
The New York City Parks Department manages 30,000 acres of land, about 14% of the city. Sadly, Parks receives less than 1% of the total city budget, leaving our greenspaces at risk.
This is shameful. While New York spends $178 per capita on its parks. Minneapolis spends $233, and Washington D.C. spends $270.
The average city park has not seen a major renovation for more than 20 years. According to a Center for an Urban Future report, there are cracks in virtually every retaining wall in city parks, deteriorating bridges, toilets that flush directly into waterways, drainage systems that can't handle the runoff from even a gentle rainfall, and myriad other problems. Managers can't do any kind of systematic planning and major infrastructure projects are often put on hold for years.
Inadequate funding for proper maintenance has also led to a rise of invasive species in parks. Just over a year ago, invasive beetles were found in Prospect Park that cut off the supply of water and essential nutrients to trees.
The great irony of all of this is that New York's parks are iconic. Central Park and Prospect Park are routinely found on top parks lists.
That's why NYLCV has joined the Play Fair coalition with New Yorkers for Parks, DC 37, and more than 100 other groups. Play Fair is a multi-year advocacy campaign for parks and this year, we are calling for increasing the Parks Department budget by $100 million for better maintenance.
This investment could ensure that the city's natural forests will begin to receive the proactive care they need to remain healthy and resilient in our changing climate. Maintenance workers would have the resources they need to protect our trees from invasive species and maintain the trees we need to absorb carbon and air pollution.
It would go a long way towards fulfilling the goals of the 25-year Forest Management Framework for the restoration and conservation of the city's hard-working natural forests, for which NYLCV has been advocating.
Investing in maintaining our parks will make New York City more sustainable, improve resiliency, and conserve nature. It's time we Play Fair for our parks.
***
Julie Tighe is President of the New York League of Conservation Voters (NYLCV), the only non-partisan, statewide environmental organization in New York that takes a pragmatic approach to fighting for clean water, healthy air, renewable energy, and open space. On Twitter @julietighe17 & @nylcv.
***
Have an op-ed idea or submission for Gotham Gazette? Email This email address is being protected from spambots. You need JavaScript enabled to view it.